Are you having troubles finding a strong performance laptop at a decent price?
Imagine: You're browsing an electronics store for a computer capable of handling the basic needs of work and school. You want some basic bells and whistles attached. Perhaps you want a device to support your casual gaming habits.
Maybe you want photo editing software to add a sense of life to your doodles and photos. However, speciality laptops require hefty financial investments.
Should you pay more than £1000 for a notebook when you know, you will not need a majority of its features? Of course not! What if we told you laptops exist for under £500 to fulfil your technological needs?
Join us as we show you the best laptops under £500.
BEST LAPTOPS UNDER £500 IN UK
---
1.HP 15-da0038na
Do you need a laptop with a sleek design and long battery life? The HP 15-da0038na offers both qualities in one notebook. As expected of a computer from HP, the performance specs meet the expectations of students and workers. Can the performance and appearance keep up with the other laptops on our list? Read below to learn more.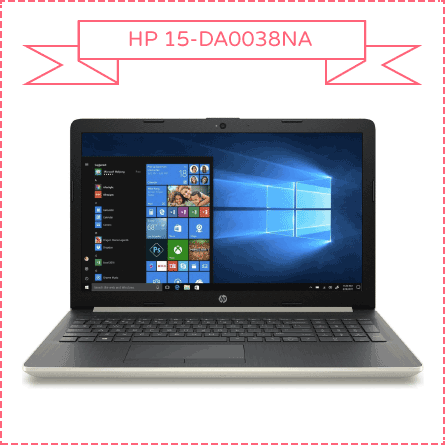 Design
Let's start by taking a look at the outer shell of the computer. You will immediately notice a clean turbo silver plastic shell. The outer lid adds a raised texture among every present line. This creates a nice feel and grip to the device.
Despite the metallic appearance of the laptop, the texture is plastic and feels slightly flimsy. Also, at 2.04 kg, this computer's weight ranks on par with other laptops.
Upon opening the lid, the computer reveals more of a clean and stylish appearance. Metallic black accents surround an island keyboard and an off-center touchpad. The trackpad looks nice with two raised buttons on its bottom end. So, what are our overall thoughts of HP's laptop design? The black and metallic appearance create a sleek and modern feel to the computer.
Processor
Here's the deal: HP ships the notebook with a quad-core Intel Core i5 8250U processor. During our tests, our team noticed no problems with speed or delays. We could open multiple browser windows without any freezes.
The computer multitasked fine without any slowdowns. The processor reaches a frequency of 1.60 GHz. This is one of the faster processors for a computer in its price range.
Our team definitely felt that speed in our tests—we experienced no delays when launching programs. If you decide you need more speed or performance, HP allows an upgrade to a turbo frequency of 3.40 GHz.
RAM
Since this computer ships with a fast processor, you might be wondering the types of programs it can run. With 8 GB of DDR4 RAM at a speed of 2400 MHz, this computer works great for most school and work programs. Launching office suites creates no problems.
Now for the bigger question: Can this computer run any fun programs? This answer is yes! The RAM allows many types of games to run at lower graphic settings.
Also, photo and basic video editing software operated adequately on this device. The hardcore gamers and full time video creators may need to look else ware for enough power to fully satisfy their hobbies.
However, do you plan to use the computer mainly for work or school with some fun on the side? If yes, then the RAM will supply enough power and performance.
Storage
By this point, you might be wondering: How is the storage in this computer? The device ranks on par with others in its price range. HP ships the notebook with a 1 TB hard drive. The HDD spins at 5400 RPM—a typical speed for reading and writing data. For a school or work computer, this will provide more than enough space.
Display
Are you looking for a beautiful display in a laptop?
HP's notebook offers HD 1920 x 1080 resolution. The result produces great, vivid pictures, especially for a 15-inch device of its price.
The HP 15-da0038na ships with an Intel HD Graphics 620 graphics card. Are you wondering how this will work for gaming? The video card will allow most games to run at lower graphical settings.
Battery
HP ships its laptop with a non-removable 4-cell lithium ion battery. The power source endured 5-6 hours between charges during our tests. This outlasted the batteries of many other laptops on our list.
Are you sick of your laptop dying on lengthy plane trips? This HP device will allow you to enjoy your computer for the majority of most airline trips without worrying about the battery dying. Also, the notebook will last a couple university lectures before needing a recharge.
Ports and Slots
The HP notebook ships with the typical ports and slots of a laptop in its price range. If you want to create a wired connection to a network, the device offers an Ethernet RJ 45 port. For other forms of connection, the laptop provides an SD card slot, two USB 3.0 ports, one USB 2.0 port, an HDMI port.
Connectivity
Let's face it: If you are buying a notebook, you will want to connect to the Internet at some point. For connecting to the Internet and devices, HP's laptop offers the standard options of other notebooks on our list. The Ethernet port allows for wired LAN connections. For connecting to Wi-Fi hotspots, the computer contains an 802.11 wireless card. The notebook also connects to other devices via Bluetooth.
Additional Features
Do you need a device capable of making video calls? HP's built-in webcam and mic will suffice for any type of Skype call.
However, the camera's resolution peaks at 720p and 30fps. What do these numbers mean? If you try to use the device as a general-purpose camera, your pictures will appear grainy while videos appear choppy. Therefore, the camera's main purpose remains for web calls.
Do you plan on listening to media through the computer's speakers? The laptop equips itself with a DTS sound system.
Ultimately the sounds lack dimension and general loudness. Don't get us wrong: the noise from the speakers is adequate. However, we have heard better sound quality on other laptops.
While the sound may not be the best, HP provides a comfortable typing experience. The island-style keyboard provides large keys. The keys feel well spaced and provide a nice tactile feel.
The computer also offers a large touchpad. While the surface lacks the smoothness of other devices, we ultimately noticed few problems. Clicks registered well. The pad also registered most sweeps.
Pros
Long battery life.
Light weight.
Cons
Optical drive is missing.
Final Thoughts
Here's the bottom line: the HP 15-da0038na notebook works as a great school or works computer. You will experience very few problems with loading programs, games, and software on the notebook.

---
2.Lenovo V130 81HN00FAUK
Let's list some traits of the perfect computer: slim, lightweight, sleek, durable, strong performance. The Lenovo 520S-14IKB provides all the listed features above and then some.
This device easily ranks as the best lightweight laptop in its price range. However, how do the features of a light notebook compare with other devices on our list? Continue reading to learn.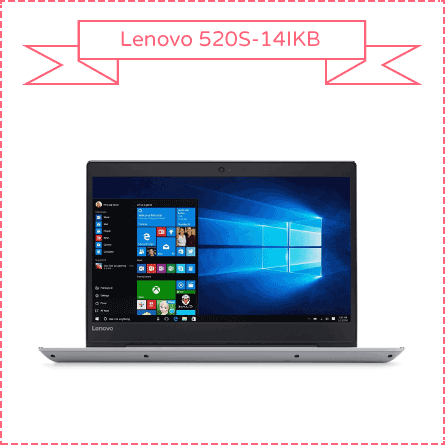 Design
We can pretend we care solely about the performance of a laptop. However, deep down, we are all guilty of being attracted to sleek designs.
It's fine; you can admit this! The Lenovo V130 81HN00FAUK presents one of the most beautiful designs of any laptop on our list. What is more attractive than aluminium body? A metal frame surrounds every major panel.
Nothing about the design feels cheap. In fact, the build of this notebook is more common on higher priced laptops. We noticed some mild flexing in the Keyboard region.
However, the screen panel feels sturdy. To add additional appeal, the laptop is only 19.33 mm thin. At 1.69kg this notebook is fully portable as well as alluring.
For an added sense of sleekness, the device can fold 180 degrees flat with its hinge.
Processor
With such a beautiful design, you might wonder why this laptop is not a definite #1 on our list. For starters, the processor is marginally slower than other similarly priced devices. The dual-core Intel Core i5-7200U operates at 2.5 GHz.
Much like other devices on the list, multitasking works without delays. Programs open at a fast speed. Our tests noted no frustrating crashes from running multiple programs or browser windows.
RAM
The Lenovo V130 ships with 8 GB of RAM at a speed of 2400 MHZ. If you plan to enhance your pictures or create a few videos, the device will adequately run the appropriate software.
Storage
So far you may have noticed this device performs on par with other laptops on our list. You might be asking: does the lightweight actually impact the performance?
Here's the Deal: this notebook offers far less storage than other devices in its price range at 256 GB. However, the computer also offers an SSD storage system instead of an HDD.
Why is this important? SSDs typically record and write data at faster speeds than HDDs.
Is the speed difference enough to compensate for the lack of memory? Not for everyone, but with so many external storage options available, the problem is fixable. Also, an SSD upgrade to 512 is available, which offers plenty of storage for most.
Display
Are you curious if the slim design will impact this notebook's visuals in any manner?
For the most part, the Lenovo's display operates on par with other devices on our list. The 1920 x 1080 resolution looks great on the 15.6" screen. Text looks sharp. With Color Intelligence, colours pop vividly, while the HD display presents decent picture quality.
For an added bonus, the IPS display presents a flicker-free screen. The display looks consistent when dimming the screen. Pictures and videos of the screen also appear clear. Do you prefer working on your notebook outdoors? The display produces enough brightness to use in direct sunlight.
Also aligned with other devices on our list, Lenovo's notebook employs an HD Graphics 620 card. Much like the other laptops on our list, the card will allow you to play games. However, you will need to use lower graphical settings.
Battery
You buy a slim and lightweight laptop for portability, right? Therefore, we can agree that battery life is important. The device ships with a non-removable battery. In our tests, the power source endured 5 hours between charges. You can compare this with other devices on our list.
This is enough battery life to last short airplane flights and lectures. 4-5 hours is a decent time, but note that other notebooks employ longer lasting batteries.
Ports and Slots
Most of us ask a common question about slim laptops: can they fit all the ports and slots of a regular laptop?
Usually, the answer is no. Smaller notebooks typically omit Ethernet cables and optical drives. Acer's Swift follows the example.
However, both of these ports are available for purchase in an external form if you ever need them.
For the slots and ports attached, the device offers an HDMI port, a USB 2.0 port, a USB 3.0 port, a USB 3.1 (Type-C) port, an SD card slot, and a headphone/mic jack.
Connectivity
Without an Ethernet port, you are probably thinking: Can I still connect to the internet via a wired connection? For wired connections, you will need to purchase the Ethernet adapter. Much like other devices on our list, the Lenovo also contains an 802.11 wireless card for Wi-Fi connections.
Do you need to connect to your devices? The notebook also provides Bluetooth connections.
Additional Features
Imagine working on a project on your laptop in the dark. Typing can become annoying with finding the right symbol keys, function keys, etc. To fix this issue, Lenovo implements a backlit UK keyboard in its notebook.
The device only offers one brightness. However, we'll gladly take it consider very few laptops in its price range offer the option.
Do you have trouble remembering all your passwords?
Lenovo helps with its fingerprint reader. During our tests, the computer recognised our fingerprints accurately.
Will your computer have multiple users? No problem: Lenovo allows for different users to register their fingerprints to log into their accounts as well.
If you need to make any video calls, the notebook offers an HD 720p 30fps webcam. The grainy texture to pictures prevents the feature from acting as a stand-alone camera. However, the webcam suffices for web chats.
Lenovo advertises its Harman Kardon audio system with its notebook. However, we were disappointed by the speaker quality in our tests. We certainly heard the sounds from the speakers, but they lacked dimension. Bass and other sound textures seemed bland compared to other laptops on the market. Video call quality sounded clear with the speakers.
Do you find yourself frustrated by unresponsive touchpads? If yes, then you will be happy to learn that Lenovo implemented a decent pad in its notebook. The aluminium finish allows fingers to glide smoothly across its surface. Microsoft's Precision Touchpad created a comfortably smooth texture. We noticed clicking required heavy clicks from fingers, but this was a minor annoyance.
Pros
One of the better touchpads on the list.
Decent Battery Life.
Super light weight at 1.8 KG.
Slim and Sleek.
Cons
Far less storage than other notebooks on the list.
Sound is subpar.
Final Thoughts
Does visual appeal matter to you? If yes, then the Lenovo V130 offers a beautiful design. The device offers a performance on par with other notebooks in its price range. However, the lack of storage and ports will likely lead to some external purchases. If you do not mind buying some extra space, Lenovo's latest device will solve your computer needs.

---
3.Acer Extensa 2540
You will be happy to know Acer's device offers some of the highest performance specs for a computer in its price range. Continue reading to find out.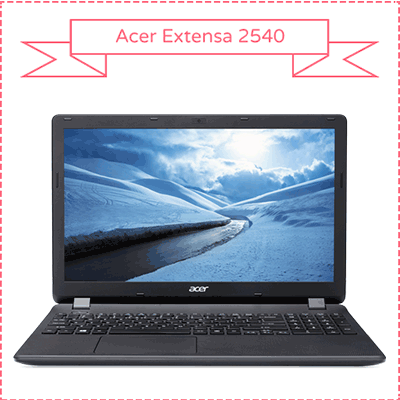 Design
The device has a good build quality. The body feels like plastic. Let us guess: When you hear plastic, you think of a flimsy material. When working with computers, we think the same. Thankfully, this notebook feels rather hefty and durable.
So, now that we know about the exterior, let's open the lid. Inside the computer lies an island keyboard and a large trackpad. A plastic texture accents the computer. In terms of style and comfort, the inside feels decent.
Processor
Do you plan to use your laptop for work and school? You probably know the feeling: In one window, you work in a word program writing a paper. In the other window sits research in many browser tabs. Slowdowns and delays lead to frustrations, especially with a deadline approaching.
Thankfully, the Acer's dual-core Intel i5 7200U processor handles multitasking with ease. In our tests, we experienced no delays when opening programs. The processor runs at 2.5Ghz—a good speed for its price range.
RAM
Let's be honest: If you are looking for a laptop in this price range, you want some extra features beyond office suites and web browsing. It's okay, we like using our computers for fun stuff too. Thankfully, with 8 GB of removable RAM, you will be able to run photo and light video editing programs. The device also allows for some light gaming—you will need to set the games to lower graphical settings for best results.
Storage
So, if you plan on using this notebook for your basic computer needs, you already know you will need a decent amount of storage. Following suit of other laptops in our list, Acer packs 256 GB of storage in its device. Is the storage enough for saving school projects and pictures in photoshop? Yes, for most people, the storage will suffice. For others, external storage options exist.
Display
Acer's notebook offers HD 1920 x 1080 resolution. The result produces great, vivid pictures, especially for a 15-inch device of its price.
In general, you will still see clear pictures and videos on the 15.6 in screen. Just note other laptops display images with more vivid colours and clearer animation frames.
Not all is terrible with the device's display. Do you find your eyes straining after long use of your laptop?
Acer's BlueLightShield software aims to fix the problem. The desktop option reduces blue light emissions from the notebook. In our tests, we noticed our eyes felt more comfortable after activating the feature. We recommend trying it.
If you are curious about gaming capabilities, the device offers an Intel HD Graphics 620 video card. You will need to set most games to lower graphical settings. This will work for most people who game lightly. However, hardcore gamers will likely search for more powerful notebooks.
Battery
Do you plan to take your laptop on the go with you? Then battery life will be critical. In our tests, the four-cell lithium ion battery lasted 4-6 hours between charges. We have seen much better life in other devices for a similar price. However, we have also experienced much worse. With an average lifespan, the battery is non-removable.
Ports and Slots
If you ever need external storage or connections to other devices, the Acer notebook covers most of the basics.
The laptop offers two USB 2.0 ports, one USB 3.0 port, an HDMI port, and Ethernet port, an SD card slot, and a headphone/ mic combo jack. The computer also contains a DVD drive.
The inclusion of the disc drive likely explains its 2.4 kg weight. However, if you still run physical discs in your computer, the DVD drive will act as more of a benefit than an annoyance.
Connectivity
When you need to connect to the Internet and other devices, this laptop offers standard options. The Ethernet port allows for wired connections. You can also connect to Wi-Fi hotspots with the 802.11 wireless card. The notebook also supports Bluetooth for connecting to your phone, TV, and other devices.
Additional Features
We can probably agree: speakers on laptops are important features. The Acer actually implements decent speakers in its design. So, you might wonder: what is the problem? For some reason, the company placed the speakers on the bottom of the device. This means whenever your laptop sits atop a surface (a table, your lap, the floor, etc.), the sound becomes muffled. Therefore, we highly recommend external speakers or headphones.
Obviously, if you plan to buy a laptop, you will type. The device provides a typical keyboard. The keys feel flat. However, each key is large in size. Also, the spacing of the keys from each other allows for comfortable typing.
If you were to ask us: What is the most frustrating feature of a laptop? One of our top answers would include unresponsive touchpads.
Thankfully, Acer's touchpad navigation feels precise. For an added bonus, company's palm rejection technology works. The touchpad knows the difference between finger contact and accidental palm touches. The pad lacks left and right buttons.
For us, this was not an issue since clicks register without problems. Just note that clicking the right side of the pad triggers right clicks. Clicking both sides of the pad at once registers nothing. The pad tracks cursor movements accurately. When clicking, the touch pad sometimes emits a loud sound, but otherwise, the experience is pleasant.
Pros
Comfortable keyboard and trackpad.
Textured patterns provide a unique look.
Cons
Final Thoughts
Acer provides all the basic laptop functions you need. The responsive touchpad and fast processor remove frustrations found in many other notebooks.

---
4.Dell Inspiron 13 5000
Do you find yourself wanting the most unique items on the market?
Imagine a laptop that breaks all the known rules of modern computers. Picture the glossy design of its outer shell. The device offers a touch screen and transforms into a tablet with its flexible hinge.
Does this sound like the type of innovation you crave? Then check out the Dell Inspiron 13 5000.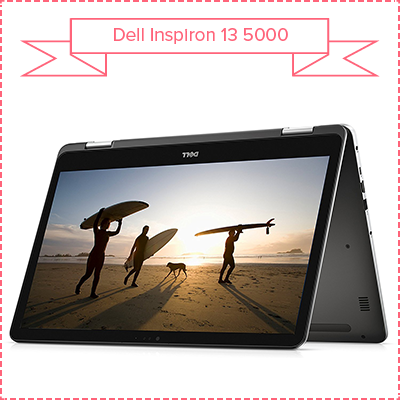 Design
Let's start by looking at the exterior of Dell's convertible tablet. You cannot miss the glossy silver pattern on the top lid. Dell's shiny logo shines in the middle of the device. The computer as a whole looks stylish.
However, you are probably wondering: is the glossy texture a result of a cheap plastic material? Sadly you are mostly correct. The texture of the device feels like a flimsy plastic. Don't get us wrong; we still cannot deny this laptop looks sleek with its colours and modern design.
Processor
Why do we not get this out of the way now: is this device a full performing computer, or a pretty gimmick? Dell proves this notebook can compete with other on our list by implementing an Intel Core i3-7100 dual-core processor in the device.
The processor runs at 2.4 GHz—on par with the Acer Swift. We experienced no issues with lag or slowdowns in our tests. The computer multitasked without crashing or freezing.
RAM
By this point, you might be wondering: Can a convertible laptop run the fun programs that support my hobbies? You will be happy to learn it functions perfectly well-running video and photo editing software. 4GB is half the RAM of all other devices on our list. However, it still provides enough memory for the device to run some advanced programs and games at lower graphical settings. If you decide you need more power, you can upgrade to 16GB of RAM.
Storage
Are storage options the deciding factor for you in choosing a laptop?
If so, you will be happy to learn Dell offers HDD and SSD storage options. The hard drive provides 1 TB at 5400 RPM—typical of other devices in this price range.
The SSD offers 128 GB of storage. Both options offer decent value for their price, so the decision is really a matter of your personal preference.
Display
Let's ask a quick question: How does a convertible laptop's display compare with other notebooks on our list?
Dell's notebook surprisingly offers a resolution on par with other devices in its price range. With a resolution of 1920 x 1080, pictures appear clear. Colours provide some vibrant pops.
However, during our tests, the screen seemed dim when compared to other devices.
Battery
Do you plan on working outside your home often with your laptop?
We recommend taking a charger with you with this device. During our tests, the battery typically endured 6 hours between charges. The energy source is subpar when compared to similar devices.
Ports and Slots
Remember what we said about thin devices? The Inspiron follows a similar example by omitting an optical drive and Ethernet port from its design. If you ever need them, both ports are purchasable in an external form.
However, the notebook does include the basic ports and slots you would expect from a laptop of its price. The device ships with one HDMI port, two USB 3.0 ports, one USB 2.0 port, a Noble lock security slot, a micro SD card reader, and a headphone/mic jack.
Connectivity
By this point, you already know any decent laptop on the market will provide options for connecting to networks. Dell's notebook implements an 802.11 wireless card for access to Wi-Fi hotspots. Additionally, the Bluetooth 4.2 feature allows the laptop to connect to other devices.
Warranty
Dell ships its device with a one-year Collect and Return Hardware Support
Additional Features
You have likely seen the word convertible mentioned numerous times and wondered: what exactly is a convertible laptop?
The answer is actually pretty simple. The Dell Inspiron 13 5000's 360-degree hinge enables the notebook to fold into a tablet, a display, or a tent. The feature works great if you regularly use the touchscreen. Speaking of the touch screen, we found it to be responsive to our commands. The screen recognised each tap and responded well to finger gestures.
Are you curious about the device's comfort in laptop mode?
Thankfully, the touchpad responded our commands without problems. The pad recognised our gestures, such as using three fingers to display all windows. The pad felt slick. The device recognised every click and swipe.
If you are wondering about the keyboard, you should know it functions great also. The wide space between each key creates a comfortable experience. Each key presented a tactile feel, so pressing the right keys is never an issue.
Pros
More versatile usage options than other computers on our list.
Touchscreen.
Fast SSD drive is an option.
Cons
Produces a lot of heat.
Less RAM than other devices.
Fan noise is loud.
Final Thoughts
If you want a great performing laptop with interesting and unique design features, this is the perfect notebook for you. The touch screen responds well. The convertible feature gives you plenty of options for using your device. However, note the device does have less RAM than any other on our list.

---
Conclusion
Did you find a computer to fulfil your needs?
We understand: buying a laptop is a tough decision. We know the difficulties of finding that perfect device to help you with school life, home life, and a little bit of fun in between.
Remember: The perfect notebook does exist at the perfect price. Even at a price as cheap as £500, you can find that laptop that will meet your needs in terms of power, functionality, and design.
Don't feel shame in refusing to buy a top-end laptop for thousands of pounds—purchase something that fulfils your wants, needs, and fits your budget.
Liked this? Check out our guide to the Best Laptops Under £400