With the growing influence of the digital world, an increasing number of people require computers to perform their jobs and hobbies efficiently.
As more individuals gain interests in computer-based gaming, editing, producing, and directing, the prices of computers seem to increase in order to incorporate the specialised software.
However, have you ever wondered if affordable computer options exist for the average person?
Perhaps you strongly desire to purchase a laptop for school or work, but do not require the high power catered toward hardcore gamers. Perhaps you desire a computer without obscure preloaded programs for aspiring directors.
In that instance, we compiled five of the best budget laptops anyone can purchase for less than £400. After reading the list, you can discover which notebook works best for your casual life.
Best Laptops Under £400
Top 5 Best Laptops Under £400 UK – Review & Guide
HP 250 G6 Laptop
Regarded as a top brand in the PC world, many consumers recognise HP for providing high-quality products to the market. With its G6 laptop model, the company provides a beautiful budget priced product.
The notebook's exterior creates a stylishly modern presentation with a silver body and metallic accents. The sleek and thin device exceeds our expectations for a computer within its price range by providing performance on par with its appealing appearance.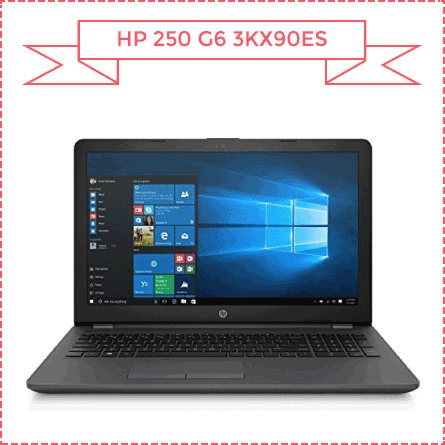 Processor
The HP 250 G6 notebook contains an Intel Core i5-7200U processor. The Dual-core processor's CPU clock speed ranks higher than many other budget laptops at 3.1 GHz (Processor Base Frequency 2.50 GHz & Max Turbo Frequency 3.1 GHz). Working at a higher speed than many other computers on our list, HP's laptop multitasks and performs at a smooth and reliable rate. During our tests, we noticed no major issues with freezing and crashing when opening multiple basic programs simultaneously.
RAM
Complementing the computer's powerful processor, the HP 250 G6 laptop functions with 4 GB of DDR4 RAM (2133 MHZ). Much like other budget laptops in our list, the RAM enables sufficient performance of basic programs, such as word processors and web browsers. HP allows you to upgrade to 8 GB of RAM, which will provide you with a noticeable boost in power to do basic tasks.
Storage
The HP 250 G6 has plenty of storage thanks to its 500GB drive. However, the 5,400 RPM HDD has much slower read and write speeds than any SSD. The overall performance can be increased by exchanging the HDD for an SSD.
Display
HP's notebook presents 1920 x 1080 resolution on an LED backlit display. On the 15.6 Inch screen, videos and pictures appear sufficiently without any major problems or spectacular qualities. Additionally, the laptop contains Intel HD Graphics 620, which provides enough graphical power to perform basic tasks on the computer, such as watching videos, playing low-end pc games, etc.
Ports and Slots
Hp 250 G6 incorporates the basic necessary ports and slots for a modern laptop. A HDMI port, two USB 3.1 Gen 1 port, one USB 2.0 ports, an SD card slot, and an Ethernet port all fill the devices outer edges. However, the laptop lacks an optical DVD drive in its base form. If you want to watch movies from your DVD collection, listen to CDs, or save data to physical discs, you will need to purchase an external drive.
Battery
The HP's battery functions on par with other notebooks. Its life typically lasts 3-4 hours between charges.
Warranty
The base warranty solely involves the battery with a one-year replacement plan.
Pros
Excellent for day to day use.
Decent specs for the price.
Cons
Optical DVD drive is not included in the base package.
Battery life could be better.
Does not have a backlit keyboard
Final Thoughts
Even in today's world with digital music, movies, and cloud storage, many individuals still utilize optical discs in their computers. If you still enjoy your physical discs, then you will either need to pay an extra £25 for an external reader, or purchase a different notebook. However, durable frames and reliable touchpads are rare in the world of budget laptops, which forms the HP 250 G6 into a strong contender in the market.
---
ASUS VivoBook X420 Laptop
As no stranger to the budget laptop and PC market, ASUS manufactures its devices with unique technologies separate from other computer producers. You will be happy to know ASUS's device offers some of the highest performance specs for a computer in its price range. Continue reading to find out.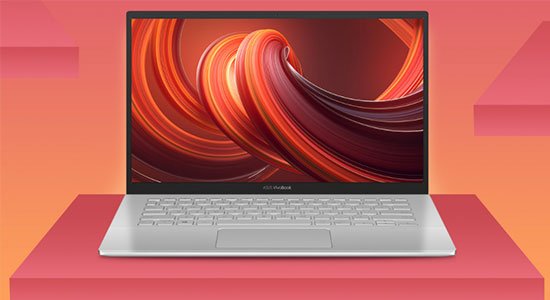 Processor
The laptop ships with an Intel Core i3-7020U processor. The dual core processor presents a clock speed of 2.3 GHz, enabling an overall smooth operating experience. The notebook presented no major issues when multitasking. When working in multiple programs, our team noted no problems with lagging or freezing. Therefore, if you perform your work or school projects with a word processor opened simultaneously with a web browser and iTunes, you can complete your projects without experiencing annoying delays in the laptop's performance speed.
RAM
In addition to a decent processor, the ASUS VivoBook X420 provides 4 GB LPDDR3 RAM. Ultimately, the RAM space allows you to operate basic tasks and programs, such as basic Adobe Photoshop Task, web browsers, coding, and Microsoft Office-type suites.
However, our team noticed significant performance issues when we attempted to run popular video editing software programs Adobe After Effects and Adobe Premiere Pro.
Battery
Along with providing decent performance with the processor and amount of RAM, the ASUS VivoBook X420 ships with surprisingly long battery life. The 2-cell lithium ion battery typically endured 5-6 hours after a single charge within our tests.
Display
Are you looking for a beautiful display in a laptop? The laptop's 14" NanoEdge display presents a resolution of 1920 x 1080. The result produces great, vivid pictures, especially for a 14-inch device of its price. Sentences of a word document and actors in a video remain clearly visible. Our team noticed no visual problems with the resolution.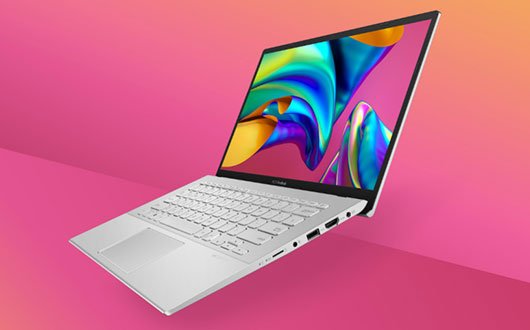 The laptop utilises an Integrated Intel HD Graphics 620 card. For general purposes, such as web browsing, viewing videos, and social media gaming, the video card produces sufficient graphical quality. However, we noticed the card struggled when attempting to load any high-end gaming graphics. Sophisticated and architectural modelling programs similar to Revit also prevented the graphics card from displaying desirable and satisfactory visuals.
Storage
ASUS VivoBook X420 comes with a 128 GB M.2 solid-state drive, which offers the ultimate solution for storing all your important data and information, along with your favourite music, movie and other multimedia files. As expected of an SSD drive, the computer boots information relatively fast and operates in a quiet manner when compared to the other budget laptops utilising hard disks.
Ports and Slots
For more external storage options, The computer provides one USB 3.1 Gen 1 ports, one USB 3.0 slot, one USB 2.0 slot, and a multi-format SD media card reader. Additionally, the device also presents an HDMI (1.4b) port for connecting to media. The Ethernet port enables wired connections to the Internet. Lastly, the notebook provides a Fingerprint reader.
Network and Connectivity
The laptop includes wireless network options for connecting to Wi-Fi hotspots. Additionally, the integration of Bluetooth 4.2 allows the computer to connect and transfer data to a variety of devices, including certain smart televisions, mobile phones, tablets, etc.
Warranty
The Asus notebook ships with a one-year limited part, labour, and pickup return service. The warranty fails to include accidental damage protection. Therefore, the warranty solely protects malfunctions or failures of specific parts.
Additional Features
For additional features, the device provides an HD webcam. A numeric pad accompanies the full UK QWERTY keyboard, creating convenience and comfort when working with numbers. The multi-gesture touchpad & fingerprint reader responded well during our tests, especially when compared to other budget laptops.
During our tests, encountered very few problems with missed clicks and unresponsive scrolling gestures. However, the touchpad felt slippery as a result of its design. Therefore, you will likely encounter annoyances when attempting to drag and drop specific items, or when attempting to precisely place the cursor in a specific location on the screen.
ASUS equipped its X420UA model with a set of internal speakers. However, we experienced poor noise quality from the sound source.
Pros
Lightweight laptop.
Sleek and Durable design.
Fingerprint Reader.
Backlit keyboard.
Cons
Subpar sound quality from speakers.
Final Thoughts
Ultimately, the Asus VivoBook X420 functions as a great laptop if you plan to utilise your computer for work or school related purposes. Despite some issues from sound qualities and touchpad discomfort, the lengthy battery life and massive storage cause the device to function as a convenient and reliable tool for basic computer usage.
---
Dell Inspiron 15 3584 Laptop
Working as another powerhouse in the computer market, Dell manufactures some of the most reliable PCs in the country.
The company recently added the stylish Inspiron 15 3584 to its budget-laptop products. Countering the plastic appearance of many of the company's other laptops, the 2.2 kg Inspiron 15 3584 provides a top surface with a slightly rough structure and a trendy black matte finish. The outer top lid includes a rubberized texture.
However, we all know cosmetic features rarely function as the sole purpose for purchasing a laptop. Thankfully, the Inspiron 15 3584 provides both comfort and performance to complement its appealing design.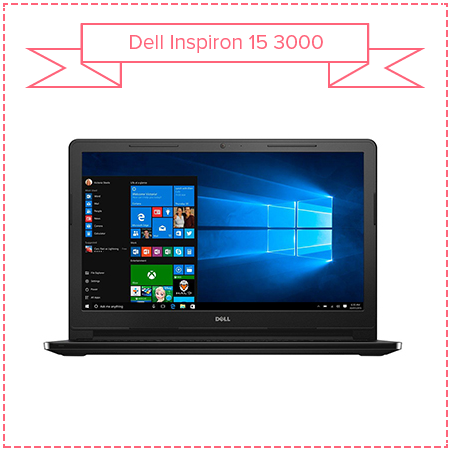 Processor
Dell Inspiron 15 3584 comes with the powerful dual core 7th generation Intel Core i3-7020U processor. With a 3MB cache and a CPU clock speed of 2 GHz, the computer delivers a fluid performance when operating basic programs.
Additionally, the device ships with a quiet processor without any excessive fan or blowing noises. During our tests, we noticed a minimal amount of lag in the laptop, even when multitasking with multiple programs.
If you need a basic school or work computer that can fully operate a spreadsheet program alongside multiple web browser tabs and an email app without crashing, the Dell Inspiron 15 3584's processor can accomplish the task with no issues.
RAM
Dell's notebook offers 8GB of RAM. However, with a RAM speed of 2400 MHz, we found no issues with operating and downloading basic programs. Our team noticed Windows Store apps, such as Facebook, Amazon, Twitter, and Photos launched at an extremely slow rate. The speed hints at optimization problems. On some occasions, booting the laptop also occurred at a much slower rate than other devices on our list.
Even though the device experiences issues when loading apps from the Windows app store, social media games and most photo-editing software function efficiently on the laptop. Additionally, if you desire additional RAM at a later date, the computer allows an upgrade to 16GB of RAM, which mildly improves the performance of the device.
Storage
Dell Inspiron 15 3584 provides a hard drive with 1TB of space. Also, the 5400 rpm of the HDD operates on par with most other notebooks in the market, providing a sufficient speed for reading and writing data. In addition to the 1TB hard drive version, the Dell Inspiron 15 also ships in a 128GB SSD model.
Display
Also operating on par with other devices on our list, Dell's budget notebook produces a 1366 x 768 resolution on 15.6 inch screen. The overall visual presents no issues, but lacks any remarkable qualities. Ultimately, the resolution creates enough quality to immerse in basic computer activities, such as creating documents and watching Internet videos.
The Computer ships with an Intel HD Graphics 620 card. Similar to other budget laptops, the graphics card provides sufficient enough quality for watching YouTube videos, playing Facebook games, or browsing the web. However, the card strains when attempting to engage in any high graphic activities, so do not expect high quality architectural programs to load satisfactorily.
Ports and Slots
Whether you need external storage on your computer, or simply desire to connect extra devices, the Dell Inspiron provides the ports and slots for most modern accessories. If you prefer watching physical copies of movies on your computer, the Dell budget notebook acts as one of the few remaining devices containing a DVD drive.
Additionally, the laptop provides two USB 3.1 ports, one USB 2.0 port, an HDMI port, an Ethernet port, and a headset jack. For external memory options, the computer also presents a Kensington lock slot as well as an SD card slot.
Network and Connectivity
Along with providing an Ethernet cable port to connect to the Internet, the laptop also allows for Wi-Fi connections with a Dual Band 2.4 Ghz & 5Ghz router. Additionally, the device allows for a connection to a variety of your electronic devices with Bluetooth 4.1.
Battery
Dell's budget laptop operates with a 4-cell lithium ion battery. Within our tests, the battery typically endured an underwhelming 4 hours between charges.
However, we noticed the battery charge relatively fast. Also, despite the short life, the battery is removable, providing some convenience if you ever need a battery replacement.
Warranty
As with most other Dell products, the Inspiron 15 3584 ships with a one-year Collect and Return Hardware Support in the instance of any specific part failing or malfunctioning. However, the device lacks Accidental Damage Protection services without a separate warranty purchase.
Additional Features
Complementing the sleek outer appearance, the Inspiron 15 3584 implements a spacious and comfortable UK QWERTY keyboard and numeric keypad.
In our tests, each key provided a tactile feel. Additionally, the multi-gesture trackpad operates as one of the most responsive pads in our tests with budget laptops.
The single button, two partitioned touchpad reliably read most gestures, including scrolling and zooming motions with minimal problems. However, we noticed the trackpad required heavier presses to register clicks when compared to other budget laptops. Lastly, the device includes a 720p webcam and a microphone.
Pros
Stylish and textured outer top shell.
Quiet processor without excessive overheating issues.
Feels durable.
Cons
Poor battery life.
Annoying slow at loading apps downloaded from Windows store.
Final Thoughts
The Dell Inspiron 15 3584 competently completes any basic tasks. If you can utilize a laptop with half the RAM of others on the market, the computer will provide you with one of the most stylish and comfortable experiences of any budget laptop.
---
Dell Inspiron 15 5000 Laptop
Adding to the company's list of budget laptops, the Dell Inspiron 15 5000 offers a unique processor and visual design when compared to other budget laptops. The computer displays a metallic appearance, a roughened bottom panel, as well as a glossy black surface.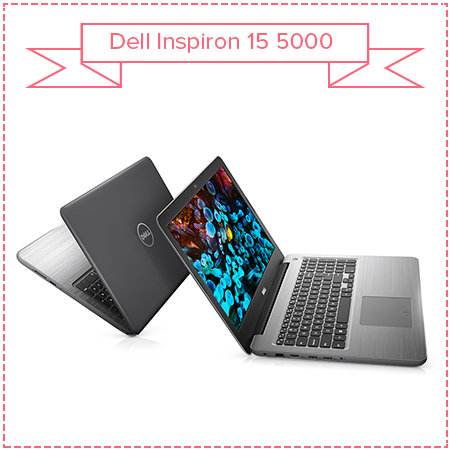 Processor
The Dell Inspiron 15 5000 functions with a dual-core Core i3-6006U. With a CPU clock speed of 2GHz, the intel processor operates as a budget laptop with adequate speed.
Multitasking and loading basic programs occurred smoothly within our tests. We noticed no issues with lag and crashes.
RAM
Similar to many other laptops on our list, Dell's notebook offers 4GB of RAM. At a RAM speed of 2400 MHz, our team experienced performance issues when performing basic tasks, such as watching Internet videos or browsing social networks.
However, much like the other budget laptops on our list, the computer struggles to load more demanding products such as certain games and video editing programs. Dell also offers an upgrade to 16GB of RAM if you ever need to run more powerful programs after purchasing the laptop.
Storage
The Dell Inspiron 15 5000 offers 1TB of Hard drive space. The hard disk speed operates at the typical 5400 rpm. The computer offers plenty of space for saving the most school and work related documents, as well as storing a plethora of songs and videos.
Display
Also on par with all other laptops on the list, the Dell notebook provides 1920*1080 resolution on a LED backlit display.
Network and Connectivity
Along with providing a similar visual experience to other laptops on our list, the Dell notebook also provides similar network connection options. An Ethernet port allows for a wired Internet connection.
Additionally, the computer utilises 802.11-ac, enabling a long-range wireless signal to connect to a Wi-Fi hotspot. The notebook also employs the Bluetooth 4.1 to connect to other devices.
Battery
The 3-cell lithium ion battery averaged a 5-hour lifespan in between charges during our tests. Overall, the battery life ranked on par with other budget laptops.
Ports and Slots
The Dell Inspiron 15 5000 includes most essential modern ports and slots. Embedded in the body of the device includes a USB 2.0 port, two USB 3.1 port, an HDMI slot, a Gigabit Ethernet slot, a headset/ mic jack, an SD card slot and a Noble Lock slot.
Warranty
Dell includes a base warranty in the form of a One-Year Collect and Return Hardware Support service. The warranty solely includes the malfunction or failure of specific parts and fails to include accidental damage repairs.
Additional Features
Have you ever wanted to listen to your favourite songs on your computer without a crackly or muffled sound?
The Inspiron 15 5000's speakers produced clearer and louder sounds than other notebooks on the list. We clearly heard the sounds of music and movies from all ends of the room, without any of the sounds becoming muddled or impeded throughout the entirety of the test.
Despite the strength of the speakers, our team noticed some issues with the touchpad during our tests. The pad ignored many clicks and sweeps.
Dragging and dropping items felt annoying since the pad continuously failed to recognise some of the sweeps, and would randomly drop windows and files in the middle of the screen.
Other times, we noticed the touchpad became entirely unresponsive to our commands. In addition to problems with the touchpad, we also noticed the keys on the keyboard seemed small for 15.6 inch screen laptop. The keys felt tactile and responsive, but you will encounter difficulties if you type with large fingers.
Pros
Sleek and attractive appearance.
Powerful speakers.
Durable design.
Cons
Extremely slow.
Trackpad lacks optimal responsiveness to finger pressure and gestures.
Small keys on the keyboard when compared to other 15" laptops.
---
Lenovo V110 Laptop
As the world's largest seller of personal computer units, Lenovo produces some of the most innovative products in the market. With its variety of budget laptops, Lenovo's V110-15ISK 80TL functions as one of the company's best devices under £400.
Despite the notebook's plastic frame, the lightweight 2.1 kg laptop appears as a slim and stylish device with a contemporary black frame. A powerful processor and strong performance further supplement the computer's unique design.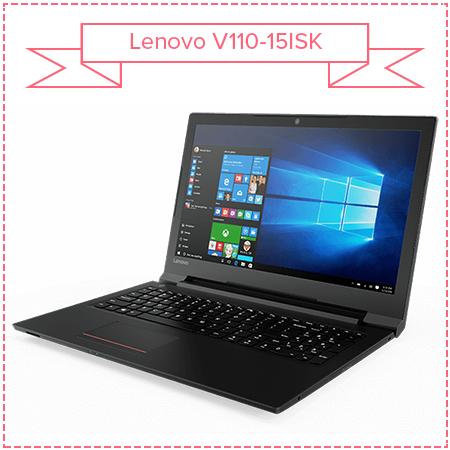 Processor
The Lenovo laptop possesses one of the most powerful processors amongst budget computers. With an Intel Core i5-7200U processor, the device produces stronger performance power than most other devices on our list with a CPU clock speed of 2.50GHz. With a dual core processor and a 3MB cache, the notebook multitasks with ease.
RAM
In contrast to the computer's powerful processor, the Lenovo V110 only supplies itself with 4GB RAM. However, with a RAM speed of 2400 MHz, and when combined with its powerful processor, the device runs most basic computer programs without issues.
During our tests, the notebook encountered no problems when launching office suites, opening browser windows, loading videos, etc.
However, similar to other devices on the list, the computer will struggle if you attempt to load photo editing or intensive video editing software. If the 4GB of RAM becomes too small for your needs, the device allows an upgrade to 16 GB of RAM.
Storage
In addition to lacking the RAM of many budget laptops, Lenovo's notebook also contains half the storage of other computers on the list. If you only plan to apply the computer toward school, work, or casual life, then the 500 GB will function as a sufficient amount of space for many years.
However, if you typically occupy yourself with activities such as photo editing, or downloading thousands of songs on your laptop, then you may need to purchase an external source of storage soon after purchasing the Lenovo V11-15ISK80TL.
With an HDD running at 5400 rpm, the notebook functions on par with others on the list with regards to its speed in reading and writing data. In addition to the 500 GB hard drive version, the Lenovo notebook also ships in a 128GB SSD model.
Display
While lacking the storage of many other similarly priced laptops, the Lenovo notebook's display ranks on par with other computers on our list.
The 1366 x 768 pixels display the same resolution as other budget laptops. Separating itself from many other devices in the same price range, the V110's 39.6 cm (15.6") HD screen produces an Anti-Glare Display, which, as the name implies, reduces the screen glare when working near sources of light.
Additionally, the Intel HD Graphics 620 card will suffice for operating basic programs and tasks on the device.
Connectivity
The Lenovo V110 provides an Ethernet port for a wired network connection. Additionally, the computer contains an internal Intel 3165+BT adapter to connect to the Internet via a Wi-Fi Connection. The device also supports Bluetooth version 4.1 for connecting with other devices.
Battery
The device equips a 4-cell lithium ion battery. Overall, the notebook's battery life exceeds many other budget laptops, as its lifespan typically endured 5-6 hours between charges during our tests.
Ports and Slots
Lenovo's V110 device incorporates some of the most common ports and slots on its thin design. The notebook applies one USB 3.0 port, one USB 2.0 port, a VGA port, an HDMI port, an Ethernet port, and a Headphone jack.
Warranty
Lenovo provides a base warranty of One-Year Depot or Carry-In services. The service includes mailing parts to Lenovo centres but excludes onsite/ in-home repair services.
Additional Features
Do you ever try to share information on your laptop with a person sitting across a table from you, but find annoyances in constantly turning your device 180 degrees?
Lenovo attempts to solve the problem by allowing the notebook's screen to bend 180 degrees on its hinge. While a situational feature, we found minimal concerns in the computer's durability when performing the actions—even when considering the device's lightweight and plastic frame.
Supplementing its thin and stylish appearance, the keyboard and numeric keypad provide a large amount of space between each key, enabling comfortable typing.
The computer also implements a 0.3 MP camera above its screen. Our team noticed very few cosmetic issues with the laptop. Fingerprints and dust easily attract to the laptop, requiring more cleaning than other budget computers.
Also, the trackpad lacks the responsiveness of many other touchpads on our list. Additionally, the internal speakers produced poor sound quality when compared to other devices within the computer's price range.
Pros
Sleek design.
Lightweight.
Tactile and comfortable feel to keyboard.
Intel Core i5 processor generally provides faster CPU performances when compared to the Core i3 processors.
Cons
Very Poor sound quality from internal speakers.
Fingerprints and dust attract easily to surface of the laptop.
Low storage relative to other laptops in its price range.
Feels like flimsy plastic.
Touchpad becomes irresponsive and nonfunctional at times.
Final Thoughts
The Lenovo V110 provides power at the cost of storage. For anyone who solely needs 500 GB of space for storing computer projects, the computer works great for completing basic tasks.
However, if you do not need the extra boost of speed, other devices on the list will provide you with double the storage at a comparable price.
---
Conclusion
Ultimately, the five listed laptops offer unique features to fill any casual computer user's needs. Whether you desire a durable frame on your computer, or you want a stylish laptop, you can find a notebook at an affordable price without any unnecessary features catered for an individual engaged in activities outside your hobbies and interests.
By purchasing any of the above computers, you will not waste an extra £500 on extra power for high graphic games you will never play, or for music production programs you will never fully utilise. A cheap costing computer fails to equate to cheap quality—it simply attaches an affordable price to your needs.
Liked this? Check out our guide to the Best Laptops Under £500