So, you're looking to buy a laptop for less than £700. That seems like an easy enough task. After all, your local electronics store is filled with plenty of notebooks that meet that price. BUT, are you actually getting a good deal on those laptops? Worry not, as today, we're hooking you up with all you need to find the best laptop for less than £700. And along the way, we'll even let you know what laptops are the best for your hard earned dosh. Sound like a good deal to you? Great, then stick with us here, we've got the guide with all the answers you need!
How Exactly do you find the best Laptop for less than £700?
Okay, first things first. Before we actually get to the laptops themselves, let's first discuss how to find the best notebooks. At £700, you can get quite a powerful beast of a machine for your money. Just make sure you're checking the specs first. Because at £700, you'll also find your fair share of rip-offs. So, to make sure that doesn't happen, here's a buying guide with all you need to know.
What Processor Should you get?
Here's the first big question you'll want to address. Mainly because the processor is the more or less the brain of your computer. So with that said, it's pretty important. In simple terms, you'll come across two that are worthwhile.

Core i5
At a budget of £700, don't settle for anything less than an i5 unless you enjoy crappy deals. Overall, Core i5 processors will fall on the cheaper end of the spectrum. But they will still pack respectable performance. And if you want to up your laptop's power, look for a U at the number that follows i5 on the label.
The most common ones you'll find in this price range are the Core i5-8250U and the Core i5-7200U. The former is especially strong with 4 cores, hyper-threading with 8 threads, and clock speeds up to 1.6Ghz. You'll also get a Turbo Boost clock speed of 3.4GHz and a CPU bench passmark of 7676. In other words, it's exceptional for daily use.
On the other hand, the Core i5-7200U is a decent value for casual laptop usage. With 2 cores and 4 threads, you'll have all you need for making social media updates and watching videos. Specifically, you're getting a base frequency of 2.50 GHz and a max turbo frequency of 3.10 GHz. Also, its CPU passmark reaches 4625, So overall, it operates pretty fast.
If you're looking for a faster processor, then you'll want something from the 8th generation. In general, these are 15% faster than previous processors with better clock speeds and graphics.
The most common 8th gen Core i5 processor for a gaming laptop is the Intel Core i5-8300H. Overall, it packs 4 cores and 8 threads with a base clock speed of 2.3 GHz and a boost speed of 4GHz. It's also faster than the Core i7 8550U processor with a CPU benchmark of 9372. But it also consumes quite a bit of power at 45W. So it's mostly recommended for hardcore gamers or anyone who works heavily with video and photo editing or professional design apps.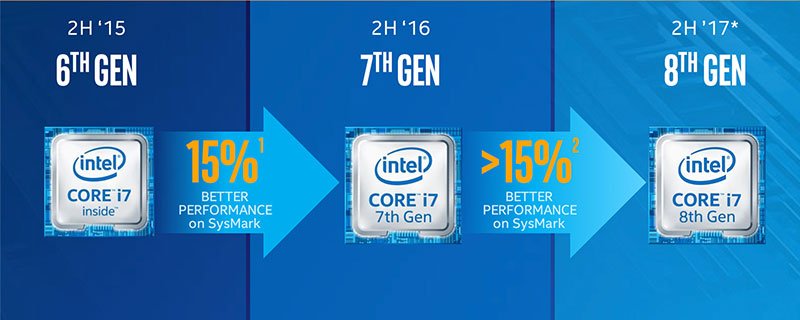 Core i7
This processor is ideal if you need more power. If you plan on video editing or gaming, this is the route you'll go. For £700, an i7 will give you all the power you'll need and then some for these types of projects.
As far as common i7s go, the most frequent ones in this price range and generation are easily the Core i7-8550U and Core i7-7200U. And with 4 cores and 8 threads, it's pretty impressive when it comes to performance as well. You'll get a base frequency of 1.80 GHz and a turbo frequency turbo frequency of 4.00 GHz. Overall, it reaches an impressive CPU mark of 8310 according to CPUbenchmark.net. So again, it'll do all the video editing and gaming you'll ever need.
You can also purchase the Intel Core-i7-7500U in this price range. Overall, you'll get 2 cores, 4 threads, a base frequency of 2.70 GHz and a max turbo frequency of 3.5 GHz. It also hits a CPU bench passmark at 5181. So overall, it delivers quite a respectable performance.
How Much RAM do you need?
At £700, you won't want anything less than 8GB of RAM. But really, for most things you'll ever do on a laptop, anything more than 16GB is overkill. And trust us, if you ever needed more than 16GB of RAM, you'd know. More than likely, you'd be building your own gaming rig at that point.
Storage
This spec is what'll impact your laptop's speed more than anything. But as the name implies, this also plays a pretty sizable role in your laptop's storage as well. And you can choose from quite a few on the market as well. Here's a quick overview of the types of storage you'll come across:
Mechanical Disc Drives
Big, heavy, and slower than typical SSDs.
Great for raw hard drive space.
Slowest transfer speeds averaging 100 MB/s.
Data corrupts easily.
HDD
Adds solid-state memory to mechanical disc drive.
Great for building a PC.
Some extra speed with flash storage.
Tend to be cheaper.
Small in size.
About 150 MB/s transfer speed.
SSD
Small in size (fits perfectly in thin and lightweight laptops).
Hard to corrupt data since it contains no loose parts.
Really high transfer speeds; usually above 500 MB/s.
M.2 SSD SATA 3
Similar to 2.5 inch SSD.
Up to 600 MB/s read and write speeds.
Usually more expensive.
More space than SSD.
M.2 SSD NVME PCIe
SUPER fast; up to 985 MB/s transfer speeds.
Read speeds of 3200 MB/s.
Write speeds up to 1700 MB/s.
Costs a lot more than other storage devices at the moment.
So, Here's a laconic TL/DR about storage:
If you're solely going for raw capacity, HDD will be your choice. If you want nothing but freakishly fast speeds, then you'll want to opt for an SSD. Ideally, you'd go for an M.2 SSD NVME PCI3 SSD in this case.
Display
When it comes to display, a lot goes into making the right choice. So make sure you consider this one carefully. If you're spending around £700, you'll want to ensure you're getting full HD on your laptop. So, you'll want to settle for nothing less than 1080p resolution. Anything less is simply not worth your money.
With laptops in this price range, you'll usually come across 3 panel types. Each comes with its own pros and cons. So check out these overviews and pick one that works for you.
VA Panel (Vertically Aligned)
Horrendous viewing angles.
Best black display.
Unrivalled contrast ratios.
Decent colour reproduction.
TN Panel (Twisted Nematic Thematic)
Cheaper than other panels.
Limited viewing angles.
Meh contrast and colour levels.
Most common screen type.
Good enough for daily use.
High refresh rates.
IPS Panel
Almost limitless viewing angles.
High contrast.
Exceptional colour levels.
Usually more expensive.
Perfect for photographers and professionals.
Display Size
You might think that bigger is always better here. But with laptops, that's not always the case. When it comes to display size, you'll want to consider how you plan to use your laptop above all else.
Anything less than 12 inches
These displays will allow you the ultimate portability. Generally speaking, they're super thin, lightweight, and easy to carry. Moreover, you'll have no problems finding space for them, whether it be in a classroom or on one of those trays during a flight. If you're looking for portability, this is the size you'll want.
15 inches
These displays offer you a larger screen weighing in around 2-3 kg. The display will usually be big and easy to see. So if you're not planning to carry your laptop around too much, this size will be perfect.
17+ Inches
These are pretty big. In fact, they look more like a desktop than a laptop. And for the most part, that's how you'll be using it. The screen is super big and easy to read. Plus, they'll usually allow for more power as well. So it's ideal if you're a gamer or plan to use your laptop to work on intense projects. In other words, you'll park it in one spot and leave it there for the entire day.
GPU
This is also known as the graphics chip. And if you're not interested in gaming or video editing, feel free to skip this section altogether. With graphics cards, you'll find two different options
Discrete: The card has it's own card and memory.
Integrated: Shares the same memory and space as your processor.
If you need top-of-the-line graphics, go for a discrete card. No exceptions. You'll need all the graphics performance you can get. On the other hand, an integrated GPU is perfectly fine for casual use like writing essays and checking social media and YouTube.
As far as brands go, expect to get an NVIDIA GTX 1050 or GTX 1050Ti Discreet GPU in the £700 range. And as a whole, both of these cards will handle any of your gaming needs with ease.
Weight
Really, a £700 laptop should be pretty lightweight. So you'll have no problems with portability when you need it. Of course, screen size will come into play here. But for the most part, they're all pretty lightweight.
Design
When it comes to design, it's more than cosmetic appearances in the £700 price range. Instead, you're deciding between budget laptops with cheap plastic and premium notebooks made from durable aluminium. As you'd guess, the aluminium costs more, but can also take a drop or two without any major damage.
You also have the option of buying a 2-in-1 convertible laptop. As the name implies, these are a hybrid between a tablet and a traditional notebook. So if portability, touchscreens, and cool designs all rank high on your specs list, then give convertible laptops a closer look. Just keep in mind that 2-in-one notebooks typically lack the battery life, cooling capacity, and hard drive space when compared to a traditional laptop.
Battery Life
Here's a big one that's easy to overlook. Do you plan to use your laptop away from an outlet? Maybe on a plane or during a university lecture. If you do, get a battery that runs for at least 8 hours on its own. That'll avert countless amounts of frustration later on.
Other Features
Before you call it a day with laptop specs, you'll still find a few more features worth checking.
USB Types
It's hard to even imagine coming across a laptop in this day and age without a USB port. After all, most electronic devices connect via USB cables. So it only makes sense that USB ports became a universal feature on your laptop. But, not every port is the same. So here's a quick rundown of what to expect from each type.
Type A
The most common USBs are Type A. Just about every laptop nowadays comes with a Type A port. So it works for plugging in your smartphone, tablet, and most other connectable devices.
USB 3.1
This appears as a typical USB connection port. But what makes it special is that it allows for fast data transfer speeds. To be exact, you'll get a transfer rate of 10 Gbps, which is double that of the USB 3.0 port. 3.1 also allows for the transfer of 100w of power between devices. So its capable of charging larger devices like your laptop alongside your smartphones and tablets.
Thunderbolt 3
Overall, this will allow you to transfer data super fast. Specifically, at speeds of up to 40Gbps. More than that, Thunderbolt 3 allows for daisy chaining up to six devices to your laptop. So it's a convenient feature to have.
USB Type-C
The main advantage with a Type-C USB is the reverse plug orientation. In other words, you'll always plug in the cord correctly on your first try. Every time! The other advantage here is that Type-C supports USB 3.1. So you can expect those ultra-fast transfer speeds. And as an added perk, Type-C comes with bi-directional power. So not only will your laptop charge your phone but your phone (or any supported device) will also charge your laptop! So it definitely removes the necessity for a portable battery.
Fingerprint Sensor
Entering your password into your laptop time and time again becomes time-consuming. So you can save that time and enter your password protected notebook instantly with a fingerprint sensor. As the name implies, you simply place your finger on the sensor. If it matches, you're in. No need to enter any long passwords.
Final Thoughts
Buying a laptop for less than £700 is a stellar investment. Just think about all the fun you'll have gaming, editing videos, and enjoying anything digital on the go.
But to do all of that, you'll need a great laptop that works. So follow along with our above guide when shopping for your notebook. If it meets the specs and criteria from above, then congratulations. You've just found you're next laptop. Otherwise, don't be afraid to swipe left and continue looking for that perfect notebook.