Have you ever wanted to buy a 4K TV with great features but without blowing a month's paycheck at once? If you answer yes, you might feel like you fill a weird part of the market. On the one hand, you want a 4K TV better than budget models. But at the same time, you don't want to spend the £3000+ high-end TV costs.
It's fine. Many other buyers feel this way as well. In fact, much of the market is filled with TVs to cater to consumers such as yourself. With so many options, finding the best 4K TV might even feel challenging. This is the part where we save the day. We reviewed a handful of the best 4K TVs for less than £1000. Along the way, we created a list of our favourites and listed some of the best specs just for you.
So, are you ready to find the best 4K TVs under £1000 now? Then read along with us, and we'll instantly show you the best midrange 4K TVs you can buy in the UK.
Best 4K TV Under £1000
Name
Screen Size
Refresh Rate
Connections
HDR
Input Lag



Sony Bravia XF83



60"
120 Hz
HDMI 2.0 x 4
USB 3.0 x 1
USB 2.0 x 2
HDR 10, HLG
15 ms



SAMSUNG Q6F



55"
120Hz
HDMI x 4
USB 2.0 x 2
HDR 10, HLG, HDR 10+, HDR 1000
15 ms



LG 65SK8000PLB



65"
120Hz
HDMI 2.0 x 4
USB 3.0 x 1
USB 2.0 x 3
HDR 10, HLG, Dolby Vision
32 ms



Panasonic TX-58EX700B


58"
60Hz
HDMI x 3
USB 2.0 x 2
USB 3.0 x 1
HDR 10
21ms
Reviews: Best 4K TV Under £1000
Are you ready for some in-depth reviews? We've closely examined all the ins and outs of the following 4K TVs. So, if you're ready to learn all there is to know about the best 4K TVs under £1000 on the market, then follow along with us.
Sony Bravia XF 83
When it comes to innovation in 4K TVs, we can always count on Sony to deliver stellar products. Following this trend is Sony's Bravia model, which now ranks in the midrange price with the XF83. If you're looking for a TV with a great picture and incredible upscaling, this easily could be the best 4K TV under £1000 you'll find.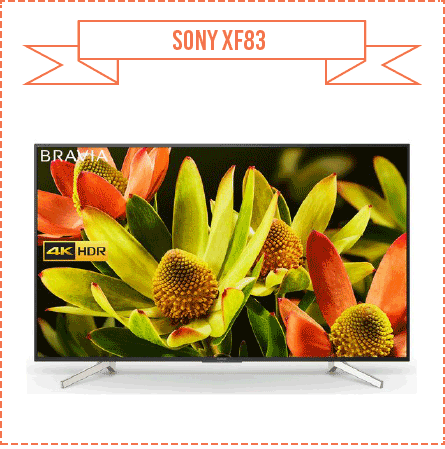 Screen
So, what is Sony bringing to the table that other 4K TV's aren't?
First of all, Sony employs its X1 Processor. This technology analyses all signals travelling to the TV to create the best viewing experience possible.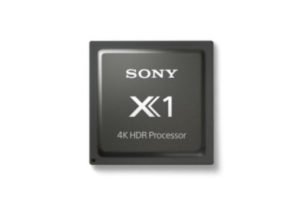 Furthermore, Sony implements its X-reality Pro 4K technology. This feature allows FHD pictures to upscale exceptionally well. Accordingly, you'll find some crisp colours and vivid details from Blu-rays and other FHD sources. Seriously, we aren't lying when we say the Bravia ranks on par with upper-end TVs in this aspect.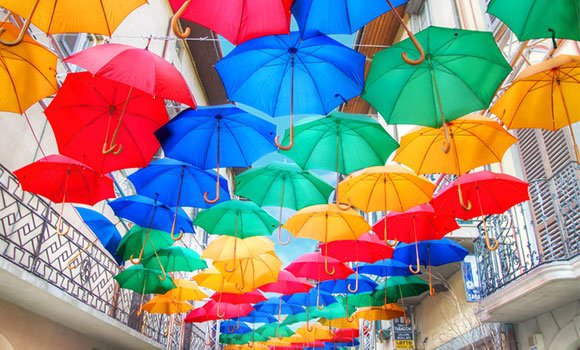 Adding to the nice colours is Sony's Triluminos display. As with other Sony TVs, this technology produces some vibrant and accurate colour shades. So features such as skin tones appear in natural colours as opposed to muddy and unrealistic shades. If you haven't noticed yet, this TV offers a pretty vivid and wide colour palette to its 60-inch LED screen.
The greatness does not stop with the colours. To further amplify the Bravia's screen, Sony applies its Motionflow XR 800 Hz screen. Combined with the 100 Hz motion rate, you'll see movement in incredible detail. Moving objects still appear in crisp 4K quality. In fact, sports and action flick never looked better on a 4K TV under £1000.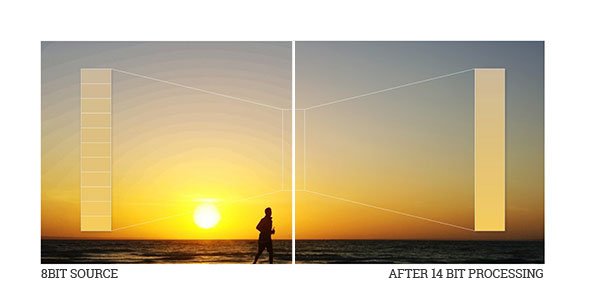 Further boosting the Bravia's picture is the HDR 10. With this, Sony offers an impressive 14-bit colour depth – which means more than one billion colour shades are able to display on this stunning entertainment system.
Furthermore, the Super Bit Mapping technology provides 64 times the colours of other displays to create some of the best, realistic tones you will ever find on the market for this price.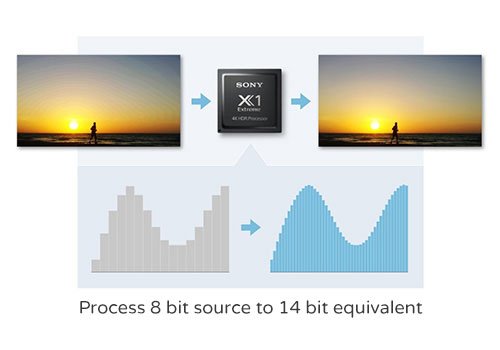 Object-based HDR remaster analyses individual objects of each scene, resulting in crisp and vibrant colour tones to allow the display and details to truly pop.
Of course, the 4K HDR display creates some incredible picture depth to this display. Colour hues and highlights look simply stunning on this 4K TV.
Sadly, not all is great with the Sony Bravia. Perhaps the biggest issue with the screen involves the contrast. The overall black shades do appear pretty deep. And, thankfully, details in shadowy scenes remain clear. But the whites and general brightness of the screen could be better. Even on the highest settings, the screen still lacked that vibrant bright pop found on other TVs.
Also, the viewing angle could be better. At 178 degrees, it's not perfect. But at the same time, we've seen far worse on TVs in this range.
Smart Functions
If you're looking for some fun features, the Sony Bravia is a Smart TV.
Sony chose the Android TV OS. Across the board, it's pretty hit and miss. On the one hand, the screens look pretty slick, and you will experience no problems navigating to your favourite apps. But the Android features are prone to random slowdowns and crashes. It's not a frequent issue, but it still happens nonetheless—and it can feel pretty annoying when you're browsing the Google Play Store, and the app crashes right after you found the app you wanted to download.
Thankfully, Sony brings plenty of redeeming qualities for its Smart features. For starters, you'll find all the video apps you'll ever need, including BBC iPlayer, Netflix, YouTube, and Amazon Prime Video. Even better, Netflix and Amazon, both stream in 4K formats, allowing you to watch your favourite movies and programmes in crisp detail.
The Android OS does include a Sideview app. This will allow you to connect your smartphone to your TV. You can also make use of Chromecast to post information from your phone to your TV.
Even better is the remote, which includes dedicated Netflix and Google Play buttons. If you want to save even more time, you can always use the remote's voice search. For the most part, the remote found apps and features accurately. If you're logged into a Google account, you can even make use of Google Assistant for fast access to weather and news.
If you need to watch some free programmes without subscribing to a streaming service, you can enjoy the TV's Freeview HD Tuner. And, of course, the TV allows for internet connections via Wi-Fi and Ethernet allowing you to watch YouTube and other free video apps without committing to any monthly fees.
Connections
The Sony Bravia comes with all the ports you'll ever need for connecting your devices. The slots include:
HDMI Input x 4
USB 3.0
USB 2.0
Headphone Jack
Across the board, these are pretty great connection options. In fact, four HDMI cables are more than many high-end 4K TVs offer. So, overall, it's a pretty decent value for the money you're investing.
Audio
If you're looking for a stellar audio experience, then your best option is investing in a soundbar. Sadly, even with Dolby Digital and Dolby Pulse, the sound is far from spectacular. With that said, there's also no glaring problems. At high volumes, our team noticed no fizzing or crackling sounds. But at the same time, you'll likely notice nothing noteworthy.
Dimensions/ Design
The 4K TV measures 7.8 x 136 x 78.9 cm. As far as design goes, the Sony Bravia is pretty sleek. The silver bezel looks great without feeling distracting. At the same time, the TV will fit well in any room without contrasting with furniture or decor. And at 19.8 kg, you won't find any problems finding furniture to support the TV's weight.
Energy
The energy efficiency rating is A. When turned on, the TV consumes 100 W of power. Annually, you can expect a power consumption of 139 kWh.
Guarantee
The TV comes with a five-year guarantee.
Pros
Amazing upscaling.
YouView is included.
Motion looks great.
Blacks are pretty deep.
Exceptional picture quality.
Cons
Not as bright as other TVs on the market.
Android OS feels unstable.
Sound is not great.
Final Thoughts
As far as the picture goes, the Sony Bravia XF 83 is one of the best 4K HDR TVs under £1000 on the market. There's no denying that this TV displays some incredible motion and upscaling in 4K quality. Of course, all this comes with the quirks of the Android OS. But once you get past some of the Smart TV issues, the Bravia will easily satisfy your entertainment needs.
Samsung Q6F UHD 4K QLED Smart TV
Do you want a gaming TV with a great picture? If you answer yes, then this Samsung TV might just be the best 55-inch 4K TV Under £1000 you'll find. Combine this with Samsung's Tizen OS, and you can also expect plenty of other fun features. But how does it compare with other TVs on our list? Read along with us to see for yourself.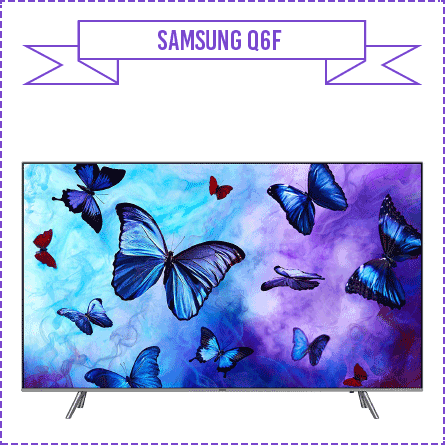 Screen
Overall, Samsung offers a pretty bright screen in this 55-inch display. On the surface, this TV employs a flat Ultra HD 4K 10-bit VA 120Hz panel. LED lights align along the bottom the display.
For starters, Samsung employs its HDR 1000 technology in this 4K TV. Simply put, this feature provides 500 cd/m² of brightness. This might not be bright enough to rival an upper-end QLED TV, but it does create some pretty impressive shadow details. Furthermore, the brightness allows for some vibrant colours to pop as well.
Speaking of colour, Samsung applies its Dynamic Crystal Colour technology with this device. This feature delivers more than 1 billion hues to the display. To put this into perspective, this is 64 times more than the typical UHD TV. So, as you'd expect, the picture displays some impressive, lifelike colour and shades.
You'll also find 4K UHD Upscaling on this TV. As the name implies, this feature allows the TV to upscale SDR content to 4K quite nicely.
Even more impressive is the motion technology which creates some great moving images. The backlight technology and quick frame rates reduce any annoying motion blurs. Furthermore, moving objects lack stutters and lag during motion-heavy scenes.
On the downside, the TV's contrast could be better. In nighttime mode, the TV has no problems reaching a contrast ratio of 80,000: 1. But in standard settings with natural lighting, we noticed the TV measured closer to 2,400:1, which is not great.
Also, keep in mind that the viewing angles could also be better. For the most part, colour begins to distort unless you sit directly in front of the display.
To compensate, this TV is a great deal for gamers. Game mode offers an input lag of 15 ms. This is an incredibly low number. Even high-end TVs struggle to reach an input lag this low. Accordingly, this is easily one of the best 4K gaming TVs under £1000.
Furthermore, motion looks great with the native 120Hz refresh rate. To make this deal even better, Samsung promises a huge improvement for the future. Via a firmware update, this 4K TV will receive HDR10+ with dynamic metadata.

Smart Features
Samsung's TV is powered by it's classic Tizen OS. Overall, this is a visually appealing OS. All your apps appear on a slim and clean bar on the bottom of the screen.
Speaking of apps, you'll find everything you'll ever need here. BBC iPlayer, All 4, Netflix, Amazon Prime Video, YouTube, and plenty more come standard. If you need more, the Samsung TV app store offers plenty of apps you're sure to enjoy.
As is standard with Smart TVs, Samsung offers you Wi-Fi and Ethernet web connections. You can also surf the full browser. Furthermore, you'll find the typical Bluetooth connectivity and screen mirroring with Android and Apple iOS. If you need to catch up on the latest programmes, there's also the built-in Freesat HD Tuner.
As far as the remote goes, it's hands down one of the best you'll find for a 4K TV. The remote is small and minimalistic with roughly seven buttons. The remote could not be easier to work, especially with its voice control functions. Nothing feels cluttered or unnecessary.
If you're a fan of the classic remotes with numeric pads, worry not as Samsung also includes a standard remote.
Connectivity
As far as ports and slots go, this TV offers most of the basics, including:
HDMI x 4
USB 2.0 X 3
As a whole, this might not sound like the most diverse set of ports and slots, but they certainly get the job done. Also, keep in mind that this TV does not have a headphone jack.
Separate from other TVs on our list, your cables will attach to an external connection separate from the TV. You can view this as a good or bad, but we personally like how it reduces some clutter from the back of the 4K TV.
Audio
The speakers on the TV produce 40 W of audio output. Overall, these speakers are decent. You can expect the sound to cleanly emit from various pitches. But at the same time, even with Dolby Digital Plus, these speakers are subpar when compared to a soundbar.
Dimensions/ Design
Starting off, the TV measures 1226.1 x 710.5 x 54.8 mm. Add the stand, and you can expect dimensions of 1226.1 x 746.1 x 209.9 mm. While the size is far from terrible here, the stand could be better. For some reason, Samsung placed the legs at the bottom corners of the screen. So this does limit where you can place this 4K device.
On the bright side, the silver colour does look pretty sleek. As a whole, the TV will look great wherever you decide to place it.
Energy
This TV received an energy efficiency rating of A. When power is turned on, the TV consumes 180 W.
Warranty
The TV ships with a five-year guarantee.
Pros
Low input lag.
Great smart OS.
Very responsive and fast.
Smart remote is one of the best you will find.
Cons
Black shades don't always look great.
Viewing angles are poor.
Stand legs are awkward.
Final Thoughts
When it comes to gaming, you can't argue with 15 ms of input lag. Furthermore, the Tizen OS makes for a great smart experience. If you can deal with some tight viewing angles, you'll easily find the Samsung Q6F to be one of the best 55-inch TVs under £1000.
LG 65SK8000PLB 65-Inch Super UHD 4K HDR Premium Smart LED TV
If you're still looking for the best 4K gaming TV under £1000, the LG 65SK8000PLB is another stellar option. But does this device have the specs to make it one of the best UHD TVs under £1000? Read along with us to learn more.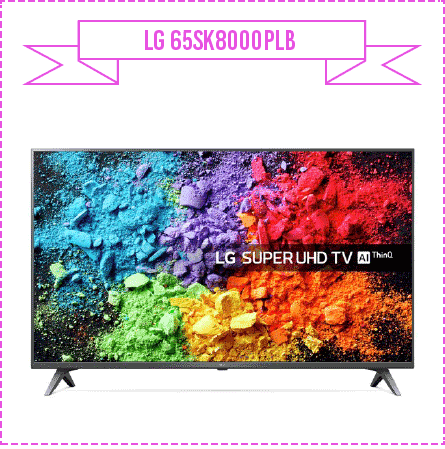 Screen
This LG TV ships with a 4K 65-inch HDR Screen. Unlike other TVs on our list, this LG model employs Nano Cell technology. This feature allows for some vivid colours and crisp details.
Sweetening the deal is the active HDR, which allows the TV to follow most HDR formats—so you'll be able to see a great picture with nearly any device you connect. Furthermore, the TV also supports Dolby Vision HDR for a crisp and accurate portrayal of any content you view on this display.
As far as the display goes, the picture looks incredible. The IPS 4K Nano Cell technology enables pixel placement one nanometre apart from each other. Accordingly, you get some lifelike pictures.
Contributing to the great picture is the 10-bit colour depth. This allows for more than 1-billion hues and shades of colours. With this in mind, try to imagine all the vibrant details and gradients you'll be able to view on this TV. Every colour presents a nice textured and natural look.
Furthermore, upscaling looks great. 1080p and 720p sources look fantastic and natural in 4K quality. SD content does produce some fuzz on screen. But, really, is there a TV on the market where this does not occur?
Motion also looks great on this 4K TV. With a 100 Hz motion rate and 200 Hz processing rate, moving objects look crisp and clean, even without the use of TruMotion processing.
Surprisingly, this LG TV allows for a wide viewing angle. You can see all the vivid colours and crisp details until you slide to a 45-degree angle, which is great for a TV of this price.
Even more impressive than the viewing angles involves the TV's game mode. Here, you'll get an input lag of 13.7 ms.
This figure is truly exceptional, even by high-end displays. So you can expect no noticeable delays from when you push buttons on your controller and see actions occurring on the TV.
If we had to gripe about anything on screen, it would easily include the contrast. Blacks appear as faded greys. To make matters worse, details are difficult to spot in dark scenes.
Smart Functions
The TV is powered by Web OS operating system. Honestly, this is one of the best operating systems you will find on a Smart TV. The popup bar is easy to navigate.
Also, unlike other OSs on our list, you can actually multitask on this TV. This means you can pause a Netflix movie, open YouTube, watch a few videos there, catch up on live TV programmes, switch back to Netflix, and pickup where you left off. This feature alone is a reason why LG's OS is one of the best.
Speaking of Netflix, you'll find that along with plenty of other apps on this TV. All the basics are here, including Netflix 4K, Amazon Video 4K, and YouTube. If you want more, you can download additional apps from the LG app store.
Much like other smart TVs, you can expect screen mirroring with Android phones, built-in Wi-Fi, and a full internet browser.
Adding more to the smartphone fun is the SmartThinQ. This feature allows your smartphone to control your TV—even away from home.
Furthermore, the LG TV remote app transforms your smartphone into a remote. In other words, your mobile device can control the volume, channels, pause, rewind, and operate other magic remote features.
That's not to say the actual LG Magic Remote is bad. In fact, this controller offers all the functions you'll ever need and then some. Voice control helps you open apps and menus quickly.
When searching the app store and web browser, the cursor and scroll wheel will also save you quite a bit of time to find what you need. In fact, the built-in gyroscope is a super responsive tool that allows you to point and control a precise cursor. If that's still not fast enough, the remote offers individual Netflix and Amazon Video buttons. The remote might look a touch on the bulky side, but that's hardly even an issue.
Audio
Okay, here's where the real surprise occurs.
By this point, you're probably expecting to read something about subpar audio on a TV of this price. But honestly, this LG model offers pretty decent sound. The two speakers produce 40 W output.
Yet the real hero here seems to be the Harman Kardon Sound output. The audio seems crisp and clear with this enhancement system. Sound balance is strong, and the bass is heavy enough to enjoy a film or immerse yourself in a gaming experience. An, even more, fun feature here involves the Magic Sound Tuning. This feature automatically adjusts the EQ—which is a nice and convenient touch.
So here's the big question—do you need a soundbar?
Honestly, you probably won't need one. There's no denying a soundbar will produce a better sound output. But, for casual use, the TV's speakers work just fine.
Connectivity
HDMI 2.0 x 4
USB 2.0 x 2
USB 3.0 x 1
Headphone Jack
Overall, you'll find all the ports and slots you need to connect your devices. With four HDMI ports, you'll have no problems connecting a few gaming consoles a Blu-ray player, and any other fun devices you have.
Dimensions/ Design
This 25 KG TV measures 145.6 x 6.4 x 84.4 cm. With the stand, the TV will measure 145.6 x 26.9 x 90.8 cm.
As a whole, this TV is one of the sleekest on our list. The silver bezel covers a very slim space of the TV. In fact, this 4K TV looks like an OLED model. The only aspect that gives away this model's LCD nature is it's thick panel. But even the panel is thin for a TV of this price.
If that's not enough, the stand will even hold your cables to remove any clutter.
Energy
This TV received an energy efficiency rating of A+. You can expect a consumption of 121 W while the TV is powered on.
Guarantee
The TV comes with a 5-year guarantee.
Pros
Good sound for the price.
WebOS software is one of the best on a modern Smart TV.
Great visual design.
Extremely low input lag.
Cons
Blacks look like faded greys.
Not much shadow detail.
Final Thoughts
The input lag alone makes this 4K TV a dream for any gamer. But honestly, you can almost view this device as a budget-friendly version of an OLED model. As long as you don't mind some greyed-out blacks, this TV does everything exceptionally well. For that reason, The LG 65SK8000PLB easily ranks as one of the best Smart TVs under £1000.
Panasonic TX-58EX700B 58-Inch 4K Ultra HD HDR Smart LED TV
The journey for the best 4K TV under £1000 is not yet finished. Panasonic threw its hat in the ring earlier this year with its TX-58EX700B model. If you're trying to find an innovative stand for your TV, this is the model to buy. Of course, the picture and Smart functions are no slouches here. So, read along with us to learn how this device functions as one of the market's best TVs under £1000.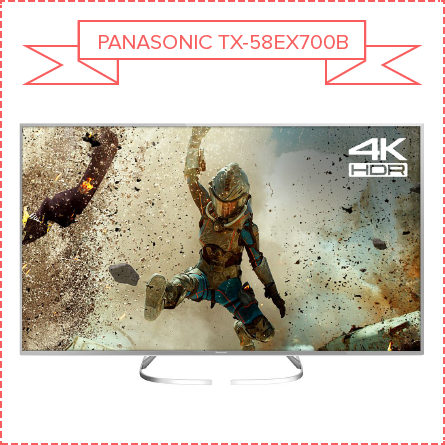 Screen
As you'd expect from a 4K display, the picture on the 58-inch TV is pretty crisp.
Part of this stellar picture results from Panasonic's Enhanced Picture Processing technology. This feature allows the TV to produce vivid, lifelike images.
Furthermore, the Wide Colour Phosphor technology creates a colour range capable of covering more than 90% of the DCI standards. Also, this feature faithfully recreates colours and images sent to your screen. As a whole, you'll even get some deep blacks and visible details in shadows.
Even better is that the TV supports multiple forms of HDR—this means all your devices will display a vibrant picture. Some examples of supported formats include the recent Hybrid Log Gamma and HDR 10.
When it comes to motion, the refresh rate seems low at 60 Hz. At the same time, the backlight motion rate is 1600 Hz. Overall, the motion blurs are not excessively distracting. But at the same time, the Intelligent Frame Creation technology is not as strong as other systems on our list. Keep in mind that settings are pretty shallow, so sometimes you might notice that telenovela filter effect on some programmes. For these instances, your best option is shutting off the Intelligent Frame Creation feature entirely.
Thankfully, the TV upscales exceptionally well. The main reason for this is the 4K High-Precision Chroma Processor, which allows 1080p content to naturally convert to a 4K display.
The game mode is another standout highlight. This feature will reduce your input lag to 21 ms in SDR. This number is higher than other devices on our list. But that does not matter much as you will not notice the lag at that rate. In other words, it's a super low input lag.
The only major downside to the picture includes the glossy LCD panel. The produces a strong glare when watching the TV in a bright environment. The display is not entirely unviewable, but it's still distracting.
Smart Functions
Panasonic remains powering its TVs with Firefox OS. Upon first look, My Home Screen 2.0 is a nice feature. This page looks like an actual home screen with vivid icons to help you find apps quickly. The OS is fast and responsive. Just note that the store is lacking in apps since so few developers actually create apps for Firefox OS.
To compensate, Firefox OS updates frequently to keep up with the latest apps. The home screen is also customisable, which is always a fun feature.
As far as apps go, you'll still find all the basics here. YouTube, Amazon Instant Video, and Netflix are all present here. You'll also receive their 4K variants as well.
Furthermore, you'll find all the standard Smart TV features on this Panasonic model. Wi-Fi and an internet browser are both present.
Moving on to the remote—it's really nothing special. You'll find a dedicated Netflix button, but, otherwise, it's the same Panasonic remote we've seen for the past ten years. There's also an added MY APP button for fast access to your favourite apps—but it's really easy to miss and forget as well.
Lastly, you can catch up with the latest programmes with the included Freeview HD and Freeview Play.
Audio
As you'd expect from a TV of this type, the audio is far from great. Even with built-in speakers producing 20 W of output, the sound can feel muffled at times. Also, the bass is pretty flat, and voices lack clarity. Even with the VR-Audio True Surround, you'll likely want to invest in a soundbar here.
Connectivity
The TV includes all the ports and slots you'll need for connecting modern devices, including:
3 x USB, 3 x HDMI, 1 x Composite, 1 x Optical Out, 1 x LAN.
Overall, you'll notice nothing too special or out of the ordinary is present here. The composite cables are a nice touch. But at the same time, this analogue port is taking the space of an HDMI slot, so it's dependent on your devices whether or not this is a good thing.
Even with that said, you still have enough ports to connect a couple consoles and a Blu-ray player.
Dimensions/ Design
This 23 kg TV measures 75.3 x 129 x 4.1 cm. With a stand, the size changes to 80.8 x 129 x 35.2 cm.
As a whole, design really helps this TV stand out from its competition. The slim chromatic bezel looks great.
The switch stand offers you some freedom in how and where you place your 4K TV. Unlike other TVs on our list, the stand's feet can change to wide or narrow configurations. You can even spin the base around for some additional variations. This feature really does allow the TV to fit well on just about any piece of furniture.
Energy
The TV received an energy efficiency rating of A.
When powered on, the TV consumes 106 W. Annually, the TV consumes 147 kWh.
Pros
Innovative design and stand.
My Home Screen is a fun feature.
Low input lag for gaming.
Reliable OS.
Cons
Sound is pretty bad.
Remote feels outdated.
Screen glares in bright environments.
Final Thoughts
If you're looking for a fun TV at a great price, the Panasonic TX-58EX700B is the 4K device for you! Sure, Firefox OS might not be the most mainstream Smart system in the market, but Panasonic manages to make it work. Furthermore, the low input lag keeps the video games fun as well. If you can work past some sound issues, this Panasonic model is easily one of the best Smart TVs under £1000.
Which One is the Best 4K tv under £1000?
Now we're going to answer the big question on your mind: Which 4K TV under £1000 is best?
The answer really depends on your needs. If you're looking for the best 4K gaming TV under £1000, you cannot go wrong with the Samsung QE55Q6FNA and its freakishly low input lag. Seriously, you won't be losing any matches as the result of the controller reading your inputs too late.
On the other hand, if you want an alternative to an OLED TV, the LG 65SK8000PLB will easily satisfy your needs. The picture looks fantastic. Meanwhile, the TV still offers a fun OS for accessing smart features.
Of course, when it comes to the best 60-inch TV under £1000, then the Sony Bravia XF83 is a solid contender. This TV does a little bit of everything exceptionally well. Whether you need some great upscale or an overall great Smart TV, this is the device for you.
And, of course, if you need something a little bit different in the design department, the Panasonic TX-58EX700B will offer you a sleek design with an innovative stand, allowing you to place the TV nearly anywhere in your home. Firefox OS also breaks the typical norms of Smart functions.
Conclusion
The four TVs on our list offer something for everyone. So, in that sense, finding the best 4K TV under £1000 does not need to be a difficult task. Instead, consider the features that matter to you. Do you want a gaming TV with a stellar picture? Or are you the type of person who wants a stable Smart OS without annoying crashes? Only you can answer questions similar to the above. And when you create your answers, you're ready to add a new 4K TV to your home.