Who could deny 2017 is a great year for console gamers? Countless competitive games released this year. Furthermore, esports continues to enter mainstream media. And what could make this deal better? The best 4K TVs for gaming are only becoming cheaper. So now is the best time to upgrade your entertainment system.
But you might be wondering why a TV matters with gaming. Contrary to popular belief, not all TVs perform the same. Some present high levels of input lag—you know, those moments when you push a button on the controller, but there's a delay before the TV responds. Furthermore, the PS4 Pro and Xbox One X optimise their systems to present the best graphics possible on an HDR screen.
With all this said, it's time to find the best gaming TV on the market. To make matters easier for you, we did all the homework. We tested countless TVs and found three that level up any gaming experience. So, are you ready to find the best 4K TV for PS4 Pro and Xbox One X? Then read along with us to amplify your gaming habit!
Best 4K Tv For PS4 Pro & Xbox One X
| Name | Input Lag | Colour Depth | HDR Support | Display Type | HDMIs |
| --- | --- | --- | --- | --- | --- |
| | | | | | |
| LG OLED55B7V | 21.4ms | 10-bit | HDR10, HLG, Dolby | OLED | 4 |
| Sony KD55A1 | 30ms | 10-bit | HDR10, HLG | OLED | 4 |
| Samsung QE49Q7FAM | 23.8ms | 10-bit | HDR10, HLG | QLED | 4 |
LG OLED55B7V 55-Inch Premium 4K Ultra HD HDR Smart OLED TV (2017 Model)
When it comes to competitive gaming, input lag is a serious issue. The last thing you want is to lose a match or see a "game over" screen as the result of a delayed input. Thankfully, LG erases this issue with its OLED55B7V TV. The screen produces one of the lowest input lags of any TV on the market. To sweeten this package, the TV also presents a vibrant display, allowing you to see characters and environments like never before. But is it enough to take the title as the best 4K TV for the PS4 Pro or Xbox One X? Read along with us to find out.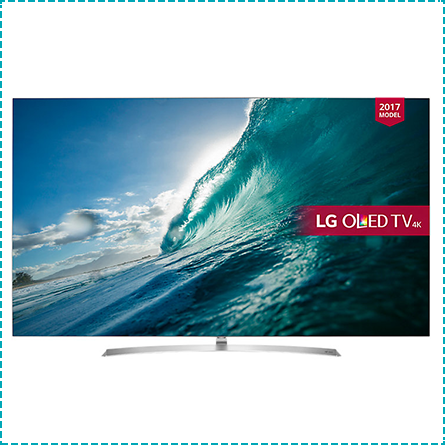 Screen
Let's start by saying LG's 55-inch 4K OLED screen will more than handle all your gaming needs.
As an OLED TV, this device presents perfect blacks. These blacks occur when the pixels turn off entirely, preventing any light from passing through them. This is impressive since many TVs are incapable of displaying blacks, and, instead emit an off-grey shade. Even better, the TV can produce quite the colour palette since certain colour shades can emit through specific pixels.
Also aiding in creating these black shades is the TV's high bit-depth. This allows for low light scenes to produce visible shadows. Again, this impressive detail is something you will not find on a non-OLED TV.
While this TV creates some solid blacks, keep in mind that LG's device is no slouch when it comes to brightness. As a whole, the picture displays a low ABL (automatic brightness limiter). Ultimately, this feature allows bright scenes to appear brighter than usual. This is nice since it really does add an extra punch to the TV's stellar contrast. While this might not be the most apparent spec, there's no denying it contributes to a beautiful picture in any type of scene or environment. To further help with the contrast and brightness, the TV uses Dolby Vision, which delivers some nice enhancements to the screen's image.
As far as colours go, LG's TV offers one of the most vivid displays on the market. We can credit much of this to LG's perfect colour technology. While most TVs portray three colours (red, blue, green), this TV contributes four (red, green, blue, and white). For just one extra white sub-pixel, you will find this TV offers some alluring gradients that bring substance and life to your display.
Since you're probably using this TV mostly for gaming, you will be happy to learn that motion tracks very well on this device. In fact, even with TruMotion turned off, motion blurs never seemed difficult to spot—even on actual 4K movies and programmes. Since most games move at 30-60fps, this TV will handle any motion with ease and without visual distortions.
Part of the smooth motion results from the True 10-bit panel with a refresh rate of 120 Hz. The refresh rate alone is impressive. But the 10-bit panel really delivers that HDR punch to your 4K TV's screen.
Speaking of gaming, Game Mode is where this TV stands out amongst the rest. We found a lag time of only 21ms. This is one of the shortest we have ever found on a TV of any type. So whether you're training for an esports tournament or single player gaming on your couch, you won't need to worry about any skipped or delayed inputs.
Also, if you play any games from previous generations of consoles, know that this TV upscales exceptionally well. Your games from the early ps2 days will display some crisp and balanced colours to look great on your 4K TV. Of course, this also applies to DVDs as well. In other words, you'll find that this is not only one of the best 4K TVs for gaming, but also a device that will handle all your other TV needs with ease.
The screen is great. And if you invite some friends to game as well, we all know sitting directly in front of a screen can become uncomfortable. Thankfully, this TV offers a viewing angle of 178-degrees. This means you can sit just about anywhere in a room and still view this screen's stellar image. This is also perfect for those times you invite multiple guests to view the TV with you. So you won't need to readjust furniture so that everyone gets the best view.
Smart TV Functions
Even with a great picture, the LG OLED55B7V offers plenty of fun beyond a stellar display of your PS4 Pro and Xbox One X.
The Smart functions on this TV all work with LG's WebOS3.5. Keep in mind that this is possibly the best OS on the market. The UI is clean, fast, and responsive. Everything feels easy to navigate. Lastly, the home screen is a basic bar with all your apps and inputs—you can't get much easier than that.
The TV offers built-in Wi-Fi to connect to all your favourite streaming apps. All the basics make an appearance here including BBC iPlayer, ITV HUB, Netflix, Amazon Prime, YouTube, and plenty more. To allow for the best viewing experience, Amazon, YouTube, and Netflix even offer 4K quality on their videos.
Of course, you can always download extra apps through Google Play and TalkTalk TV stores if the default apps don't do it for you. Also, you have access to Freeview Play to catch up on all your favourite programmes.
To control your TV, LG included an easy to use Magic remote. This device works with voice, point, gesture, and wheel control. Personally, we found the pointer function saved quite a bit of time when browsing the web. You'll also find buttons for quick access to Netflix and Amazon video, which will save some time.
This TV is also DLNA compatible. If you happen to be the type of person who enjoys streaming music and videos from your laptop, PC, or NAS drive, then this feature will allow you to do so.
Audio
The TV offers Dolby Atmos, which supposedly offers a realistic audio experience. This even applies to certain streaming services, such as Netflix. Sadly, despite some decent dimensions, the speakers only seemed mediocre. Even with a 40 W output, these speakers produced nothing special you wouldn't find on other thin TVs on the market. This isn't to say they're bad by any means. But we would still recommend investing in an external sound source such as a soundbar.
Dimensions
Once you unbox this TV, you will immediately notice it is thin. Its dimensions measure 70.8 x 122.9 x 4.86 cm without a stand. With a stand, you will need to find place for measurements of 76.4 x 122.9 x 25.4 cm, which shouldn't be too difficult.
Beyond its measurements, this TV exudes sleekness. A black bezel is accented with a modern metal trim, which allows the TV to look great anywhere you place it. As a whole, LG did an exceptional job when it comes to the cosmetic appearance of this device.
Ports and Slots
As a gamer, you probably want headphones so you can hear every sound cue presented. And thankfully, this TV does offer a headphone jack to prevent any unnecessary distractions. Beyond this port, the LG OLED55B7V offers all the ports and slots a modern TV needs, including:
4 HDMI ports–each support 4K/60p
3 USB slots
1 Composite slot set
Putting all this together, you'll see you have space to connect multiple consoles at once. Even better is how this LG device supports every version of HDR. Again, this further proves this TV might just be the best 4K TV for the PS4 Pro and Xbox One X.
Energy
While this TV might require a hefty investment, operating the TV will be a nice experience for your wallet. With an energy efficiency rating of A, this TV won't place too much strain on your power bills.
For specific figures, this TV only requires 155kWh of annual power consumption. On standby mode, the TV consumes .3W. While running, the TV uses 112W of power. You can also make use of an Eco Mode, but we recommend ignoring this feature since the picture quality will suffer in this mode.
Warranty
The LGOLED55B7V comes with a standard one-year warranty. This is extendable to five years for an extra fee.
Pros
One of the best Smart OS on the market.
Beautiful and sleek design.
One of the lowest input lags on the market.
Great Efficiency rating.
Cons
Sound is subpar and flat.
Final Thoughts
If you're a hardcore gamer looking for the best 4K HDR TV with the lowest input lag, the LG OLED55B7V is one of the best options you will find. Sadly, the TV does not offer the best audio experience. But this is easily overcome with some separate purchases. Furthermore, this TV offers a stellar picture to make the best use of the Xbox One X and PS4 Pro perks. At the end of the day, there's no denying that the LG OLED55B7V is the most affordable OLED TV on the market and hands down the best value for your money.
Sony A1 OLED 4K Ultra HD High Dynamic Range (HDR) Smart TV (Android TV)
When it comes to unique and innovative design, we can always count on Sony to deliver devices as we've never before seen. And the A1 is no exception to the rule. Sony not only placed a speaker inside the screen but also gave us a stand design like none other on the market. But we all know design is not everything. So, will this TV respond to all of your gaming needs, or are its design quirks nothing more than a gimmick? Read along with us to see for yourself.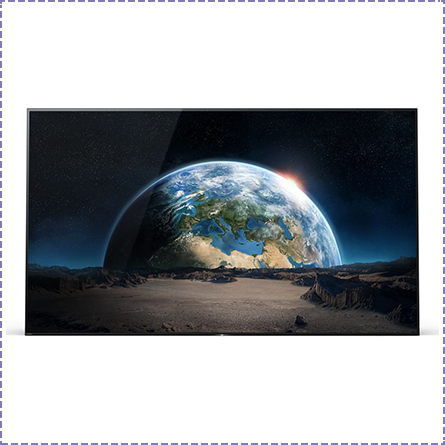 Screen
With a 4K OLED 55-inch screen, the A1 offers an exceptional picture quality that will make any gamer weak at the knees.
For starters, Sony implements its Triluminos display technology in this device. This works pretty simply. The TV maps colours from a massive palette to recreate the colours sent to the screen. Because of this, the screen becomes quite vibrant and detailed. In fact, the Sony A1 creates some of the most vivid tones we have ever seen on such a display.
Also, as a result of the OLED screen, you will notice this TV produces perfect blacks. Even in dark scenes, you will have no problems distinguishing dark shadows and details. Our only mild gripe might be some occasional vertical lines that appear on the screen in darker scenes. But this is nothing distracting—in fact, you'll need to look for this issue to actually see it.
Along with perfect blacks, this TV produces some strong light levels. You'll also find some decent brightness on this device. But note that other TVs will shine a bit better when it comes to producing the brightest display. Still, you will find no issues watching this TV in a well-lit room.
Now here's the big part you've been waiting for. This is a review about how well these TVs will play your Xbox One X and PS4 Pro games, right? Well, thankfully, game mode delivers quite well. With an input lag rate of 30.7ms, the TV responds to your inputs in a timely manner. 30.7 ms might seem like a high number when compared to the other two TVs on our list. But, really, this is still not an issue. All games will remain playable at this rate—it's not like your inputs will lag as if you're playing the game under water. In fact, most TVs on the market do not even come close to an input lag this low. So, with this in mind, the Sony A1 will still work as one of the best 4K HDR TVs for gaming.
Furthermore, this TV presents a motion rate of 120 Hz. If you read the specs on other TVs on the market, you will know that this number is exceptional. You will hardly notice any form of motion blur. When playing games, the motion could not look better.
While the motion rate is great, perhaps this TV steals the cake with its stellar upscaling abilities. According to Sony, the upscaling works as the result of a dual image reference database system. One system creates details while the other reduces all unwanted noise. The result is a crisp and clean picture that genuinely appears 4K.
During our tests, we can definitely vouch that this technology works. We downloaded a few classic games from the PlayStation store, and all played well in 4K quality. Classic PS2 games no longer presented an awkward lighting. Even those older pixelated 2D games appeared amazing. The sprites in games like Metal Slug X appeared full of animation and colour. Thus, we won't hesitate to crown this device as one of the best 4K TVs for the PS4 Pro.
Of course, the upscaling was not exclusive for games. If you decide to watch DVDs or standard TV programmes, note that 720p quality never looked better in 4K.
If you feel the picture could use some extra enhancements, note that Dolby Vision support will be added in a future firmware update.
What's really nice about the Sony A1's great picture involves its viewing angle. At 178 degrees, you'll be able to watch this screen's picture from all angles of your room.
Smart Features
While the Sony A1 offers a great screen for gaming, its Smart features will keep you entertained when not playing games.
Sony operates its TV with the Android operating system. As a whole, the experience is pretty smooth. The home screen appears in a vertical format and is pretty easy to navigate. If you've ever played with an android mobile, device, you'll know exactly what to expect here.
When it comes to apps, you'll find all the streaming and video apps you could ever want. BBC iPlayer, Netflix 4K, Amazon Prim 4K, YouTube, and plenty of others make appearances here. Naturally, you can stay up to date with social media apps as well. The Google Play App Store will even allow you to download more on your TV.
To try to stand out from other Smart TVs on the market, Sony added a content recommendation feature. Sadly, the app misses the mark most of the time. We even wonder if it just suggests apps at random. But we must admit, it feels nice when the TV suggests a YouTube video we never knew we wanted to watch. Overall, this feature is a bit of a mixed bag. But we'll give Sony points for at least trying something different.
As you'd expect, the TV does offer connections via built-in Wi-Fi. You can even browse the internet through the Opera browser. If you need to catch up on your favourite programmes, you will also enjoy Freeview.
When it comes to operating the TV, Sony does include a remote. The voice control feature is a nice touch for speeding up the process of clicking through menus. But, as a whole, the remote does feel a bit clunky. If this does feel like an issue to you, you can always use your smartphone to control your TV through the Sideview app.
Ports and Slots
Much like other TVs on our list, you'll have no problems connecting your favourite consoles and devices at once. The ports include:
4 HDMI 2.0 slots
1 Composite input
2 USB 2.0
1 USB 3.0
All these features are nice. Sadly, these ports are hard to reach once the TV is set up. Not only did Sony place these facing down in the back of the TV but they are also all located behind the stand. So you might want to place some strategy in when and how you connect your devices.
Dimensions
All in all, the Sony A1 is a pretty sleek TV. This device measure 71.1 x 122.8 x 8.6 cm without a stand. But even with a stand, not much changes, as the TV measures 71.1 x 122.8 x 33.9 cm.
The reason for the lack of much change involves the innovative stand. Instead of lining the bottom of your TV, this stand kicks out from the back of the device. So the TV leans on its stand. Visually, the TV appears to float as you play the latest games and enjoy your favourite programmes. Even better, the TV is about as thin as the typical mobile phone. The design might not appeal to everyone, but there's no denying it looks stylish and modern.
Audio
Here's where Sony levels up its own game even further. Instead of forcing space for speaker, the Sony A1's screen is the speaker. Sony dubs this as an acoustic surface. And we must say, the sound is one of the best we have heard from any TV on the market. If you need some extra dimensions to your sound, the stand works as a sub-woofer.
By now, you might be concerned about the vibrations caused from the speaker with 50 W output. If you feel the TV on high volumes, you will feel some vibration. But its nothing you can visually see. Furthermore, we never experience the TV shifting or falling during any of our tests—even at the highest volumes.
Energy
The TV received a decent energy efficiency rating of B. When running; the TV will consume 135W. In standby, the TV consumes 0.5 W. Annually; the TV consumes 187 kWh of power.
Pros
Exceptional Picture.
The best upscaling you will see in today's market.
Great sound—even without external sound sources.
Innovative Design.
Cons
More input lag than other TVs on our list.
Ports and connection slots are a pain to reach after the TV is set up.
Final Thoughts
Don't let the higher input lag scare you. The Sony A1 is a fantastic TV for any gamer. With the exceptional picture, sound, and a sleek design, it's hard to find anything not to love about this device. In fact, just seeing this device in action is enough to prove it's one of the best 4K HDR TVs for gaming.
Samsung Q7F QLED Ultra HD Premium HDR 1500 Smart TV
If an OLED TV doesn't sound right for you, then perhaps a QLED will address your gaming needs. The Samsung Q7F offers a QLED screen with one of the brightest displays you will ever see. But there's more to a great gaming experience than a screen's brightness. So, will this TV offer the best experience for a PS4 Pro or Xbox One X? Join along with us as we explore all the features and specs of this Samsung TV.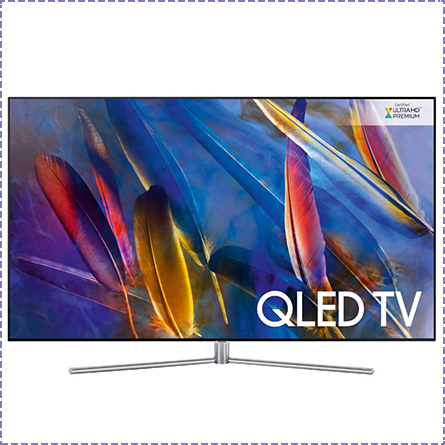 Screen
Samsung offers a 4K LCD screen with its Q7F in four different sizes (49, 55, 65, and 75-inches). The result is something quite different from the other two TVs on our list—and this is not a bad thing.
The main differences here come with some of the trade-offs between an OLED and QLED display. For starters, this display is one of the brightest you will find on the market. During our tests, we found no glares in bright rooms. This means you can game in the morning hours without the natural lighting ruining your experience.
Part of the reason the glares aren't an issue involves the built-in light sensor. Just as the name implies, this feature detects the light levels in the room and adjusts the Samsung TV's backlight accordingly. This feature will save you some time from manually adjusting brightnesses depending on the time of day. Furthermore, you can even set a minimum brightness for this feature, ensuring the backlighting always fits your preferences and comfort levels.
The brightness sensor is definitely a great feature. However, the TV will sometimes adjust lighting based on a film or game's scenes. This mostly occurred in scenes with strong shadowing and lighting. The reason for the adjustments likely results from the TV's screen changing the brightness of the room. Either way, it's not much of an issue. If you find it becomes too annoying, you can always power off the sensor.
Now, this brightness does come at a cost—the lack of perfect black. This is a natural compromise, as OLED TVs will not even come close to reaching the Q7F's brightness. But when it comes to blacks, they do appear as off-grey shades. In fact, when watching films, the onscreen black bars would even shift to a not so dark grey during some transitions. Don't get us wrong—this is far from terrible. In fact, we've seen far worse on other similar priced TVs. And to make matters better, you won't find any clouding here, which is commonly an issue on LCD displays.
Thankfully, the colours aside from black look stellar on the Q7Fs screen. Part of this results from Samsung's Q colour technology. This is a process where quantum dots transform light into vivid colours. In other words, the display reaches 100% colour volume. The bottom line here is that this TV will produce some fantastic, detailed images with quite a bit of tonal depth.
This colour technology also allows upscaling to look amazing. You'll view most of your SD content in HDR + mode. Here, YouTube videos, esports streams, DVDs, and Standard TV all looked legitimately 4K in this mode. The upscaling works from the TV adding brightness and colour to any areas where unnatural highlights occur.
When it comes to actual gaming, the TV does offer a game mode. Here, the input lag reaches 23.8 ms. In other words, input lag will never be an issue. In fact, this is one of the most responsive TVs you will find on the market.
Sadly, the viewing angles aren't as great as this TVs other specs. Unless you sit in directly in front of the screen, the colours quickly lose vibrancy as blacks become washed greys. This can be problematic if you invite your mates for some of the gaming fun as you cannot sit in various parts of the room.
Smart Features
When you take a break from gaming, you'll find plenty of fun features with the Q7F Smart functions.
As expected, Samsung employs the Tizen OS. For the most part, the system works quite well. The Smart Hub is fast and easy to navigate. Furthermore, you'll find all your basic apps here as well, including Netflix, Amazon, and YouTube with 4K support. For catching up with your favourite programmes, the TV also offers Freesat HD.
Speaking of nifty apps, Samsung offers a smartphone app for iOS and Android. This feature allows you to receive your 4K TV's live notifications on your mobile device. It's a nice little feature that can definitely help you save some time when finding content.
Much like its other TVs, Samsung includes its Premium One Remote. This nifty little device is pretty sleek looking with its slim lightweight design. Furthermore, the remote only contains about seven buttons, which removes much of the unnecessary clutter found on other remotes. To save some time, you can also use the voice control feature.
If we had any gripes with the Smart features, it would definitely be Tizen as whole. While it's nothing major, we did notice the OS moved slower than others on our list. Loading screens when launching apps would last noticeably longer. But keep in mind that these times are bearable, requiring only a few extra seconds than competitors. Most the time we couldn't even notice the difference. In fact, this issue mostly occurred after turning on the 4K TV or awakening it from sleep mode. Thus, the loading times are far from a deal breaker.
Audio
When it comes to the audible experience, the Samsung Q7F is unfortunately lacking. Even with its Digital Dolby system and 40 W speaker output, the sound is the worst of the three TVs on our list. The main issue here is not so much that the sound lacks dimensions. Instead, the audio levels are inconsistent. At times, we'd raise the volume to high levels and struggled to hear a dialogue. Other times, we'd set the TV to low volumes, where background noises and music would blast through the speakers, yet dialogue would remain soft and quiet.
The good news is that this is all easily fixable with a soundbar. So we would definitely recommend investing in an external sound source if you by this TV.
Keep in mind that the sound is not terrible by any means. We just wish we heard a bit more punch and consistency.
Ports and Slots
Overall, you'll find all the ports and slots you need to connect your consoles and other fun devices. The connection ports include
4 HDMI
3 USB
1 Composite
To separate itself from other TVs on our list, the Samsung Q7F connects devices via a separate One Connect box. So you don't actually connect these cables to the TV itself. This also means you'll need two free electric socket spaces to connect this TV.
As to whether or not this box is a good thing, we'll let you decide. On the one hand, it can add extra clutter if you do not have a space to hide the box. But, on the bright side, you also won't need to worry about tipping or destroying or TV when you attempt to connect new devices.
Dimensions
As with other TVs on our list, the Samsung Q7F is a slim TV. In fact, without a stand, this device measure 63.7 x 108.94 x 4.49 cm. With the stand, the Q7F measures 71.21 x 108.94 x 30.38 cm.
What's really nice about this TV is the stand. This feature will hide all your cords and cables, clearing the clutter of your entertainment space.
The hidden cords allow your TV to look great–not that it needed any help with design in the first place. The bezel-less edge and 360 design backside look pretty sleek. The TV is a textured plastic that will look great anywhere you place the 4K TV–even in the middle of the room since the backside of the TV looks stylish as well.
Energy
The Samsung Q7F received an energy efficiency rating of B. You can expect 194 kWh of annual power consumption. When turned on, the TV consumes 140W of power. In standby mode, the power consumption reaches 0.5 W.
Pros
Bright—possibly the brightest TV we have ever seen.
Great, sharp image.
Sleek design.
Amazing upscaling.
Little lag in game mode.
Cons
Black levels aren't great.
Subpar viewing angles.
Sound is iffy.
Final Thoughts
If you're searching for the best 4K TV for the Xbox One X or PS4 Pro, the Samsung Q7F is a strong contender. Once you get past some sound issues, the QLED screen will address all your gaming needs. Plus, who could argue with an input lag as low as 23.8 ms? All in all, this TV will not disappoint when you connect your new PS4 Pro or Xbox One X.
Which 4K TV is Best?
Here's the deal:
4K TVs optimised for gaming are not cheap. In fact, they require a hefty investment. So you'll need to ensure that you find the best 4K HDR TV for gaming. Thankfully, this decision is mostly based on your own personal preferences.
If you're a hard-core gamer training for esports tournaments, the LG OLED55B7V is your best option. The 21 ms of input lag is a spec you will find nowhere else. Thus you will never experience any noticeable form of input lag (and if you do, the problem is not the TV).
If you plan to buy some retro games from the Xbox Live Marketplace or PlayStation Store, you won't want to overlook the Sony A1. This TV offers the best upscaling you will ever find. So whether you need to add an extra sense of crispness to ps1 polygons or enhance the vibrancy of sprites, this TV will do it all.
Do you plan to game in well-lit environments? Then the Samsung Q7F will create a comfortable gaming experience for you. The bright screen prevents glares from becoming problematic. Furthermore, this TV offers brightness you will not find on any other device. So with that said, this is the best option for you if brightness is your main concern.
Do I Need a 4K TV for PS4 Pro/ Xbox One X?
Technically, you don't. But don't you want to see your games in that retina-melting, vibrant, realer-than-life HD quality? Of course, you do! And both the PS4 Pro and Xbox One X are designed to bring the best visual experience possible when gaming. So with that said, you'll be missing out on an impressive HD adventure for your eyes if you pass on the 4K TV.
Furthermore, 4K TVs tend to offer a game mode. Here, you will find that input latency is not much of an issue. So if you find anything less than 35 ms, you won't notice any real form of input lag.
When you put all this together, you definitely will want a 4K TV to take full advantage of all the perks of this generation's latest consoles. At the end of the day, a 4K TV will ask a lot of your wallet. But trust us, you'll be happy you made the investment once you see your games in this stellar quality of resolution.
Conclusion
Video games are definitely a fun hobby. Thus, why not enhance this experience further with a beautiful 4K TV? With these 4K TVs, you'll not only impress your mates, but you'll also receive a gaming experience like none other.
So, if you're ready to take your entertainment system to the next level, then be sure to take another look at our list. All three of these TVs will create an amazing video game journey. So study the specs carefully, and select the best 4K gaming TV for you.