Finding the best steam iron in the UK does not sound like an easy task. With so many on the market, who's to tell which are good and which irons are duds? Thankfully, we're here to help. For you, we already did the hard part of this job. We spent hours testing these irons to assist you in finding the right tool for your household chores. So do you want to find the best steam iron on the market without wasting any time? Then follow along with us and see which device we chose as the best-rated steam iron!
Best Steam Irons In The UK
Also Check
Best Steam Generator Iron
Buying Guide
Steam Iron Buying Guide
Before we get started, we'll let you in on a few shopping tricks. To find the best steam iron, you'll need to check a few stats to see if it's the right tool for you.
How do you do that?
Simply read our steam iron buying guide below. We'll discuss all the little secrets and tips you'll need to know to find best steam iron in 2019.
Soleplates
First things first. Soleplates (arguably) act as the most important piece of any iron—steam powered or not. After all, this is the piece that will be sliding over your garments most often.
For the best experience, you'll want a soleplate with scratch resistance. This will remove any worries when you glide over those metal zippers and buttons. Plus, scratches on your iron's soleplate will only reduce its lifespan.
Furthermore, you'll find soleplates come in a variety of surfaces. The best options are easily ceramic and stainless steel. Not only do these materials offer some nice durability, but they also allow for a smooth and easy iron over any fabric.
Controls
With newer irons, controls have changed quite a bit over time. For the most part, you'll want to ensure your steam iron doesn't feel too convoluted to work.
Most irons today still use the classic slides and dials for producing steam and heat. Many even offer large buttons atop their handles for easy access to steam shots.
If you're new to ironing, some steam irons will even automatically detect the fabrics for you. This eliminates some guesswork when deciding the right amounts of steam and heat to apply to your garments.
Cleaning
Here's another super important step. If you allow scale and calc to build on your iron, these nasty materials will destroy your soleplate. You don't want any extra costs, right?
To prevent this from happening, you'll want to clean your iron regularly.
Some irons make this easy with auto clean features to flush that gunk out of your iron. Others will even offer scale filters to reduce the amount of sediments that ever reach your iron.
These features not only make cleaning easier for you, but they will also prolong the life of your iron. Thus, you'll want to check for the ease of cleaning when searching for the best steam iron on the market.
Steam Output
As a whole, higher steam outputs allow you to iron garments easier and faster.
This works since steam reduce the tightness of fibres in your fabrics. Even the most stubborn of wrinkles and creases flatten with enough steam. With this in mind, you can figure out why you want high amounts of constant steam and high volume steam shots. When it comes to steam, you'll usually find two categories:
Steam Shot / Burst : This nifty feature offers an on-demand power burst of steam, which will help flatten the most resistant of creases. Usually, you'll find the power measured in grams per minute. The higher the grams, the more powerful the steam pressure that comes from the iron.
Continuous Steam Output : This value refers to the steam continuously emitting from your iron. The constant steam will allow you to more easily control those wrinkles and creases that occur within your fabric. Again, you'll find this value mentioned in grams per minute. The higher the grams, the more powerful the iron.
Wattage and Heat Up Times
The watts are not listed for the sole purpose of knowing how much energy your iron will consume. Instead, this spec also gives you an idea of how long your iron will need to heat.
With steam irons, you'll usually need less than a minute with 2400 or more watts.
Water Reservoir / Tank
With steam irons, you will need water. And the reservoir is where you will store that water.
For the most part, you'll want to ensure the tank offers enough visibility to see water levels. Often times, dark tanks obscure the amount of remaining water.
Also, keep in mind that these tanks come in different sizes. As a general rule of thumb—larger water tanks require less refills during your ironing sessions.
Vertical Steaming
This is a really nifty feature for those times you need to iron hanging garments. You simply release steam and iron out any unsightly wrinkles.
But this feature is not limited to your clothes. Instead, this works great for ironing those hanging drapes and curtains. So, if this is something you'd like to do during your household chores, look for this feature.
Auto Shut Off
Life happens. Iron manufacturers understand this statement. Sometimes, you get calls that take longer than expected. Other times, people knock at the door and want to talk for ages. So, in these cases, what if you forget you left your iron running?
Thankfully, most irons offer an auto shut off feature. This is great for those times life becomes a bit busy during your chores.
Most steam irons will power off after eight minutes of idle activity on their heals. When placed face down, these irons will often shut off in 30 seconds.
As a whole, auto shut off is a fantastic safety feature. You won't need to worry about your unattended iron damaging any garments. Furthermore, you won't need to worry about pets or loved ones accidentally touching your heated iron.
Cord Length
This one mostly speaks for itself. The length of your iron's lead determines how far away from outlets you can perform your ironing.
Generally speaking, longer is better. You gain some more freedom in determining where you'll perform your household chore.
Most irons on the market come with cords around 3m in length, which is enough to perform your ironing a comfortable distance away from your walls if you prefer.
The Handle, Weight, and Size
All in all, this spec is pretty straightforward. Really, you're checking for two things here:
Comfort — You'll want to ensure you can hold, lift, and move your iron without any issues.
Storage — Ask if the iron is small enough to stow in your home. Most steam irons aren't too large, so you likely won't find too many issues with this step.
Warranty
Of course, you won't want to skim this step. Sometimes parts break for reasons outside your control. When this happens, you'll certainly want your guarantee or warranty to save you some money.
Most irons will offer a one-year guarantee. Sometimes, you can even extend this period by registering your products with the manufacturers. Check if this is an option with your iron—you don't want to cheat yourself a few years of protection!
Best Steam Iron Reviews In The UK
After reading our guide, do you now feel like you're ready to take on the ironing market? Great, then follow along with us as we're about to make your decision much easier.
After reviewing countless irons, we found the following six to be the best at removing wrinkles and making our daily chores fast and easy. So, if you're ready to find the best steam iron in the UK, read along with our reviews!
1.Philips GC4526/87 Azur Performer Plus Steam Iron
Do you want a stylish and lightweight iron when compared to the competition? Then the Philips GC4526/87 Azur Performer Plus might be the best steam iron for you. But, of course, looks aren't everything. So, how does this iron compare to the others on our list? Read along with us to find out.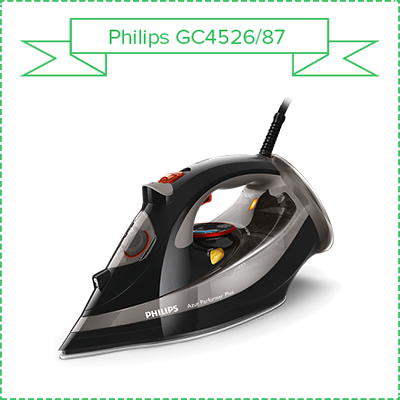 Soleplate
If you ever wanted something different when it comes to your iron's soleplate, then your wish is granted here.
Philips includes what it calls a T-ionic Glide Soleplate. This isn't just some fancy name either. Instead, it's a ceramic plate coated with a layer of titanium oxide. This means the plate is full scratch resistant. So you can glide over zippers and buttons all you want without fear of damaging your iron.
Speaking of the glide, it's pretty smooth overall. During our tests, we found no issues with the iron smoothly sliding over any type of fabric. Thus, this steam iron will nicely glide over any of your garments.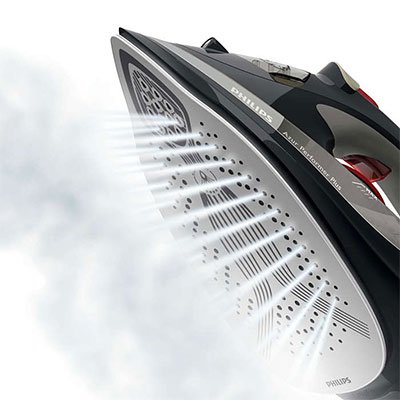 Steam Power/Steam Output
Being a steam iron, you'll definitely want an iron that can output a large enough amount of steam to flatten any stubborn wrinkle. Thankfully, the Azur Performer delivers quite well.
As far as continuous steam goes, you can reach a maximum of 50g/min. For the times that's not enough, you can use the 210g steam boost for quick crease removal. This feature activates with the simple push of a button. This also means you can vertical steam your garments. Thus, you have no excuses to not look as suave or stylish as possible.
If you have small hands, you might find the spray button a little bit awkward to use since the handle is on the larger side. But after a few uses, you'll get a feel for it.
Settings
If the steam settings weren't easy enough, the preset heat settings could not feel any easier.
As a whole, you get the typical three dot settings. One mode even removes the steam altogether if that's something your sensitive garments need.
Also, this iron does offer an Auto Steam Control setting. Here, you simply select the temperature for the fabrics you need to iron, and you're good to go. From here, the iron adjusts the right amount of steam for each garment.
Overall, the iron should iron any fabric you own without any problems. During our tests, the three settings were all we ever needed!
Water Tank Capacity
At 300 ml, you'll find the tank feels the right size for most tasks. On the one hand, fill-ups never feel excessive. But on the other hand, the iron never felt too heavy even when full. It's a strange combination that perfectly balances water volume and weight.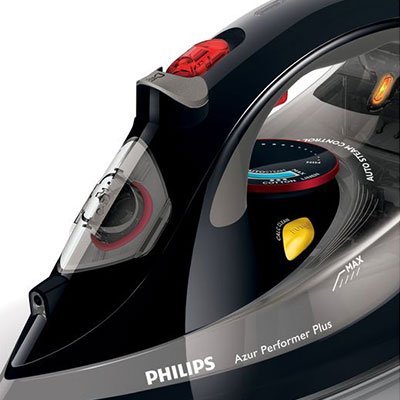 Even better, the sideways opening door to fill the tank is a nice feature. We noticed no issues with splash during our tests.
Heat Up Time
At 2600 watts, this iron is one of the slower steam irons to heat. But keep in mind that slower does not exactly mean slow. You shouldn't need to wait any longer than a minute for this steam iron to reach its full heat. So, in that sense, this is not a bad thing by any means. Just keep in mind that some irons on the market move even faster if you're in a major rush.
To make matters easier, an orange light informs you when the iron is finished heating. This is a nice touch since no one likes feeling the air around their irons with their hands to guess when they are fully heated.
Clean-Up
As expected of a top modern iron, this Philips model presents a calc container and a self-cleaner. As the name implies, the calc container prevents sediments from setting in your iron. This system ultimately collects any calc particles collected from ironing over your garments. From here, you simply use the self-cleaner to flush the calc and built-up gunk from the soleplate. A sliding trey even assists with removing waste. Sadly though, the anti-calc container is not removable, which does create some frustrations when cleaning the iron. However, we still highly appreciate the feature nonetheless.
Safety
Much like the other irons you'll see on our list, the Philips GC4536/87 offers an auto-shut off feature. When left upright, the iron powers off after 8 minutes. When left face down, the iron shuts off after only 30 seconds. Thus you won't need to worry about damaging any of your garments or fabrics should you leave the iron unattended.
PROS
Great soleplate.
Stylish design.
Lighter than most steam irons.
CONS
Cord is short.
Calc container is not removable.
Final Thoughts
Honestly, lightweight steam irons are difficult to find in today's market. Yet, Philips designed one of the best with its GC4526/87 Azur Performer Plus. There's no denying that this iron performs just as great as it looks, which is definitely a good thing. If you can get past the short lead and the non-removable calc containers, this can easily work as the best steam iron on the market.
2.Morphy Richards 303125 Turbosteam Pro Pearl Ceramic Electronic Steam Iron
When it comes to large water tanks on steam irons, they often suffer from one huge issue—they heat agonisingly slowly! Thankfully, Morphy Richards avoids that issue with its new 303125 Turbosteam iron. Here, you not only get a large water tank and a fast heating iron, but it's pretty easy to use to. So, with all this combined, is it enough to rank as the best steam iron out there? Read along with us to find out.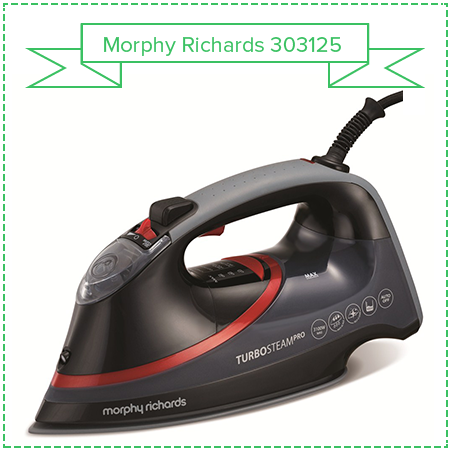 Soleplate
Morphy Richards went all out in terms of naming its soleplate. It's been labelled as both a tri-zone technology soleplate and an ionic anti-static soleplate. While both names seem like mouthfuls, the soleplate itself does a pretty good job at ironing.
Starting with the Tri-Zone name, this ironing removes creases in three critical areas of the soleplate. The precision tip reaches those tricky areas around buttons, zippers, and pockets. Meanwhile, the steam shot ensures no wrinkles remain after the ironing. Lastly, the pressing plate's rolled edge removes the excess water to prevent new creases from emerging.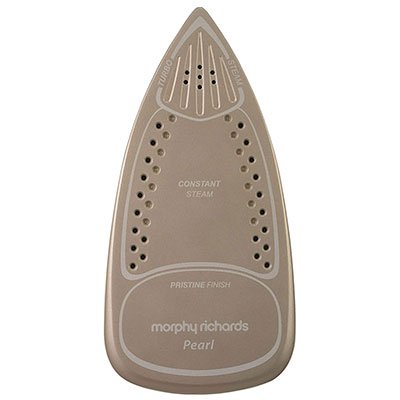 As a whole, the tri-zone technology does live up to its name and delivers a pretty strong iron.
Then there's the ionic anti-static soleplate. This is really a pearl ceramic coating over the plate. As expected of ceramic, the soleplate felt super durable during our tests. The surface is even non-stick, which really helps with the clean-up process.
Our only real issue with the soleplate involved the glide. Overall, the iron just lacked that smooth slide that other irons on our list offered. This doesn't mean it provides a bad iron (quite the opposite), but getting there requires a bit more work.
Steam Power/Output
To remove casual wrinkles, this Morphy Richards iron produces 55 g/min of constant steam. If you check other irons on our list, this one easily ranks as one of the stronger steam settings out there. Of course, for those super stubborn creases, Morphy Richards added a 200g steam shot to this steam iron's arsenal. This feature also allows for some amazing vertical steaming.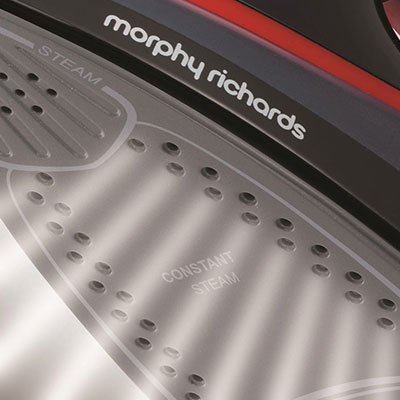 To set itself apart from other steam irons, Morphy Richards even added a variable steam function. In other words, the iron allows you to adjust humidity, direction, and the power of the steam flow—this allows for one of the most precise irons you can get on the market.
Water Tank
The water tank offers an amazing 400 ml capacity. This is one of the largest tanks you will find on the market. Even better, you can iron some massive loads before needing a refill. Seriously, we ironed for about 20 minutes before refilling. This is especially impressive since we pushed that steam button every few seconds.
Some might argue that the tank feels too heavy when filled full. But if this is an issue, the solution could not be anymore simply—don't fill it up all the way.
However, during our tests, we noticed no major issues in terms of the iron's weight. For that matter, the only problem we found with the water tank involved the colour. Overall, the water levels are hard to see through the dark grey tint. In other words, the tank is neither clear nor transparent. So knowing when to refill or finish filling can be tricky.
Heat Up Time
At 3100 watts, this iron fully heats in as little as 30 seconds. Keep in mind that this is freakishly fast for a steam iron. So, if you need to iron a huge load of garments fast, this is easily the best steam iron to buy.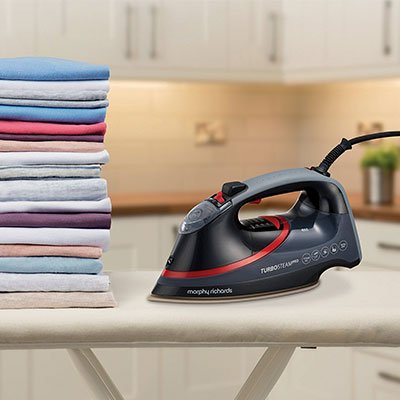 Settings
If you're looking for something basic and easy to use, then this is the iron for you. A three dot heating guide could not be easier to use or interpret. Even better, the heat settings are extremely accurate. Therefore, you won't need to worry about damaging any of your favourite garments.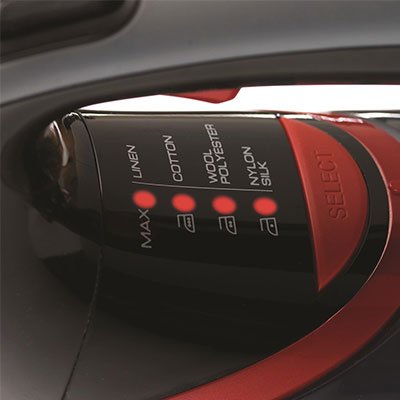 Safety
Much like the other best-rated steam irons, this Morphy Richards model provides an auto shut off feature. If left on its soleplate, it powers off after one minute. When left on the heel, the iron shuts off after eight minutes. If you're worried about saving power and keeping loved ones from getting injured, then this is not a feature to overlook.
Cleaning
As with many other steam irons in today's market, Morphy Richards included a self-clean function in its 303125 model. Overall, the feature works as a great tool for flushing the tank of any limescale build up. Just hold the iron over an area where you want to dump the waste. From there, watch as all that yucky gunk flushes from the soleplate. You'll also find an anti-scale pouch inside the iron to catch any damaging sentiments.
Weight
As we already mentioned, the iron doesn't feel excessively heavy. In fact, at 1.54 kg, it's pretty easy for most people to lift and move. Of course, the weight is enough to remove stubborn creases with ease.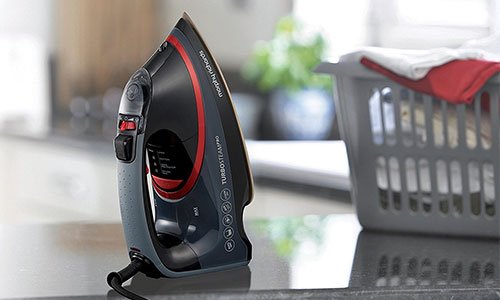 Cord Length
Morphy Richards 303125 ships with a 3 m lead, which is pretty standard for a steam iron. Unfortunately, the iron does not ship with a cord to secure the lead once it is tied up and ready for storage.
Warranty
Morphy Richards offers a 3-year guarantee.
Pros
Super fast to heat.
Very accurate temperatures.
Super large water tank for up to 20 minutes of nonstop ironing.
Cons
Hard to see water levels.
Ceramic soleplate doesn't glide as well as others.
Final Thoughts
Morphy Richards rarely disappoints when it comes to irons. And the 303125 Turbosteam Pro is no exception. The large water tank and fast heating times add plenty of convenience to any iron. Of course, this comes at the cosmetic cost of struggles with seeing the water levels through the tank. If you can move past this issue, the Morphy Richards 303125 will easily rank as the best steam iron to buy this year!

3.Bosch TDI9020GB Steam Generator Iron
Let's be honest here. We've all destroyed a few garments while ironing. Oftentimes, we misjudge the heat, and the problems ignite from there. Thankfully, those mistakes are in the past with the Bosch TDI9020GB steam iron. With a feature that automatically applies the right amounts of steam and heat to any given fabric, what's not to love? Of course, there's more to irons than one single feature. So continue reading to see how this steam iron stacks up against the best.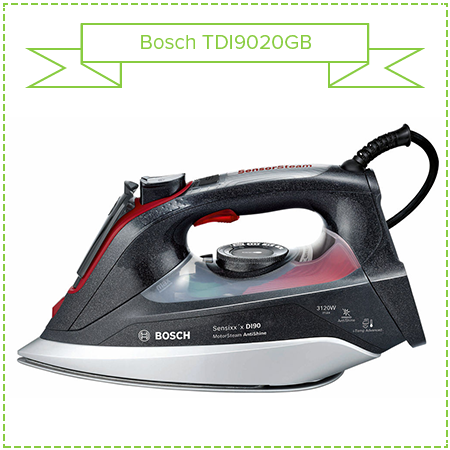 Soleplate
With this iron, Bosch includes its Ceranium Glissee technology for a stellar ceramic soleplate. During our tests, we found this device distributed steam quite nicely to all our garments. The tip of this plate is pointed. So if you have any jackets, dresses, or shirts in your laundry load with those pesky zippers and seams, this iron will still find no problems removing wrinkles.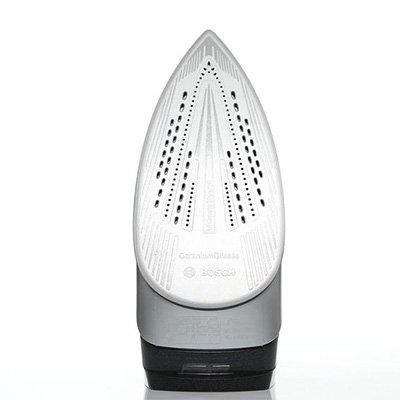 Steam Power/Output
At its highest setting, this steam iron offers 65 g/min of constant steam output. Honestly, this steam power is a bit of a double-edged sword. On the one hand, there's no denying that 65 g/min is an incredible amount of steam output–enough to remove some deep creases. But, on the other hand, expect to make plenty of refills if you plan to iron your entire load with this much steam.
To help with the issue above, you'll find three different steam modes on this iron. By default, the iron is set to eco mode, which emits a minimal amount of steam. But, if you do opt for the full constant steam, then max mode is for you. Just note that sometimes water will splash out of the iron in this setting, which can damage delicate fabrics.
The final setting is normal mode. As the name might imply, this mode works like a normal iron–no steam, just heat.
Now the steam shot is a strong 200 g blast. This will remove most wrinkles without much effort. It also works great for vertical steaming. Even better is that this steam shot is as easy as pushing the handle's right button. Just be aware that when making use of the steam shot, sometimes the iron will spit water onto your fabrics–so be careful around sensitive garments.
If you need more convenience, the handle even has an automatic sensor inside it. Thus the iron only heats when you hold it.
Our only complaint here involves the steam motor. This feature does produce a loud noise. It's nothing distracting enough to wake anyone up if you iron in the later hours of the night. But it does create some problems in hearing the TV while you iron.
Water Tank
To say the least, the water tank here is huge. At 400 ml, you won't have any issues ironing heavy loads.
Do note that if you use the max steam settings, you will be making quite a few refills. This is to be expected though–especially with such powerful constant steam.
The tank is a bit dark in colour. This makes the water somewhat difficult to see. But otherwise, we found no real issues with this water tank.
Heat up Time
At 3120 W, this iron heats up faster than most others on our list. During our tests, we noticed it could reach full temperatures in as little as 20 seconds—perfect if you need to start ironing fast!
Cleaning
For this iron to rank on our list, you already know some cleaning system must be in place. And you're right to think so, as Bosch did include an anti-scale system. There's also a self-clean valve to remove any gunk and calc that's built up over time.
Settings
Here's where this iron steps above the rest.
Bosch included an i-temp feature. With this, the iron automatically applies the ideal amount of steam and heat to any garment without burning or damaging the fabric. This is not a burn-proof feature, so don't get too carried away here. But during our tests, we noticed the feature failed to burn our board when we tested it. Even with this in mind, we would still not recommend resting the steam iron on any sensitive fabrics.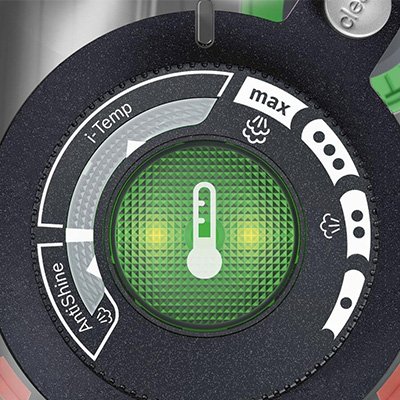 Adding to the fun is the anti-shine feature. This technology protects dark and heat sensitive fabrics from any burn damage. We won't argue against a feature that removes annoying guesswork from our ironing! Thus the anti-shine option is something we're sure you'll love! Especially if you iron silks, nylons, wools, and other delicate fabrics.
Of course, if you're a traditionalist, the three dot system is an option on this iron. Each dot refers to the amount of heat and steam the iron will apply. So, you have a dot for synthetics, a dot for wool and silk, and a dot for cotton and linen. Either way, you look at it, the features of this iron could not be any easier to use—even for a person who's never ironed before.
To make matters even easier, a green light flashes in the middle of the iron. As soon as the light stops flashing, your iron has reached its desired temperature. So again, this iron could not be easier to use.
Safety
Along with great settings, this iron also offers the auto shut off feature that removes a huge amount of stress from ironing.
To make the deal even better, Bosch added a TempOK display to tell you when the iron is heating or cooling. So, you can avoid any unnecessary burns or injuries with this feature.
Weight
At 2.12 kg, this iron is pretty heavy. The huge water tank does not help matters any.
Cord Length
As with many other irons on the market, the cord is a full 3 m, which allows some flexibility with deciding where you choose to iron.
Warranty
Bosch offers a 2-year guarantee.
Pros
I-temp and anti-shine save headaches and unnecessary expenses.
Huge water tank.
Super fast heat up time.
Cons
Water tank needs frequent refills–more than others on our list.
Heating up period is lengthy.
lid for water inlet feels flimsy.
Final Thoughts
If you're willing to end the constant frustrations of destroying garments while ironing, the Bosch TDI9020GB is easily the best steam iron for you! As a whole, this iron could not be easier to use with all of its heating and steam technologies. Of course, this does come at the cost of the iron's heavyweight. But, if this is not an issue for you, then definitely give this iron a look!

4.Tefal FV9736 Ultimate Anti Scale Steam Iron
If you're looking for a simple to use iron that's easy to clean, then look no further than the Tefal FV9736. Honestly, fewer irons are easier to use than the settings knob found here. Even better is that cleaning this tool is not a chore—so you can ensure this steam iron lasts you years to come. But how does its performance rank amongst the other irons on our list? Continue reading to learn more.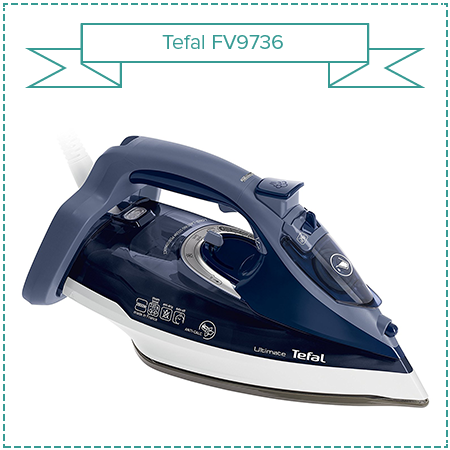 Soleplate
When it comes to durable and unique soleplates, Tefal offers something interesting to the market for its FV9736 iron.
The durilium air glide soleplate implements a new design we don't see too often on the iron. The front presents the typical tip to reach to difficult areas. But the plate also includes holes at the tip, sides, and centre of the iron. Overall, this helps steam spread more evenly across clothing.
During our tests, we found that claim was not solely clever marketing. Overall, the iron would distribute steam quite nicely over our garments. So this feature could save you some time when flattening those finicky wrinkles.
If saving time is not good enough for you, Tefal also designed the plate to be scratch resistant. So you won't need to worry about zippers and buttons destroying your new iron.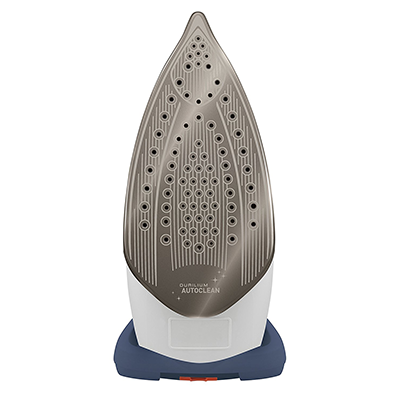 Along with its scratch resistant surface, the auto clean feature also prevents the soleplate from staining. This means you won't need to worry about the iron transferring any unwanted stains to your favourite shirts, which is always nice.
We did notice a small issue with this soleplate. When ironing, water would commonly drip through the soleplate—so be wary of this when ironing any delicates.
Steam Power/ Steam Output
When compared to other irons on the market, Tefal follows a standard constant steam of 55g/min. Overall, it is more than enough for removing those light creases in your fabrics.
But when you come across those stubborn, ugly wrinkles that refuse to flatten, you'll use this irons super powerful 230g steam shot. This is one of the strongest steam shots you'll find on the market. And during our tests, it worked in removing even the deepest and most stubborn of creases. So, you can rest assured knowing that you'll look amazing for your next job interview without any wrinkles on your garments—all thanks to this iron's powerful steam shot.
Of course, this steam shot also allows for vertical steaming. And as a result of its power, you'll remove any creases from hanging garments in a short amount of time.
Water Tank
Overall, Tefal offers a decent sized water tank. With 350 mL, you won't need to pause your ironing too often for refills. We also noticed no issues with splashes or spills.
Heat Up
At 2800 W, this iron reaches full heat in about a minute. It might not be the fastest iron on the market, but it still is not slow by any means.
Settings
If you're looking for a simple steam iron, you won't find many easier to use than the Tefal FV9736. You can make use of an automatic steam setting. This feature automatically applies the right amount of steam to each garment to eliminate guesswork.
As far as other settings go, it's the basic three-dot system we're all accustomed to using. As usual, each dot is pretty straight-forward:
Dot 1 is for synthetic fabrics
Dot 2 is for wool and silk
Dot 3 is for cotton and linens
Really, you can't get an iron more simple and basic than this. And that's not a bad thing. Who wants a convoluted process to work their irons? We sure don't. Thus we appreciate the basic settings here.
Safety
Similar to other irons on our list, you'll find an auto-shutoff feature. If left on its heel, the iron powers off after eight minutes. When left on the soleplate, the iron shuts off after 30 seconds.
Cleaning
Much like other top steam irons you'll find on the market, this Tefal model offers an auto clean feature. Overall, this option works great for preventing those nasty unwanted stains on the soleplate.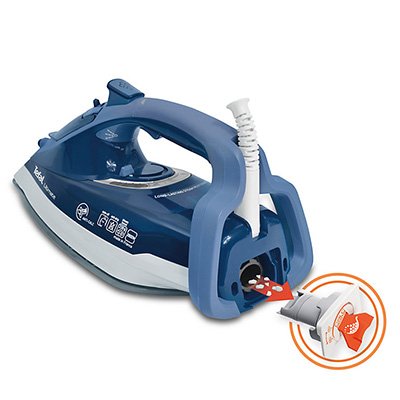 The anti-scale feature also does an exceptional job of keeping your iron clean. In fact, after countless ironing sessions, we found hardly any scale build-up in the soleplate holes—which is incredible for a steam iron. If you live in a hard water area, definitely give this iron a closer look. This filter is too fantastic to ignore.
Cleaning the filter itself is another easy process. Just remove the small tray and empty it into a waste bin. For the rest, just rinse it under a sink, and you're good to go.
Weight
At 2 kg, this is one of the heavier irons on our list. With larger loads, you might start to feel as though you've performed a few dumbbell curls as opposed to ironing a load. But it's nothing that will prevent you from ironing a full load of laundry.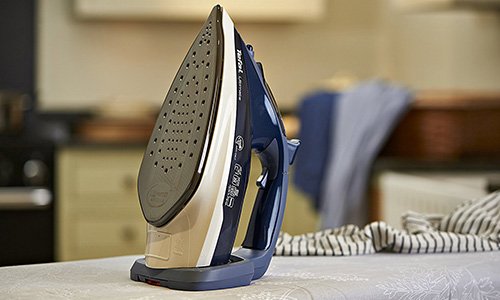 Cord Length
The cord extends 3m, which is pretty standard for a steam iron.
Warranty
This iron ships with a one-year guarantee.
Pros
One of the best cleaning systems out there.
Easy to use.
Strong steam shot.
Cons
Heavy.
Issues with dripping from the soleplate.
Final Thoughts
At the end of the day, you won't always want the flashiest iron features. And this is where the Tefal FV9736 will help you. It offers a simple and basic design that anyone can use. Furthermore, the cleaning ensures your iron will last you quite a while before you'll ever need to replace it. As long as your careful about the iron's dripping issue, you'll easily see how Tefal's tool ranks as one of the top steam irons on the market.

5.Russell Hobbs Powersteam Ultra 3100 W Vertical Steam Iron
Russell Hobbs is at it again by giving us a great performing iron. If cosmetic appearances and comfortable grips stand out to you, then you won't want to miss our following review. So read along with us and see if this iron has the performance to back up its sleek design.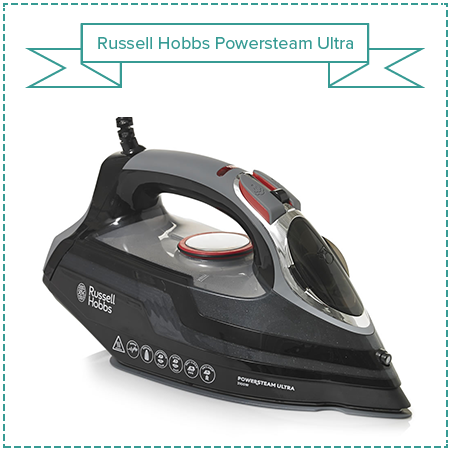 Soleplate
The soleplate is ceramic, which gives it some durability. The iron also glides smoothly over any fabrics and flattens creases with ease. In fact, the design doesn't create any unwanted folds or wrinkles—a fault more common in steam irons that didn't make our list.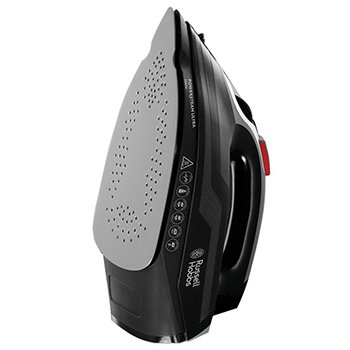 Also, the soleplate offers a tapered tip. As you might have guessed, this is great for navigating around those buttons, zippers, and inside pockets with ease.
Honestly, we couldn't find any real faults with the soleplate. So we're already off to a good start.
Steam Power/Output
The first issue with the problem begins with its constant steam output at only a rate of 45 g/min. This is a lower value than some of the other recommended steam irons on our list—and we could tell. As a whole, it was enough steam to remove any unsightly wrinkles. But flattening these creases did require an extra swipe or two, which takes some extra time.
Thankfully, the powerful steam shot compensates quite well. At 210 g, you'll have no problems flattening the most stubborn of wrinkles and creases. If you ever need to iron stiffer fabric such as denim, this is the feature to use.
Even better is how the button for the steam shot is large and comfortable to press. Overall, it releases a nice mist—nothing too aggressive to wet or destroy your garments.
Of course, you can also vertical steam with this iron. And, during our tests, we easily removed wrinkles from hanging garments and drapes.
Water Tank
Overall, the water tank is a bit of a mixed bag. The good part is the actual size. At 350mL, you won't be pausing your ironing for refills too often. Also, the inlet to pour water in the iron is nice and large. So you won't spill any excessive amounts of water when refilling your iron.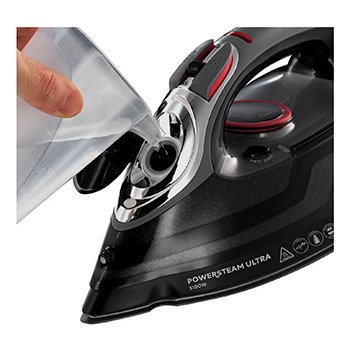 But the inlet is also where the issues begin. The door to get to the water tank feels flimsy. In fact, it feels as though it is ready to break at any moment. And this is not a minor issue since this is the feature that prevents water from dripping and splashing all over your garments. So use caution when opening and closing the hinge.
Heat Up Time
At 3100 watts, you can expect this iron to reach maximum heat in about 20 seconds. This is about as fast as you will find in upper-end steam irons, so this is definitely a great time.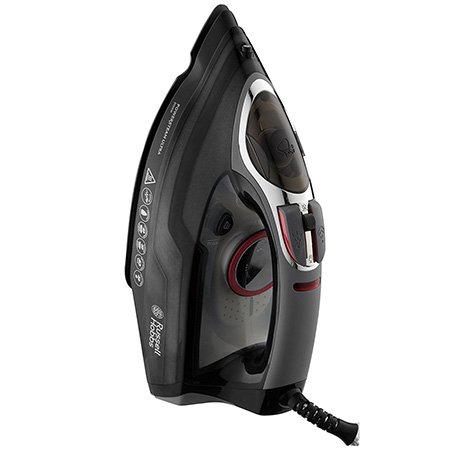 Safety
This iron does come with an auto shut off feature. Much like other steam irons, the tool powers off after eight idle minutes on its heel. When left flat on the soleplate, the iron shuts off after thirty seconds.
Settings
If you don't like complicated irons, then you'll be happy with the settings found here. As with many other irons on the market, you'll find a three dot setting for the different steam levels. This is feature is located beneath the handle, so it's not always the easiest to reach mid-iron. But it's far from an issue—especially since most other irons follow this design.
Sadly, the simple design does not save this iron from being free of flaws. The main issue here involves how the diagrams and images on the iron appear a bit smudged. So finding which fabrics each dot best iron can be an issue if you don't remember after reading the manual.
Cleaning
As you'd expect from a top steam iron, this Russell Hobbs model offers a nice cleaning system. The anti-scale system does just what the name implies—prevents scale build up.
On the other hand, the self-cleaning feature is a little more advanced than other steam irons on our list. Russell Hobbs dubs this feature as Triple Action Self-Cleaning.
The name really refers to the anti-scale filter built into the iron. Thankfully, cleaning this filter is an easy process. You start by filling the iron's reservoir with water. Then push the clean button to cleanse the iron. When finished, the gunk empties out of the soleplate.
Overall, it's a nice and welcomed feature that will help prolong the lifespan of your steam iron.
Weight
The iron weighs 1.6 kg, which is pretty light for a steam iron. In other words, your arms won't tire out with larger loads of laundry.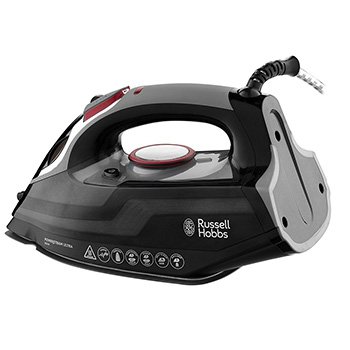 Cord Length
The cord is 3 m. This is pretty standard when compared to other steam irons.
Warranty
You'll get a 3-year guarantee when registering this iron online.
Pros
Sleek design.
Comfortable to use.
Large inlet in filling tank.
Cons
Lower constant steam.
Water inlet door feels cheap.
Final Thoughts
If you're looking for an iron with an overall comfortable experience, the Russell Hobbs Powersteam Ultra 3100 is one of the best you will find. You might find some issues with the cheap feeling inlet door. But the water tank size and overall design easily make up for this flaw. At the end of the day, this iron easily ranks as one of the best lightweight steam irons you will ever find.

6.Breville Press Xpress Steam Iron
Do you want an innovative design with your iron? Of course you do! And thankfully, Breville does just that with its Press Xpress Steam Iron. The multi-directional soleplate is too great an offer to overlook. But does the iron's performance live up to the hype of its unique features? Read along with us to learn more.
Soleplate
At first glance, this might seem like any other ceramic soleplate. But the multi-directional feature allows the steam iron to glide in any direction without creating any extra wrinkles. If you've ever ironed backward with a traditional iron, you already know the mess this normally creates. Yet with the multi-directional soleplate, you can save time by folding creases moving backward—or in any direction for that matter.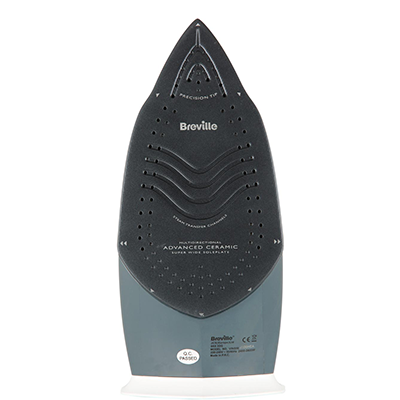 Aside from the multi-directional plate, you'll also find steam channels at the bottom of the soleplate. These channels really allow the steam to remain concentrated beneath the iron to effectively remove creases.
The great features continue with the precision tip on this soleplate. This will allow you to navigate inside pockets and around any awkward button or zipper. So you can ensure all portions of your garments are wrinkle-free.
The last feature of note here is the wide soleplate. This will allows you to cover larger areas of fabric, which will save you some time when ironing larger loads.
Steam Output/Shot
This Breville Press Xpress iron will deliver a constant steam output of 60g/min. As a whole, this will offer you enough power to remove those light wrinkles and creases from any garment.
Unfortunately, the steam shot is not as great as the soleplate. At only 180g/min, you won't be seeing the same amount of wrinkle flattening power as other irons on our list. Don't get us wrong; it still gets the job done. We just would have liked to see a bit more here.
To compensate for a weak steam shot, this iron does offer a steam control button. This allows you to control the steam output based on the garments you are ironing.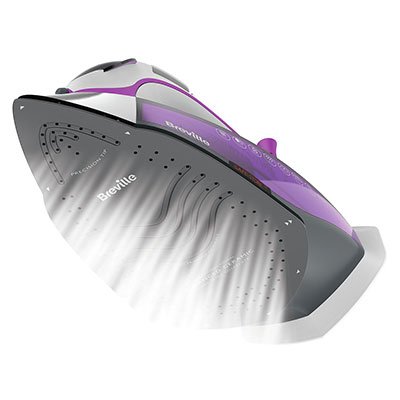 Of course, vertical steaming is an option. And while the steam shot isn't quite as powerful as other top steam irons, you will find it removes those pesky wrinkles from hanging garments quite well.
We noticed a couple other issues here as well.
First of all, you can only apply steam at higher temperatures. This becomes problematic when ironing delicates or other heat-sensitive fabrics.
Also, we noticed that large droplets of water often come out of the iron when applying steam. These droplets almost felt like large drips. So be careful when steaming that your fabrics don't become too wet or damaged.
Water Tank
At 400mL, this water tank is huge. You won't be needing to refill it too many times during your ironing—even with gigantic loads.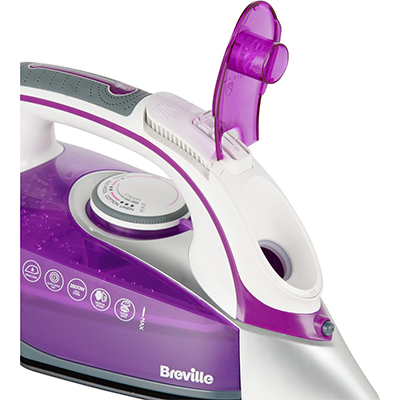 Even better is the large spout in front of the iron. Filling this tool without any splashes or messes is an easy accomplishment. And even when filled full, the iron never feels too heavy to lift or move.
Of course, the downside to any large water tank involves the weight. After completely filling this tank, the iron reaches upwards of 2kg. So, if weight is an issue to you, carefully consider how full you fill the tank.
Heat Up
At 2800 watts, the iron requires just under a minute to reach full heat. To help you out, a light will signify when the iron reaches its target heat.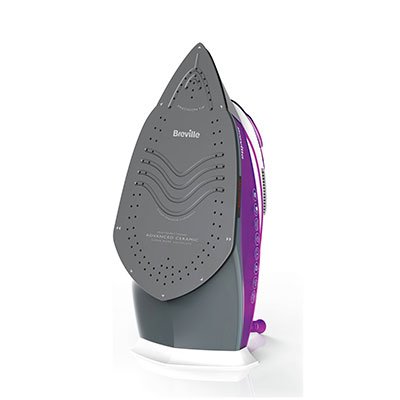 Also, once you finish ironing, a light will indicate when the iron cools. This is a great feature for knowing when you can touch and store your iron after finishing a load.
Cleaning
The cleaning on this iron works pretty simply. The self-clean feature is as easy as filling the inlet with water and then pushing a button to eject all the calc from the iron's soleplate. The anti-scale filter also reduces the amount of limescale that reaches and builds on the soleplate. So you can expect a decent lifespan out of this iron.
Settings
Overall, the steam settings are pretty easy to access and control. A dial allows you to select the steam based on the fabric you are ironing. Your options include wool, cotton, and linen. You will also find two buttons for spray and steam shot, which are easy to push at any given moment.
Safety
As with other irons on our list, this Breville model does provide an auto shut off feature. However, the times before the iron shuts off are a bit longer here. When left face down, the iron powers off after 30 seconds. But when left on its heel, the iron will wait a full 15 minutes before shutting off.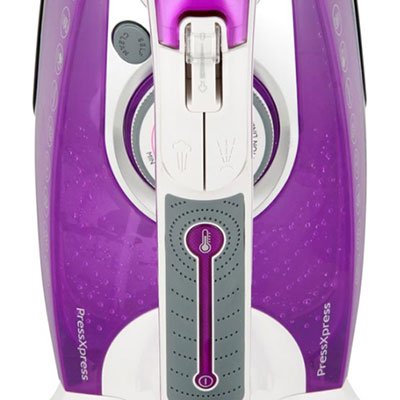 It's hard to say whether or not the increased time is a good thing or a bad thing. On the one hand, the iron is left powered on longer for those times you do leave it unattended. But on the other hand, it is sometimes nice to return to a hot iron after taking a 9-minute phone call. So we'll leave this one up to you to decide.
Weight
As we already mentioned, this iron is pretty lightweight. At 1.6 kg, you won't find any issues lifting or ironing with a full tank.
Cord Length
Lastly, the iron ships with a standard 3 m power cord.
Pros
Multi-directional soleplate.
The tank is huge and easy to fill.
Steam channels are a nice design choice.
Lightweight.
Cons
Drips of water spew out of the air hole.
Steam function is only available at higher temperatures.
Bulky handle.
Final Thoughts
If you're willing to put up with a few quirks such as water dripping out of the airhole, the Breville Press Xpress is possibly the best lightweight steam iron you will find in the market. Few other irons offer multi-directional soleplates for easy ironing. Add to this a nice and simple design, and you're looking at one fantastic household tool.

Best Steam Iron
Which One is the Best?
By this point, you're probably asking the above question. Which steam iron is the best?
Are you constantly ironing massive loads? Then you'll want one of those irons with a huge water tank.
For this spec, the Breville Press Xpress is a lightweight steam iron that will hold up to 400ml of water.
But if that splashing is a drawback for you, then consider the Bosch TDI9020GB. This iron not only offers a full 400ml tank but also provides one of the best steam settings with the I-Temp and anti-shine technologies.
If you're more concerned about finding an all-around great iron, and not so much about big loads, then you'll find a couple irons to reread.
The Morphy Richards 303125 Turbosteam presents some of the most accurate temperatures you'll find on an iron. Plus the steam iron heats up quickly to allow you to steam or flatten the wrinkles from your garments quickly.
On the other hand, the Philips GC4526.87 offers an overall smooth glide and great iron. Plus the scratch resistant soleplate provides a bit more forgiveness for those times you iron over zippers and buttons.
If comfort and simplicity rank high on your priorities, then you'll want to give the Russell Hobbs Powersteam Ultra 3100 another look. This iron only offers three different steam settings with a comfortable handle. You cannot get more simple than this.
Alternatively, the Tefal FV9736 also offers some nice and easy to use steam settings. Plus its strong steam shot is something to check if you often vertical steam your garments and drapes.
Overall, there's plenty to choose from here. So consider your options carefully before deciding on the best steam iron for you.

Conclusion
After rigorously reviewing the above six steam irons, we can easily tell you that you cannot go wrong with which ever iron you select. From here, the ball is now in your court. You have all the information you'll ever need to buy the best steam iron on the market. So review your choices carefully and buy the perfect steam iron for your home. Once you see how crisp and clean your garments look, you'll be more than happy you made your choice. From here, it's as simple as checking for all the bells and whistles that will make your household chore more enjoyable.