We've all been there before—you jump in a shower to kickstart your morning routine. But then, it happens—your relaxing warm water instantly becomes startlingly cold—like jumping into an Arctic lake. Does this sound like a weekly occurrence? Then, you have some options. You could start by figure out who's been hogging all your hot water. Or skip that step altogether and simply invest in an electric shower. Electric showers work as pretty nifty bathroom additions. Not only do these electric showers connect to cold mains water, but they also regulate water temperatures—so no more freezing showers! (unless you want them). And they're pretty energy efficient as well. So there's a good chance you'll be saving on your next power bill with one of these devices installed in your bathroom. So, that brings us to the next big question—how can you find the best electric shower? With so many on the market, you're sure to come across some duds. Thankfully, we tested countless electric showers to find this answer for you! So join us today as we explore the best electric showers the market has to offer.
Best Electric Showers 2022
Review
Top 5 Best Electric Shower Reviews In The UK
As we mentioned above, we invested a copious amount of hours testing these electric showers. Across the way, these five stood out as the best electric shower the market offered. So check out our reviews to see which electric showers nail the features you care most about!
1.Mira Azora Thermostatic Electric Shower
When it comes to providing a stellar shower experience, Mira's electric showers rank among the best electric shower. And, thankfully, the Mira Azora Thermostatic electric shower is no exception to the rule.
Right out of the box, you'll find a sleek and modern shower. In fact, the frosted glass and sage-green base fit nicely in any up to date bathroom, which is definitely a good thing. The only real downside here is how the settings display. Instead of printing the heat and pressure settings atop the glass, Mira printed them on the base—in other words, behind the frosted glass. So viewing and selecting your settings can be a bit tricky as they do appear blurry while showering. But it's not too hefty of a price to pay for an electric shower that looks this sharp!
As far as the actual shower experience goes, everything works quite well. For starters, the thermostatic temperature stability ensures water temperatures remain constant—this means your warm showers stay warm. And quite frankly, this shower does a fantastic job of keeping constant water temperatures—much better than other electric showers you'll find on the market. Also, don't worry about the power here. At 9.8 kW, you'll get a good shower.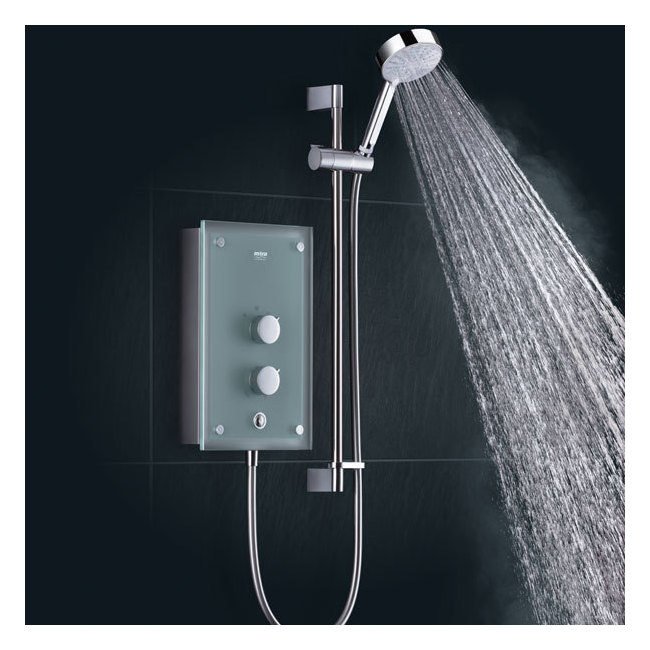 Another nice touch is the sensi-flo technology. Here, the shower prevents scalding anytime the showerhead or hose become blocked. Add to this the phased shutdown process (where hot water flushes out of the system when switched off), and you're looking at an exceptionally safe shower. And there's also the Clearscale technology, which prevents limescale buildup by 50%. Thus, this shower will last you for plenty of years to come. In like manner, cleaning this shower could not be easier. Simply rub clean the nozzle, and that's it. So you won't need to worry about any exhaustive maintenance here.
For settings, you have three different flows to choose from. You'll also get separate temperature controls to achieve the perfect shower. Overall, nothing is hard to use here. And with a max temperature of 48° C, you'll surely find a shower setting that works for you here. To help even more, the showerhead offers 4 different sprays — eco, start, soothe, and force. So, again, you'll have no problems achieving the perfect shower! Lastly, Mira keeps you protected with a nice two-year manufacturer's guarantee.
Pros
Easy to use.
Stylish and sleek.
Exceptional at keeping temperatures constant—regardless of outside temperatures.
Cons
Hard to view and alter settings as a result of frosted glass.
Expensive.
Final Thoughts
There's no denying this Mira electric shower is one of the best electric shower (and prettiest) you'll find on the market. It's hard to find gripes when everything simply works so well. So if you're looking for a comfortable shower and don't mind dropping a few extra pounds for it, the Mira Azora Thermostatic electric shower is an option to consider.
2.Triton Collection 2 Electric Shower
Want a shower that offers plenty of options? Then look no further than the Triton Collection 2!
As we mentioned, variety is this Triton electric shower's strong point. Even when selecting your shower, you get your choice of five varied colours—as a whole, they all look trendy and modern. So there's no denying that all these colours will make a great addition to your bathroom. Add to this the easy to clean chrome plated head, and you're looking at one of the prettiest shower systems out there.
Looks aside, you'll get plenty of options from the five showerhead spray patterns. This is quite the impressive number for an electric shower—especially when considering many don't even offer the option. So if you're looking to customise your showers, then the Triton Collection 2 is just the electric shower for that.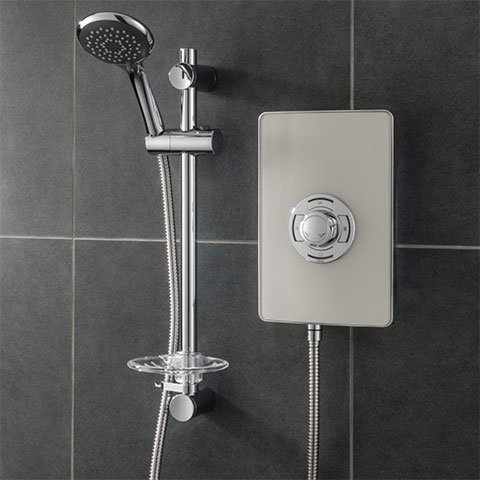 When it comes to other shower options, you'll find the typical three power settings here (high, economy, and cold). And selecting them is pretty easy and straightforward. Do note that this shower will reach a max temperature of 42°C. As far as the power itself goes, you have your choice between 8.5 kW and 9.5 kW — not the strongest options out there, but definitely enough to get the job done and then some! Especially when considering the comfy 5.1 l/min flow rate. There's also a nice phased shutdown feature that prevents limescale from building. So your showerhead will pour water for some moments after shutting off. But really, this process removes the gunk that damages your shower.
When installing this shower, everything feels as easy as possible. The swivel-fit for left and right side water connections makes installing this shower effortless. For protection, Triton offers 2-year parts and labour guarantee.
Pros
5 Shower Head Spray Patterns.
Easy to clean.
Comfortable to use.
Cons
Small silver font is hard to read.
Final Thoughts
The Triton Collection 2 electric shower excels at providing a shower catered to you. If customisation is something you want for your showers, the five spray showerhead and three flow settings will get the job done. Just keep in mind that the font for temperature and flow settings can be difficult to read.
3.Bristan Bliss 3 Electric Shower
Are you looking for some (by that, we mean a lot) of power in your shower? Then be sure to check out the Bristan Bliss 3. As a whole, this happens to work as the best 10.5 kW shower on the market. But even if you don't want that much power, you can also purchase this electric shower in 8.5 kW and 9.5 kW. Either way, you'll receive a nice 5.0 l/min flow rate, which is enough for a relaxing shower.
Along with offering quite a bit of power, this electric shower is downright sleek and modern. Everything from the soft touch controls to digital LED temperature displays present a clean and polished design. And you get your choice between a black or white colour — both of which compliment any bathroom perfectly.
Installation is also pretty easy with multiple water and cable entry points. Add to this the included swivel outlet, and you'll find that this electric shower works great with just about any shower system.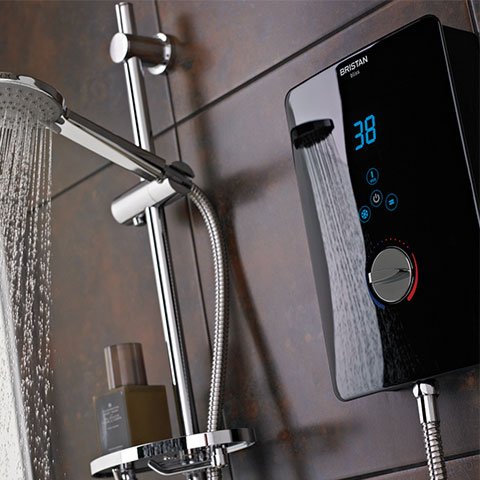 Now, as far as the actual shower goes, you won't be disappointed by any means. For starters, you get the typical three flow settings (cold, warm, and hot), which allow for some customisation. And that's not all! This shower also offers three spray modes (spray, jet spray, combination) for you to play with. And it's pretty easy to work as well—just twist and click the shower head until it reaches the setting of your choice. Plus, you get a digital LED display for your water temperature which eliminates much of the guesswork with a typical shower. In fact, you can say goodbye to those days of rapidly jumping out of a scalding hot shower from accidentally raising the temperature too high. There's even a warm-up mode to ensure you never jump into your relaxing showers too early. And adjusting the temperature is as easy as turning the separate rotary dial.
Naturally, warm water isn't great when it causes scalding. But, that's not a problem here. Instead, Bristan offers a nice phased shutdown feature. This is where the shower flushes out all hot water after each use. So it's a nice safety feature.
Unfortunately, not all is great with temperature here, as the water temps do tend to fluctuate while showering. So your hot showers will have a habit of dropping to lukewarm when you don't want them to do so. But to compensate, you will find a temperature control device in this shower that prevents water from ever raising too high—so no more scalding.
No surprise here—this is a great shower. And to help you sustain it, Bristan included an anti-limescale feature. And as an added bonus, you can rub the shower head clean in seconds to further reduce limescale. By doing so, you're prolonging the life of this shower by quite a few years.
Of course, things don't always go according to plan. Thankfully, Bristan understands this and offers a 2-year warranty.
Pros
Easy to fit.
Reaches temperatures quickly.
LED temperature display removes the guesswork.
Looks sleek and modern.
Cons
Temperatures fluctuate while showering.
Final Thoughts
Who could deny the Bristan Bliss 3 electric shower is stellar? It's hard enough to find a shower that looks this sleek. Add to this, and a digital LED display and some fun temperature settings, and you're looking at the best 10.5 kW electric shower. The temperatures might struggle to remain constant, but if you can get past that, you'll find everything to love about this electric shower.
4.Mira Sport Max Electric Shower
When it comes to electric showers, the Mira brand easily ranks near the top. And if you've ever wondered why, check out the Mira Sport Max. Nearly everything here exudes what you'd want when looking for the best electric shower in the UK.
Visually, this electric shower boasts a clean and cool design. It might not look like the flashiest electric shower out there. But there's also no denying this device will fit any modern bathroom well.
Thankfully, the package doesn't end with a decent design. For the actual shower, Mira offers it's standard pressure stabilized temperature control technology. Compared to other electric showers on the market, we found this to work the best at keeping water temperatures constant. So no worrying about your warm shower suddenly feeling like you stepped into a Yukon tundra—warm water temperatures stay warm!
As far as customisation goes, you get the typical three flow settings you'd expect (high, eco, low). Do you need just a bit more flow? Then you'll want to take a look at the airboost option. This feature will increase the water flow by 30%. You're not actually getting any more water here, but the water will pour faster and with more force. Sadly, this feature is pretty noisy. But, thankfully, it does add some comfort to your showers. You'll also get an Opti-flow feature which optimises your water flow throughout the year.
Obviously, you get control over the water temperature as well—up to 52°C to be exact. And with a flow of 6.66L/min, you're looking at quite the comfortable shower. Another nice customisable feature is the showerhead with four spray settings. The only downside here is that we had a hard time finding the right setting. We found the settings were either super wide or too narrow—there's no real in-between here. But the overall shower experience still remained comfortable, so it's a minor issue. Plus, this shower is available in 9.0 and 10.8 kW models. So, whichever choice you select, you're getting some impressive power by electric shower standards.
Of course, you'll want to keep this shower for the long term, right? Thankfully, Mira understands and offers its sensi-flo technology. And no, this isn't just some silly marketing term. Instead, this is a feature that will prevent scalding if the showerhead/hose becomes blocked, or you lose water pressure. You'll also get Mira's reliable Clearscale technology. While not the most exciting of shower features, this will cut your limescale by up to 50%, which keeps the shower running as long as possible.
To keep you protected, Mira provides a 2-year warranty.
Pros
Great anti-limescale features.
Strong flow.
Sturdy and well-built.
Cons
Expensive
Spray settings could improve.
Airboost is noisy.
Final Thoughts
If budget's not a problem for you, then the Mira Sport Max electric shower will cover all you'll ever need. As far as showers go, the flow features and stable temperature will offer you an amazing shower. The spray settings could improve, but that's a minor gripe when looking at all this electric shower has to offer.
5.Triton Seville Electric Shower
Whoever said a cheap electric shower can't get the job done? In fact, don't let this shower's price fool you. Sure, it might be a budget price, but you'll find the Triton Seville performs on par with the best!
Starting off with looks, things could definitely be better. As a whole, this electric shower looks plasticky and cheap. But, considering the price, can we really expect more here? And, on the bright side, everything the dial controls are straight forward and easy to use. Plus, installation is easy and hassle-free as well. Overall the many cable and water entry points will allow this electric shower to fit in just about any bathroom. So, it might not be pretty, but everything here is easy to figure out.
We know the design could be better. But, as we all know, looks aren't everything. And thankfully, the Triton Seville delivers when it comes to delivering a relaxing shower. For achieving that perfect shower, you can choose from 10 different temperature settings — 5 warm and five cold. It's enough to find the right comfort zone for just about anyone.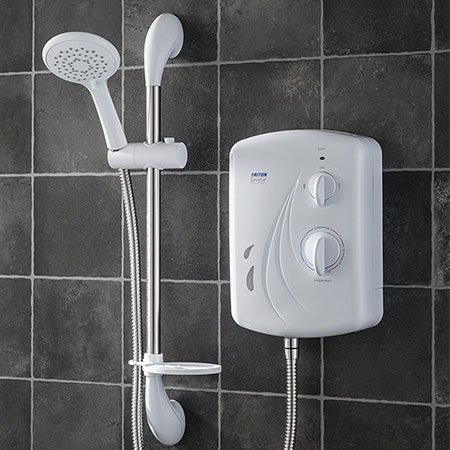 Then you'll find the flow settings, where you get the three basics (cold, eco, and high). This is actually pretty surprising when considering the low price of this electric shower. Even more surprising is how this budget electric shower can come with power up to 10.5 kW. So it can heat and send large amounts of water at once if you need. But even at that, the shower does come in decent 7.5 kW, 8.5 kW, and 9.5 kW models as well if you prefer.
Now, are you looking for some bells and whistles? Well, you'll find the showerhead holder is adjustable—and, that's about it. Sadly, you find too many stellar features here that set this electric shower apart from others on the market. For example, you're only getting one spray feature here. It sounds a bit boring, but remember, this is a budget electric shower. So could we really ask for much more here? And in fairness, this Triton electric shower does a fantastic job of delivering with the basic features.
For protection, you do get a 2-year full part and labour guarantee.
Pros
Cheap—great value for the money.
Simple and easy to use.
Cons
Not the sleekest electric shower out there.
No flashy or special features.
Final Thoughts
Here's the good news. As a whole, the Triton Seville is easily the best budget electric shower you'll find on the market. All the basic features work remarkably. In fact, this shower can compete with top of the line models in that regard. So if you're looking for just an electric shower, this is the model for you! But if you care about some extra bells and whistles, you might want to look elsewhere (and prepare to spend more).
Which Electric Shower is Best?
You've read our reviews. So now comes the big question—which one is the best electric shower?
Honestly, this answer will depend on your personal shower needs. If you're looking for an overall great shower, you really can't go wrong with the Mira electric showers. Both of these models offer great temperature controls and stellar features.
But if budget is more of your concern, then the Triton Seville Electric shower will give you all the essentials. You won't find any crazy add-ons here. But at such a low price (and incredible performance) it's hard to complain.
Then, if you're looking for a great 10.5 kW shower, there's no denying that the Bristan Bliss 3 is the best 10.5 kW electric shower you'll find. The LED display is really something we'd like to see more. And don't lie—you know it looks cool.
And lastly, if you like different options, then the Triton Collection 2 offers plenty. Everything from a handful of colours to different spray options is available here. So if you like some personalisation, this is the shower that allows that.
Buying Guide
How To Buy The Best Electric Shower
Now, you're probably wondering—"How am I supposed to make sense of any of these terms?" And don't worry, that's a common thought when shopping for an electric shower. Here, you're not only learning what certain features do. Instead, you'll also want to know why certain water pressures and flows are important.
So we're here to make this step as easy as possible. To do this, we put together a guide of everything you'll need to know to buy an electric shower. So, before you begin shopping, be sure to check out these specs.
Water Pressure
Before Deciding Anything—check your home's' water pressure. This one is a pretty important step. Your home's water pressure will determine the power of the electrical shower you can buy. In other words, your home might not be capable of supporting certain electric showers.
To check this figure, you have two options:
DIY—check it yourself with a pressure gauge.
Call a professional—for accuracy, safety, and overall ease; we recommend this step.
Power Levels
Compared to traditional showers, electric showers will produce lower values here. But even with that said, you'll usually find the power levels ranging between 7.5 kW to 10.5 kW. These numbers really refer to the amount of water you can heat and send through the shower at once. The higher the kWs, the more rapid the water heats and the stronger the flow rate.
Limescale Buildup
Overtime, your shower will gather some nasty limescale. And if you live in an alkaline water region, the problem only becomes worse. This substance will cause your shower to deteriorate overtime. So, of course, you want to prevent this, right? Well, thankfully, most showers will offer anti-limescale features. Remember—this is the technology that will prolong the life of your shower.
Installation
Generally speaking, electric showers are pretty easy to install. All you need is a cold mains water, and you're good to go. Before you begin drilling, you'll first want to check that the electric shower's cabling matches that of your previous shower. Note that water inlet options will only make the fitting process easier. Keep in mind that you will need the help of an electrician if this is your first electric shower.
Thermostatic temperature control
Do you like your water temperatures constantly changing while you shower? Of course, you don't! So to prevent this, you'll want to check for thermostatic features. As the name implies, these allow you to maintain constant water temperatures. So you won't need to worry about your warm water instantly becoming freezing cold (or scalding hot).
Phased Shutdown
This feature will ultimately help prolong the life of your electric shower. Overall, phased shutdowns allow cold water to run through your shower for some time after it powers off. And don't worry—it's not a waste of energy. Instead, this process reduces limescale build-up. If these minerals become too dense, they will damage your shower. So phased shutdown is a convenient feature to have in your electric shower.
Showerhead Spray Patterns
Some showerheads will allow you to select from multiple spray patterns. This allows you to get a comfortable shower with varying water pressures.
Temperature Controls
Is there a point to owning a shower without controllable temperatures? The big point to this spec is deciding how much control you want over your water's temperature. Some showers will offer you plenty of heat settings while others provide very few. Some showers will even offer some nice luxury features, such as preheating options to allow for the most comfortable shower possible.
FAQ
FAQs
Are electric showers expensive to run? Do electric showers use a lot of electricity?
No to both! Electric showers only heat the water they will use. So that alone will help you save some money and energy. Also, flow rates are lower than other types of showers as well—so here, you will see a reduced water bill as well. And for electricity, you'll rarely see them using more than 10.8 kW—so that number is pretty low as well.
Do electric showers increase water pressure?
No, electric showers do not increase water pressure. Also, since they are mains fed, there's no natural way of increasing the water pressure with an electric shower.
Are electric showers dangerous?
We all know water and electricity are a dangerous combination. BUT electric showers are perfectly safe when used and installed properly. This is because the electricity flows through a sealed heating element. So the electricity will not contact the water you touch. So, in other words, you won't need to worry about any unwanted shocks.
Does an electric shower need an isolator switch?
Yes, electric showers need double-pose isolator switches. Both 50A ceiling mounted switches and 45A wall-mounted switches work fine. And they must be on RCD protected circuits.
Are electric showers easy to install?
For the most part, yes. You will need to do some DIY work. But the hardest part will be fitting any new pipes and such. And the wiring is as easy as wiring a plug. However, if it's your first electric shower, you will likely want to invest in the help of an electrician.
Do electric Showers need RCD protection?
Not necessarily. But you will commonly see RCD protection for electric shower wires. Keep in mind that if the cable run is no enclosed, then you will need an RCD.
Is an electric shower cheaper than gas?
On paper, gas showers are cheaper—about 40% to be exact. But also note that electric showers use less water. Furthermore, electric showers are more cost efficient for heating water—mainly because they only heat the water that will be used. So really, the length of your showers will better answer this question.
Conclusion
At the end of the day, who could argue against saving money and energy? Simply put, it's a winning situation for everyone. And that's exactly what you'll get with an electric shower.
And don't let the market intimidate you. Instead, simply remember the tips from our guide. You really can't go wrong if you make a decision based on the features and prices you prefer. Just remember, a relaxing and money-saving shower is waiting for you—so it's up to you to make the right choice for yourself!