Fact: finding an electric shaver is not a hard task by any means. But what about a quality razor? The market pool drastically shrinks when you're looking for the best. And how about adding affordability to the mix? Well, we won't say it's impossible by any means. But it's no surprise that finding an inexpensive and solid electric razor can feel downright daunting.
However, don't let that exhausting feeling stop you! We must admit finding a great and affordable shaver took quite the effort. But rest assured, if a great product exists, we're here to share it with you! So with that said, let's get straight to these reviews! If you're looking for the best electric shaver for less than £50, then continue reading!
Best Electric Shavers Under £50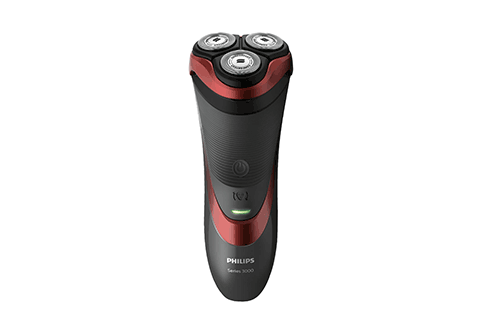 Philips S3580/06

Shaver Type - Rotary

Number of Rotary Heads - 3

Wet & Dry - Yes

Shaving Time - 50 min

Charging Time - 1 hour

Quick Charge - Five minutes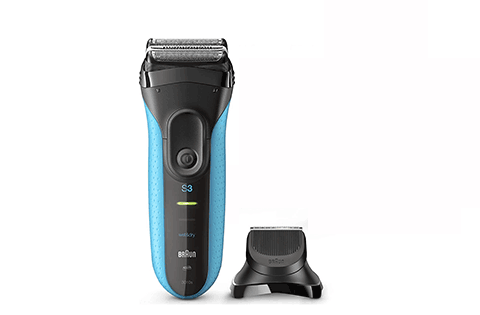 Braun Series 3 3010BT

Shaver Type - Foil

Number of Foil Heads - 2

Wet & Dry - Yes

Shaving Time - 40 min

Charging Time - 1 hour

Quick Charge - Five minutes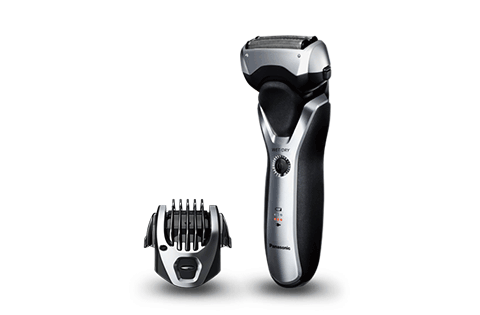 Panasonic ES-RT47

Shaver Type - Foil

Number of Foil Heads - 3

Wet & Dry - Yes

Shaving Time - 54 min

Charging Time - 1 hour

Quick Charge - No
1.Philips Series 3000 S3580/06 Wet and Dry Men's Electric Shaver
It's no surprise Philips makes our list. If you're looking for the best rotary shavers out there, this is your go-to brand. But more on that later. For now, let's start with the design. Overall, this shaver offers a cool red and black design. Sure, the single power button is nothing innovative, but there's no denying this shaver looks sleek. On the downside, the LED display is pretty boring with only a single warning charge light. But it's such a mild detail that it's far from a deal breaker—just some missed potential.
As far the shave goes, everything works pretty well. The rotary blades do a good job of shaving lighter beards without many patches. Just keep in mind that stubble older than a few days will require some extra time. For that matter, long hair, in general, will require more time to fully trim. But this is pretty standard for most electric shavers out there. The real issue here is that this razor does have a habit of pulling and tugging with dry shaves. And as you'd expect, this shaver is rough to sensitive skin. So be aware that you might see some redness without a good gel.
But otherwise, everything else works well. The 4-directional flex head does allow for smooth shaves along your neck. For an added bonus, you'll also receive a pop-up trimmer for detailing your moustache and sideburns. Plus, this shaver is suitable for wet shaves, so you're free to use any oils or gels for your face. So at the end of the day, this is the best rotary razor you'll find on an electric shaver of this price.
Along with supporting wet shaves, this razor is 100% waterproof. So you can use it in the shower without worrying about this shaver breaking or shocking you. Also, this means you can clean this razor easily. Simply pop the head off, rinse under your tap, and you're good to go.
Naturally, battery life matters as well. And thankfully, you get plenty with this Phillips electric shaver. You'll only need to charge this razor for an hour. This allows for 50-ish minutes of shave time. Likewise, if you ever forget to charge your shaver, you can always opt for the five-minute quick-charge feature to get in a quick shave before heading to your big event.
For travelling, this shaver also offers a protective cap. Thus your razor can remain safe at all times.
Lastly, Phillips keeps you protected with a full two-year warranty.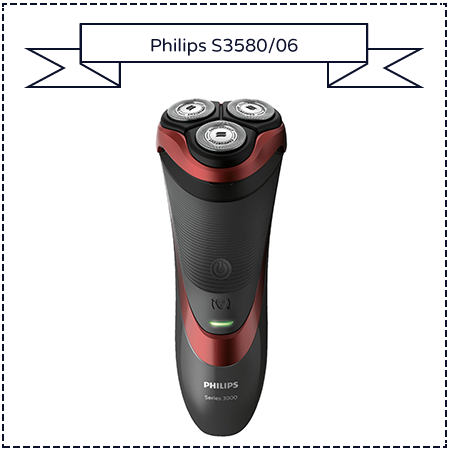 Pros
Easy to clean.
Fully waterproof.
One of the best budget rotary shavers out there.
Cons
Nothing special in the box. (no case, brush, etc.)
Boring indicator display.
Rough of sensitive skin.
Final Thoughts
Are you a fan of rotary razors? Then the Philips series 3000 S3580/06 offers just what you need. Naturally, you'll want to express some caution if you have sensitive skin. But otherwise, what more could you ask from a great electric shaver under £50?
2.Braun Series 3 Shave and Style 3010BT 3-in-1 Electric Shaver
Braun is pretty well known for creating stellar shavers. And even in the budget electric shaver market, this acclaim remains. In fact, the Braun series 3010BT exudes everything you could ever want from an electric shaver.
Right out of the box, you'll unpack all your shaving essentials. By this, we mean the protective cap to prevent scratches and messes, the cleaning brush, smart plug, beard trimmer, and some combs. But, as usual, the showstopper here is the razor. And sure, visually, it might not be anything innovative. But don't lie—you know that blue and black colouring looks downright gorgeous on a shaver.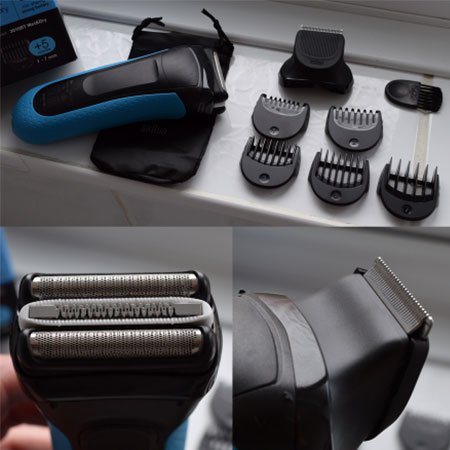 Of course, this isn't all about looks. Plenty of shavers are pretty—but few perform well. Thankfully, Braun's foil formula works quite effectively here.
Overall, the three blades work well to achieve a close shave. And then there's the detachable trimmer, which creates some fine detailing on your moustache and sideburns should you need it. And since it's detachable, you can replace this piece once it becomes dull—which is always some nice reassurance. But there's something here that sweetens this deal even further. That's right! Braun included a 3mm, 5mm, and 7mm comb for this trimmer. So you have some freedom with styling your stubble as well.
Also, here's some great news to people with sensitive skin—this razor causes no irritation. So you won't need to worry about embarrassing redness or breakouts in your next meeting, as this shaver does a great job of keeping your skin smooth.
Another nice feature here is that this razor is 100% waterproof. So you can wet shave to keep your skin hydrated and healthy. Plus, you can shave in the shower with this electric razor for some added convenience. This also means that cleaning is as easy as rinsing this shaver under your tap for a couple minutes—the process doesn't get easier than that at this price!
And that's still not all! Alongside some convince, this shaver also provides a battery on par with higher-end shavers. A one-hour charge will net you 45 minutes of shave time. Moreover, there's also a quick-charge function for those times you forget to perform a full recharge.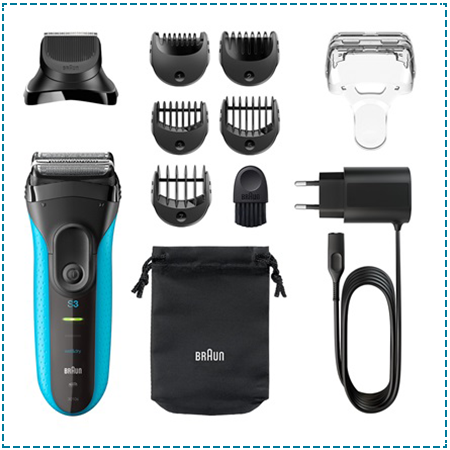 Pros
Bear trimmer works great.
No burn or rash on sensitive skin.
Cons
Not too many bells and whistles here.
Noisy.
Final Thoughts
If you're looking for a foil razor that will keep you clean-cut, then this is it. It's not often that you find a budget-friendly razor that's also friendly to your skin. But Braun found a way to make the formula work. Just keep in mind that this shaver is pretty basic and barebones as far as features and design go.
3.Panasonic ES-RT47 3 Blade Electric Shaver
When it comes to the big players in electric shavers, Panasonic easily makes the cut (see what we did there?). Even for razors under £50, this brand can cater to stubble of any type.
Right out of the box, you'll find a silver and black shaver. Some parts of this razor do look plasticky. But overall, it is a pretty cool design. Plus, when you turn it to the back, the black grip looks something more like what you'd see on an industrial phone case. So it's not all bad here.
For shaving, this foil razor will trim through your stubble with ease. Part of this results from Panasonic's 3-blade cutting system. In other words, the foils lift and cut long hairs. Meanwhile, the slit blades slash away those stubborn flat hairs. Overall, it works quite nicely. Plus, the nano-polished blades do allow for a smooth glide and close shave—a winning combination if we say so.
But what if you want to keep some of your beard? Then you'll make use of the five-stage trimmer. This piece slides from the back. However, the winning feature here is the 5-stage attachment comb. This nifty tool will allow you to style your sideburns and lighter portions of your beard with ease. As far as options go, you can play with ranges between 1-7 mm. So there's something here for whatever style you're trying to achieve.
To make for an even better trim, this shaver allows for wet and dry shaves. So you're free to use gels and creams if you need them. For even more convenience, you can even shave in the shower. And if that's not enough, you'll also be able to clean this shaver by rinsing it under the tap.
As far as battery life goes, you can get a full 54 min of shave time off a 1-hour charge. And as usual, you can make use of the quick-charge feature for those days you're in a rush. Sadly, the indicator lights are far from perfect. You get 3 bars that only warn you when this shaver's charge is nearly finished. So you won't be able to see when you need a charge until the minutes before your shaver's battery dies.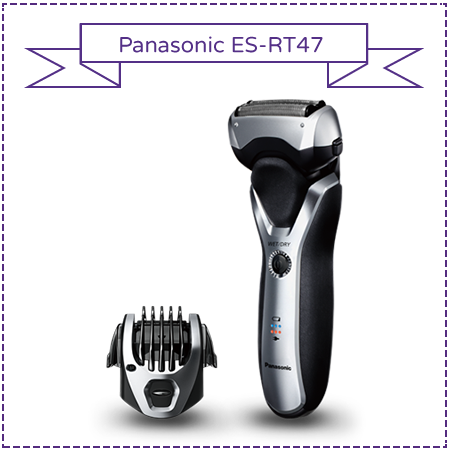 Pros
Great trimmer.
Adjustable comb is a nice touch.
Deals with thicker stubble better than other razors on our list.
Cons
Charge warnings could be better.
Somewhat plasticky looking.
Final Thoughts
Once again, Panasonic brings a stellar razor to the market. If you're looking for a close shave with a great trimmer, this is the shaver to do just that. But make sure you stay on top of charges, as indicator lights are pretty vague here.
Which One Is Best?
We finally reached that part of our reviews. You've read through them all, and now this is the final question on your mind. But sadly, the answer will vary person to person. So let's get to it and find which razor is best suited for you.
If you prefer rotaries, then, without a second thought, you'll want the Phillips Series 3000 S3580/06. This is the only rotary blade on our list. And quite frankly, it delivers a pretty close shave as well.
But if you're looking into foils, you have some decisions to make with our other two reviewed razors. If you like detailing your facial hair, you can't go wrong with Panasonic's detachable trimmer-comb. With this tool, you can shape countless amounts of beard styles with ease.
But if sensitive skin is an issue for you, then give the Braun Series 3 a second look. This is the shaver that will not leave any red marks or rashes. Combine this with some shave gels, and you'll sport some ultra-smooth skin.
Conclusion
So there you have it. These three razors prove that great budget electric shavers do exist. So from here, we'll hand you the reigns. Now that you read our reviews, you'll probably have a solid idea of which shaver you'll select. But if not, feel free to give our list a second or third check if needed.