Who ever said great shavers come with high price tags?
It's no surprise the market offers a variety of razors. And with such variety comes numerous different prices. But surprisingly, you can find stellar razors at the lower end of the scale.
So now, here's the big question: How do you know which affordable shavers are good? Sadly, it's not as simple as finding a hidden feature. Instead, it's more a process of trial and error. But thankfully, we did this part for you. We tested a handful of shavers for less than £100. And trust us: there are plenty of horrible shavers out there.
But, more importantly, we also found a few great groomers—some so great that they'd compete with shavers double their price. So are you ready to save yourself some money, facial nicks, and headaches? Then join us as we list our favourite shavers under £100.
Best Shavers Under £100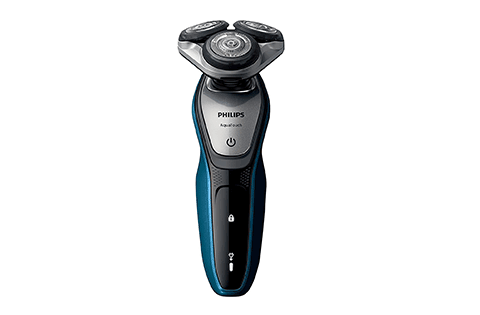 Philips S5420/06 AquaTouch

Shaver Type - Rotary

Shaving time - 45 min

Charging time - 1 Hour
Let's jump right into these reviews. We'll take a look at everything you'll ever need in an electric shaver for less than £100. So be sure to take special note of anything that jumps out at you.
1.Braun Series 5 5140s Electric Foil Shaver
Starting off with the unboxing, everything comes packaged nicely. Right out of the box, you'll get a nice cleaning brush, a charging lead, and a protective cap. So all your essentials are right here.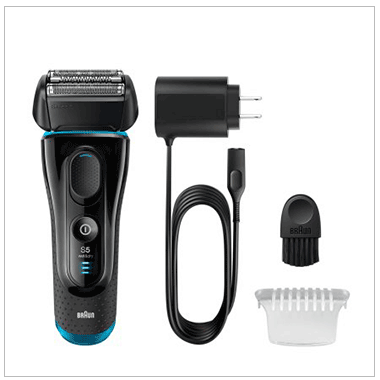 Yet, sadly, a charging station and carrying case are both MIA here. It's nothing that will prevent a great shave. Yet these are items you will need to buy separate should you want them.
If the charging station is that big of an issue to you, then, by all means, purchase the Series 5 5197 cc. For some extra money, you'll receive all the great features you'll find with the 5140s alongside that convenient charging station as well.
Now, back to the Series 5 5140S. At first glance, this Braun razor looks like something out of the world of Tron. But there's no denying that those blue accents offer a sleek look. Add to this a solid grip on the sides, and this shaver offers all you need as far as design goes. This shaver really fits any had quite nicely. Plus, the single power button on the front and pop-up trimmer on the back never impede a perfect shave. So no more accidental power-offs!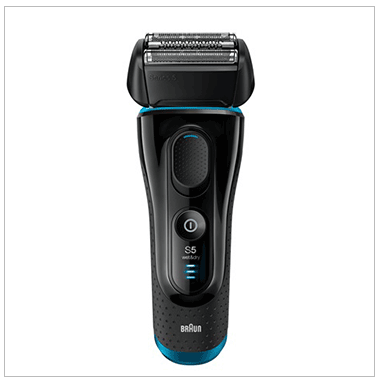 Another nice feature here involves how this shaver is 100% waterproof. So that means it's safe to use in the shower (or with gels if you need). But of course, if you're in a hurry, a dry shave is perfectly fine as well.
As far as the shave goes, you'll be working with a floating foil. In Braun's words, this razor offers two SensoFoil blades to do all the lifting and cutting. Plus there's the middle ActiLift trimmer. This is the tool for snipping those stubborn flat and ingrown hairs. As a whole, we found this shaver got the job done when it came removing days old stubble. But if you let your beard grow thick, expect to spend some extra time reshaving certain areas. Even the autosensoring can't do much for thick facial hair.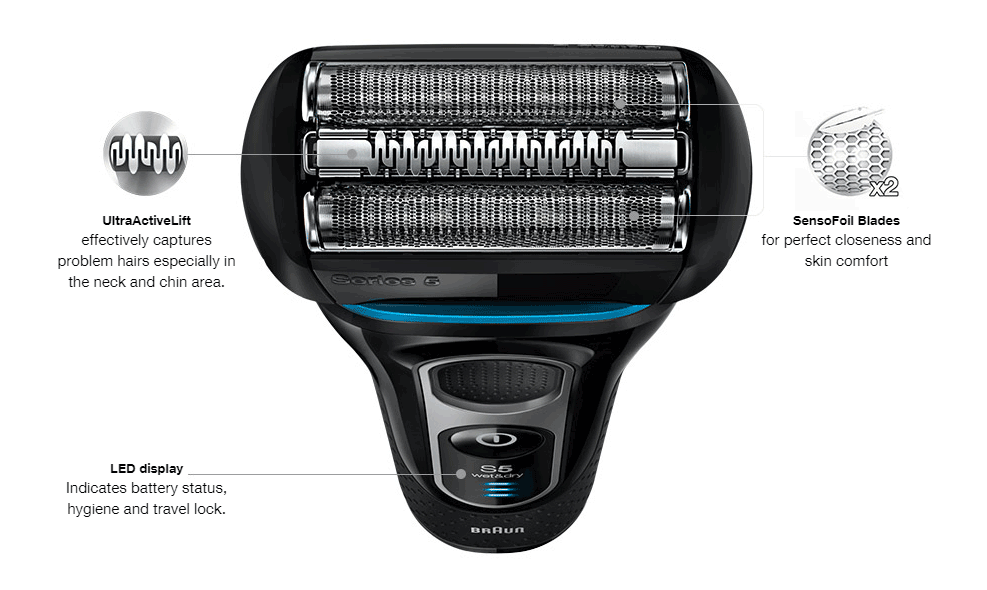 Thankfully, shaving your stubble never feels like a chore with the 8-direction flex head. So you can glide over those contours on your neck and face with ease—and minimal tugging at the skin. However, if the flexing isn't working for your face, then it's not a problem. Instead, you also have the option of fixing the shaver's position with the push of a button.
For detailing, you can make use of the precision trimmer. This might not replace your beard trimmer anytime soon. But this feature will touch up or moustache and edges with a crisp and neat edge.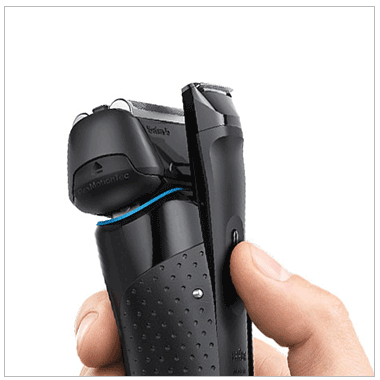 All in all, this shaver powers through prickly stubble with ease. Unfortunately, keep in mind that a dry shave will not leave that silky smooth wet shave finish. But then again, is there an electric shaver out there that will offer such a dry shave? Really, it's best to treat this feature as it was intended—a means to get an ultra fast shave during a hectic morning.
When it comes to cleaning this razor, nothing feels overly complicated. Sure, you can buy a separate cleaning base. But remember, this shaver is 100% waterproof. So you can also remove the head and rinse if you prefer. Moreover, removing the head is quite easy—just click the side buttons, and the piece pops right off.
For battery life, this shaver performs a touch above average. A one-hour charge will net you 50 minutes of use. So a single charge will get you through the week without problems. But should you forget to charge, there is a quick-charge feature. So a five-minute charge will allow you a quick shave—Perfect for those mornings where nothing seems to work right.
As far as battery life goes, you do get three lights to keep you informed. This works fine. Yet, we can't help but want the LED display that other shavers in this price range offer. Either way, it does give you the battery information you need. So it's not a complete deal breaker.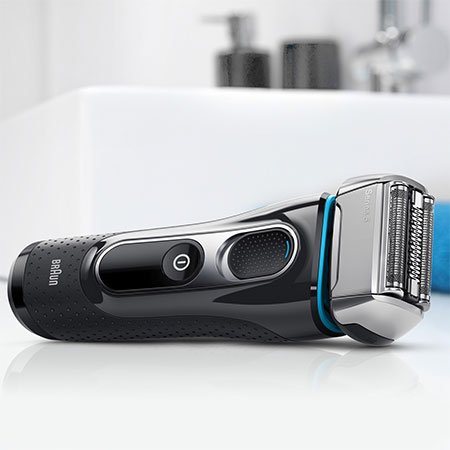 Pros
Attractive design.
100% waterproof.
Close shave.
Cons
Overly simple in design.
No LED display aside from 3 lights.
Noisy.
No cleaning station.
Final Thoughts
We'll say it again—this shaver looks downright sleek. Add to this how you can get a decent shave in the shower, and the deal gets better by the second. But of course, this is if you can work past some of the oversimplified design choices.
2.Panasonic ES-LT2N Electric Shaver
Right out of the box, Panasonic offers a promising product. You can't go wrong with a stylish silver design and a travel pouch. Even more generous is how this razor comes with some oil and a cleaning brush as well. But of course, there's more to a shaver than just the design and box contents. So let's see how well it will tame your stubble.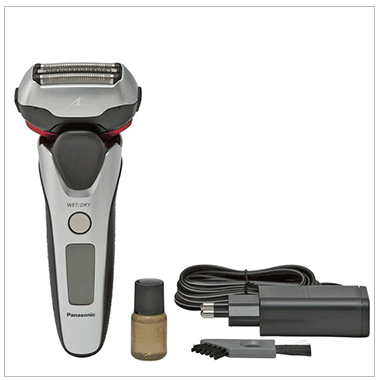 Here, you'll get another 3-blade foil. As usual, the two outside foils cut through the coarseness of your beard. Meanwhile, the inner blade slashes away those annoying short hairs.
Unfortunately, not all is perfect with this blade. Panasonic claims this shaver offers a beard density detection feature. Yet, we did not notice this during our tests. In fact, if you're working thick stubble, you'll find this shaver struggles to trim your facial hair. That's not to say it's impossible—but expect to spend some extra time gliding over the same area.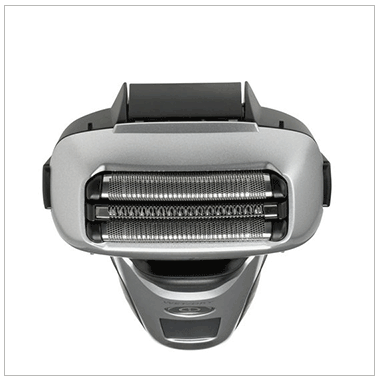 Thankfully, it's not much of a chore with the MultiFlex 3D head. As you'd expect, this does just as the name implies. The head flexes allowing for some comfort on the neck and other contoured areas. Appropriately, the shaver will tilt in any direction of your face. So you can glide the razor wherever without much pressure. This is perfect if you suffer from sensitive skin—no more redness!
But, we get it—you won't always want the foil to flex. Nothing is more annoying than leaving patches on your jawline because the shaver keeps tilting at the worst angles. So for these moments, you can also lock the floating head with the slider on the side, allowing for some customisation.
While we're on the topic of your jawline—let's talk about detailing the hair on it. You'll find creating precise edges is tough with a foil. This isn't an issue with Panasonic by any means. No foil on the market does this job easily. So this is where you'll make use of the pop-up trimmer. As you'd expect you can even out those split ends on your stache with ease with this piece. Likewise, you can also thin out your sideburns in short time as well.
Of course, you'll eventually need to clean your razor. Otherwise, you'll run into a few problems down the road. And dirty shavers are downright gross. Thankfully, Panasonic makes cleaning easy with the Sonic clean function. This feature shakes the razor of any remaining dust or hair. It's a really nice touch overall. And if you need some extra help, this razor is water-safe. So you can rinse some tap water in between the blades if you need.
Now, keep in mind that a water-safe razor is not 100% waterproof. So get ready to buy a replacement if you try using this shaver in the shower.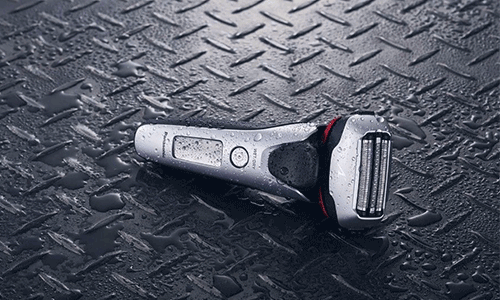 Naturally, ever good shaver needs some decent battery life. Panasonic understands and offers a 45-minute battery that charges in an hour. In other words, one full charge will last you about 2 weeks. Nevertheless, we all make mistakes. So if you forget to charge your shaver, you can make use of the 5-minute quick charge function. Much like other razors, this feature will allow you a quick shave off a small charge.
Then again, great battery life means nothing when you accidentally power on your razor. We've all done it before—those times when you're at the airport and hear a faint buzzing sound. And when you check your carry-on, you find your shaver powered on from all the handling at the security check. Bonus points if you forgot to clean your razor, leaving a confetti of shavings across your grooming supplies (that's always fun to clean out of hair product). BUT, Panasonic thought ahead and added a nice lock switch for your power button. So you no longer need to worry about your shaver turning on by itself during your travels.
One final nice feature here is the LED display. With this, you can quickly check your battery's life and charge levels. Overall, it does look a bit sleeker than other LED displays you'll find out there.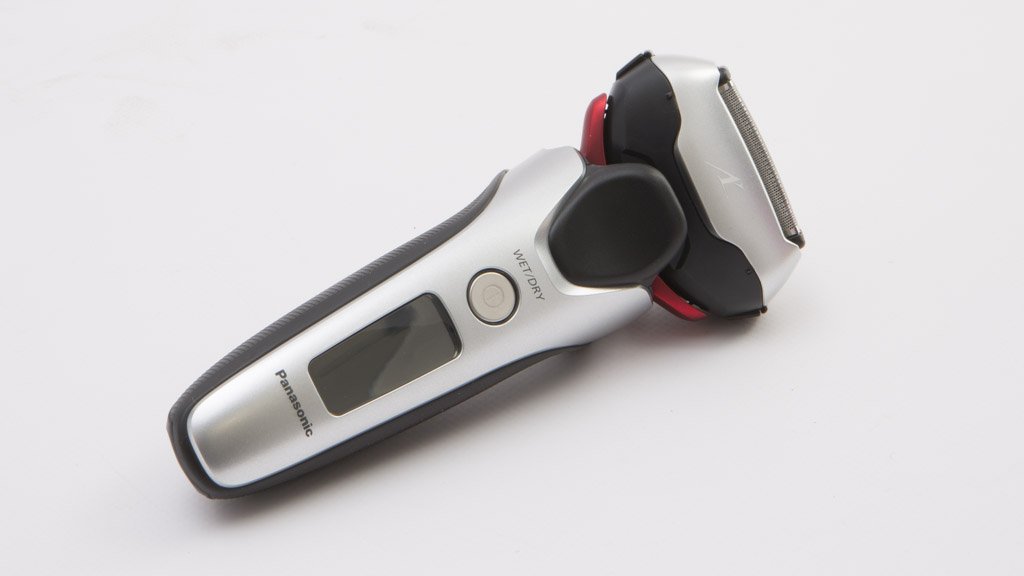 Pros
Comes with a carrying case.
Nice LED display.
Great Cleaning Options.
Decent shave for the price.
Cons
Struggles with cutting thick beards and stubble.
Can't use it in the shower.
Final Thoughts
Panasonic is known for making great razors. And the ES-LT2N is no exception. Everything here works well. The LED display and shave are great for the price. But do note that thicker beards will take longer. Also, don't try to use it in the shower—otherwise, you won't have your shaver functioning much longer.
3.Philips S5420/06 AquaTouch Electric Shaver
Here we are with another big player in the world of shavers! And let us just say that this Philips razor lives up to the hype of the brand quite well.
Right out of the box, you won't be disappointed. The blues, blacks, and silvers all create a rather trendy look to this shaver. Also, the controls are pretty simple with a single power button. And you cannot skim over that LED display with all the battery and status icons you could ever want. Overall, the essentials are all here when it comes to design.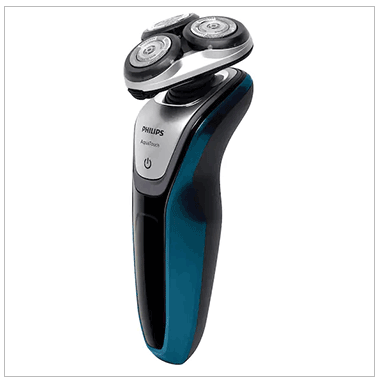 As far as the blade goes, this is our list's only rotary razor. Not to mention this blade is complemented by the Dual Blade Super Lift and Cut technology. This is that nice feature that lifts your hairs before cutting them—trimming your facial hair at your skin's surface for a close shave. As a whole, the shave is great. But we did find one minor issue. The rotary blades do have a habit of randomly popping out of the shaver. Most of this results from the cheap plastic top pieces being all that holds them in place. Either way, it can feel annoying after a while. Yet, it never did detract from the great shave.
To help you achieve this close shave, Phillips did offer 5-direction flex heads. This feature is perfect for shaving at the neck and jawline. So you won't find any issues getting that ultra-close shave.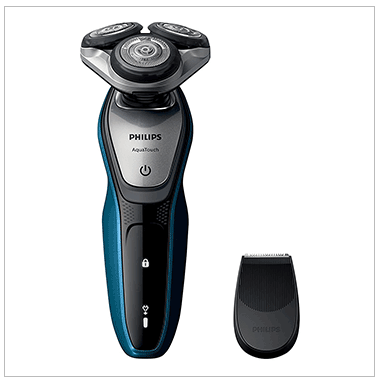 Speaking of shaves, you have quite a bit of flexibility here, as this razor is waterproof. So if you prefer shaving with gels and oils—go for it! Likewise, if you're in a rush, you can also make a dry shave work. Plus, this shaver is 100% waterproof, meaning you can use it in the shower as well.
As a result of its waterproof nature, this shaver feels easy to clean. Simply detach the head and run this shaver under some tap water and watch as those slivery hairs sprinkle out of this razor.
Another nice feature about this razor is the detachable moustache trimmer. As a whole, this piece details nicely. And the fact that it's detachable means it's easier to replace when it becomes dull over time. So overall, it's a nice touch.
Lastly, every great shaver needs a decent battery life. And that's exactly what you'll find here. Charging only takes one hour for 45 minutes of run-time. And if you're in a rush, you can opt for a quick 5-minute charge. Philips also keeps you protected with a two-year warranty should anything go wrong.
Pros
Detachable Trimmer.
Close shave for thinner beards.
100% waterproof.
Cons
Rotary blades will fall out of place from time to time.
Sometimes hard to trim those tight areas (i.e. under the nose/ jaw).
Not ideal if you need a daily ultra-close shave.
Final Thoughts
If you're a fan of rotary razors, give the Philips Aquatouch a close look. You can't argue with a close shave from a waterproof razor. Add the low price in the equation, and this razor instantly becomes tough to pass. Just be careful with the flimsy top piece and you'll be good to go!
Which One Is Best?
Here's the tough question to answer. As a whole, these are the three best shavers you'll find on the market for less than £100. So with that said, you're getting a great deal regardless of your choice. But your preferences can make a big difference here for you. So let's take a close look at some things to consider.
If you want a rotary blade, then, by default, the Philps S5420/06 wins by default. But don't let it's lack of competition fool you. This shaver delivers an ultra close shave.
Now to our foils. If you don't mind a simplistic design, then Braun wins here. It's hard to contest a 100% waterproof foil razor. Plus, that design is pretty appealing to the eyes!
But on the other hand, if you're about the cosmetic appeal, then go for the Panasonic ES-LT2N. That LED display is pretty advanced for the price. So as long as you don't intend to shave in the shower, this razor will offer you all you need.
Conclusion
At the end of the day, a shaver is an essential part of every man's grooming routine. This is the tool that will allow you to look your dapper best in any situation. So don't slack and buy a garbage-quality razor. Instead, invest in something that will offer you that stunning stubble-free clean-cut look at a great price!