Let's not deny it — inflatable hot tubs are awesome. Is there any better way to kick back after a long exhausting day? But believe it or not, you can take your fun inflatable hot tub and make it even better with a few extra add-ons. By this, we're referring to the accessories that didn't come in the box.
Sure, some of these extras are essential to keeping your hot tub in top shape. But some of these are there to add fun and excitement to any inflatable hot tub party. So, are you ready to amp up your inflatable spa experience? Then join us as we explore the best inflatable hot tub accessories you can buy.
The Essentials
If you just purchased your inflatable hot tub, be sure to pick up these accessories. Overall, you'll eventually need these add-ons at some point. So here's our list of all the basics.
Floor Protector
At first glance, floor protectors look like giant mats that sit beneath your inflatable hot tub. But they aren't just there for looks — instead, these floor pieces will protect your hot tub from any debris while also insulating your hot tub. So these mats will protect your inflatable hot tub from any rips or tears caused from twigs and rocks on the ground. At the same time, you'll also notice a reduction in your energy bills as these protectors do a fantastic job of preserving water heat.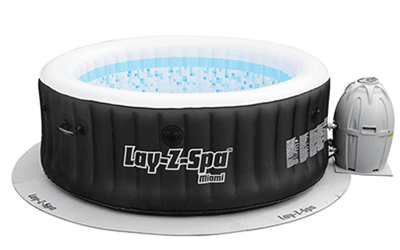 Hot Tub Cover
Hot tub covers act as lids that will cover the top of your inflatable spas. Much like floor protectors, this accessory will help insulate your hot tub. So once again, you'll save some money in the long run on your power bills. And at the same time, these covers will prevent any yucky debris from landing in your water when your inflatable hot tub is not in use — which ultimately means less clean up later.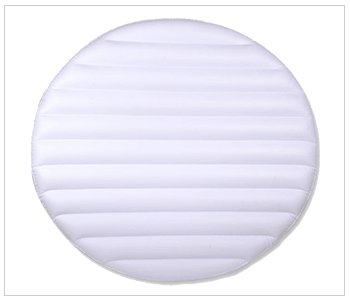 Cleaning Tool Kit
Speaking of clean water — you'll also want to invest in a cleaning tool kit. Usually, these will include a mitt, a brush, and a scooper. As you might have guessed, the scoop collects any large debris floating in the water. Meanwhile, the brushes and mitt do a great job of cleaning the surface and edges of your inflatable hot tub. So if you're looking for the best way to remove any gunk and debris from your water, a cleaning toolkit is the way to go.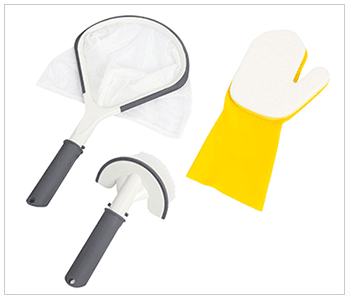 Chemicals
Keeping your water clean will also involve the constant adding of sanitizers. For these, you'll get two choices — bromine and chlorine. You can also choose between tablets and granules. Knowing which chemicals will work best for you is a personal choice. But the process of adding them to your water can become pretty complicated. However, don't worry too much about it — we created a guide that lets you in on everything you need to know about inflatable hot tub sanitizers. For now, just keep in mind that they are necessary for keeping your water safe and clean.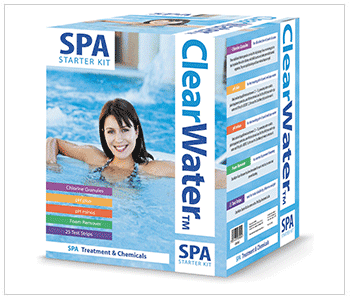 Replacement Filters
It's no surprise that your filter also contributes to clean water — free of any dirt and disgusting buildup. But you will need to replace your filters on a monthly basis to keep your water in top shape — otherwise, your water will quickly become cloudy and murky.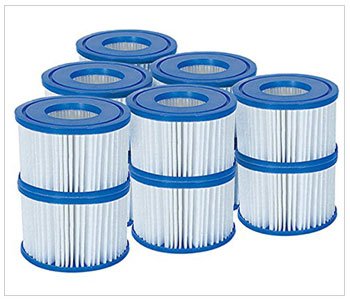 Oil and Scum Absorbing Sponge
These are sponges that will brush all the gunk out of your filters. Also, these cleaners do a great job of absorbing all those oils, lotions, makeup, and anything else your filters collect over time. Just keep in mind that you will still need to replace filters periodically. But these sponges will prong the life of said filters. So, as far as long-term investments go, you'll ultimately save money by purchasing these sponges since they lead to fewer filter purchases overtime.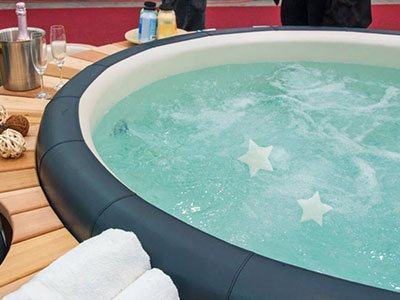 Hot Tub Surround
You've probably seen those inflatables that encircle hot tubs in the past — those are hot tub surrounds. Overall, these surrounds accomplish a number of tasks. The shorter inflatables work as great steps for entering your hot tub. Meanwhile, the larger pieces of the surround make for great seating for any extra guests. So even if your inflatable hot tub reaches its full capacity, your friends can still gather around the outside of the spa. Plus, these surrounds make a great dry off platform as well. So as a whole, these are great multipurpose investments.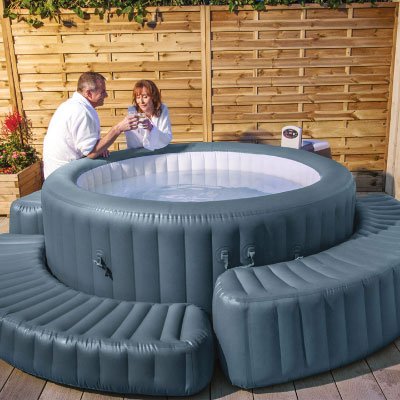 Other Accessories
Okay, now that we've covered the basics, it's time to get to the fun stuff. All in all, we have no doubts that these next accessories will make any inflatable hot tub party a blast. But then again, nothing beats soaking in an inflatable hot tub after a stressful day — and even in those cases, these add-ons will only amplify your experience.
LED Lights/Floating Light
As the name implies, these are lights that you'll add to your hot tub. Some float on the water's surface while others sit on the inflatable hot tub's floor. Either way, they will illuminate your spa — which is great if you use your hot tub during evenings. Some of these lights will even come in a variety of fun colours and patterns as well to add some fun to any party. These are also waterproof. So if you're looking to set the mood with lights (or even add any light for that matter), this add-on is a must-have.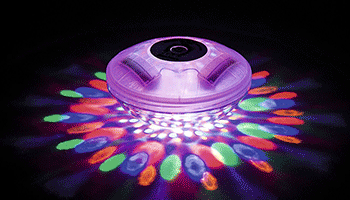 Hot Drinks & Food Holder
You can buy holders for your inflatable hot tub that clip to the side walls. Usually, they offer two drink slots and a tray for any snacks. Likewise, these trays also work great for holding any jewellery or glasses. So if you like relaxing with a refreshing drink, be sure to check this one out.
Hot Tub Seat
You can add these removable seats to just about any hot tub on the market. For an added bonus, these seats are usually adjustable as well. But in truth, these seats really do make a great alternative to leaning against your inflatable hot tub's walls — especially after a long and exhausting day.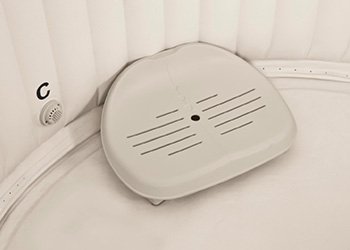 Headrest Pillow Spa Accessory
You can even add a waterproof pillow to your hot tub. For added comfort, these rests are inflatable — so you can add and remove air to fit your preferences. As a whole, there's no denying that these pillows add a nice touch of luxury and relaxation to any hot tub.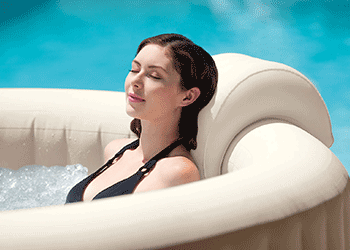 Bluetooth Speaker
Here's a waterproof speaker that you can add to your inflatable hot tub experience. Really, it's great for playing your smartphone's songs. And usually, the speakers offer silicon button controls so that you won't need to risk damaging your smartphone with wet hands. Yet where these speakers really shine is in setting the mood for any situation. Whether you need some upbeat party jams or relaxing zen chimes, it can all happen in your spa thanks to these speakers.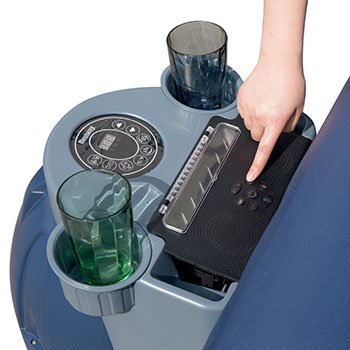 Hot Tub Canopy
These hot tub canopies really work similar to a tent for your inflatable spa. Set up is pretty easy. But even better, these canopies will guard you from those annoying gusts of wind and the beating rays of the sun. In fact, the fabrics usually offer up to SPF 30 protection — so it does a decent job of protecting against sunburns as well.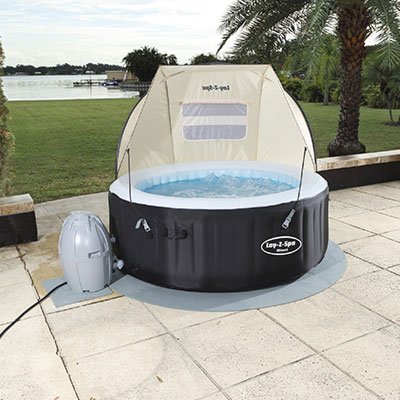 Electric Pool Vacuum Cleaner
Think of this as a waterproof vacuum for your hot tub. It's battery powered, so you won't need to worry about any electric hazards from the cord. Oftentimes, these vacuums will even extend to allow you to reach all corners of your inflatable hot tub without actually jumping in. Thus when it comes to quickly removing gunk piles along the walls and floors of your spa, this is the tool for the job.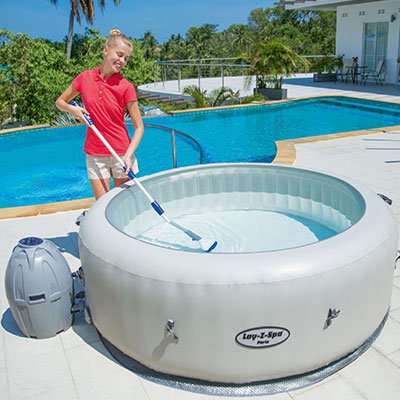 Spa and bath Aromatherapy kit
Is there anyone who actually likes the smell of chlorine? To cover up the smell of sanitizers in your pool, these spa aromatherapy kits work great. Replace those pungent pool smells with those of a luxurious Polynesian paradise.
Wrapping Up
All in all, inflatable hot tubs are the ultimate relaxation tools. Little else eases the tension of a rough week better than warm water and bubble jets. But why would you ever hesitate to make this amazing experience even better. The inflatable hot tub that comes in the box is only half the fun. So combine it with some of these add-ons to create the ultimate home spa.