Are you struggling to find the best lightweight vacuum cleaner?
We understand the task feels daunting. Every year, an endless supply of vacuums seems to emerge on the market. Each promises to be the best for you. Yet only a select few meet your true needs. You might feel overwhelmed while wondering, "How do I find the right vacuum?
Thankfully, no true right or wrong answer exists. The right vacuum will be a tool to fit your lifestyle and needs. Why spend more than £500 for a vacuum when a device for under £200 will finish all your chores with ease?
Today, we will help you find the best lightweight vacuum in 2022. We tested countless vacuums. Yet these six stand out amongst the rest. We already did all your homework for you. Thus, all we need from you is to read along with us. Consider your floor and furniture's needs. Together we will find the year's best lightweight vacuum.
Now, you might be wondering: "With so many vacuums on the market, how can I ever decide upon one?"We selected the top six lightweight vacuums in the UK. To make your choice even easier, we divided these cleaners into four different categories so that you will find no problems choosing the right vacuum for you.
1.Lightweight Cordless Vacuum Cleaners
Let's be honest, cords can feel troublesome and annoying on vacuums. If you want the freedom of a cordless vacuum, check out these exceptional options below!
Name

Weight

Capacity

Run Time

Charging time

Noise Level

Power


Bosch BCH625KTGB


3 Kg

0.9 L

60 minutes

3 hours - 80% charge
6 hours - 100% charge

72dB

1800 W


Dyson V8 Absolute


2.61 Kg

0.54 L

40 minutes

5 hours

82dB

425W


Gtech AirRam MK2


3.5 Kg

0.8 L

40 minutes

4 hours

70-75 dB

100 W
1. Bosch BCH625KTGB Athlete Upright Cordless Vacuum
Do you spend a lot of time cleaning your house? By a lot, we are referring to 45 min to an hour in one session. If you answer yes, you will love the Bosch BCH625KTGB Athlete vacuum. This cleaner offers one of the longest lasting batteries of any vacuum on our list. Combine long battery life with its small frame storage options, and you are looking at a vacuum that will fit nicely in any home.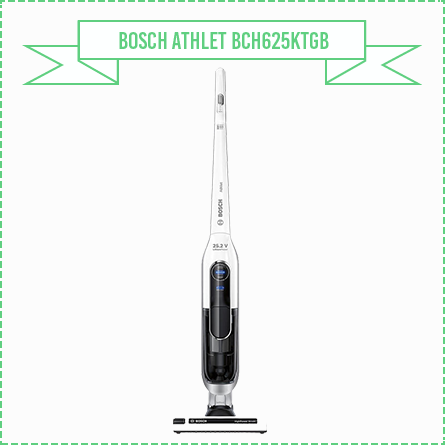 Performance
If you are looking for a vacuum with a long lasting battery, then this is the cleaner for you.
The rechargeable lithium ion battery lasts for 60 minutes on a full charge. Yes, you read that right, an entire hour! Even in turbo mode, you can expect 20 minutes of battery life. Do not worry, as this is plenty of time to vacuum an entire home.
Recharging the battery is not a hassle. A full charge requires six hours. Meanwhile and 80% charge completes in three hours. This is not a bad wait time when considering the full hour you receive afterward.
In terms of power, the vacuum comes with three power levels. Level three creates strong ground suction at 1800 watts. You can feel the power as the cleaner requires firm pushes and pulls to move. In our tests, the cleaner sucked most particles off our carpets with no hassle. In fact, this vacuum cleaned pet hair from carpet with no problems.
If we are being honest, we only found use for the first two power levels. Level one worked well for wooden and tiled floors. Our team prefers the second level for carpet. We rarely needed the third level since the first two provided enough power for daily chores. This is a good thing since you will save some energy while cleaning your home.
In recent times, Bosch enhanced its SensorBagless Technology. This means this model performs on par to a 2400 W vacuum. After testing the highest power level on our floors, our team fully believes this.
Do you own delicate carpet or hard floors? No problem. Power level one disables the brush bar. This allows for vacuuming without fear of damaging your floor. Also, you will save energy in the mode as well. At the end of the day, this vacuum works great on any type of floor. The small head of the vacuum also reaches tight corners without any problem. Thus cleaning tight spaces between furniture or awkward corners is not an issue.
Weight
The vacuum weighs 3 kg. At this weight, you will find no issues in carrying the vacuum around your home. Even better, this makes the vacuum easier to carry in handheld mode.
Noise
This vacuum produces 72 dB. Compared to other vacuums, this noise is low. Thus the noise never sounds too loud for comfort.
Capacity
This bagless vacuum offers a 0.9 litre-bin. This volume is small when compared to other vacuums on our list. During our tests, we needed to replace the bin in the middle of a vacuum when cleaning pet hair. Thus, the small bin size will become annoying for any pet owners during seasons of shedding. Also, expect replacements mid clean if you do not vacuum daily.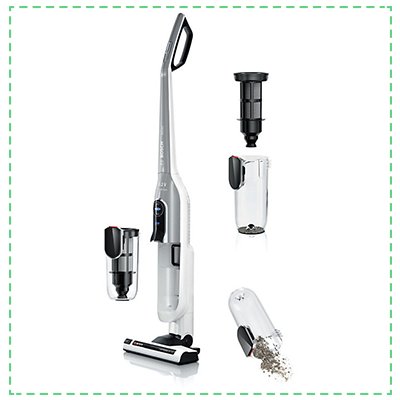 For the most part, cleaning the bin is an easy process. Plus, the cleaner displays LED lights when you need to clean your bin.
Athlete Accessory Kit—optional
Do you need the basic attachments on your vacuum? If you answer yes, the athlete accessory kit will offer all you need for cleaning the tight corners of your home. The kit comes with a hose, shoulder strap, upholstery nozzle, and a crevice nozzle.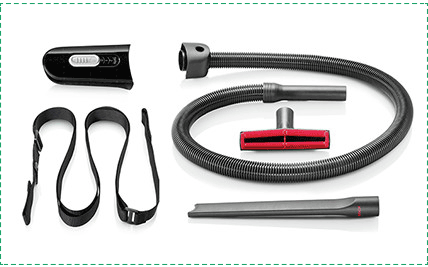 Functionally, each piece worked great in our tests.
The crevice nozzle cleaned stairs well. Combined with the 3 kg weight, the vacuum never felt heavy. Carrying the cleaner up and down stairs never felt tiring.
Do you want a vacuum for your car?
This is the perfect vacuum to use in your vehicles outside your home. Its lightweight is easy to move from the floor to the seats. Also, the vacuum is cordless, so you will not need a power outlet of any type. The upholstery nozzle also cleaned furniture with no problems.
So, what could be the problem here? The first issue involves changing the floor heads. Removing the section and attaching a push clip is not an easy process. Also, the Velcro straps were not positioned in an ideal location on the shoulder strap. Our team found the vacuuming easier when we ignored the strap entirely.
Do you clean your stairs often?
Keep in mind that you will likely replace the floor head with a hose nozzle. This means you cannot set the cleaner on the ground. The nose did not feel sturdy. Thus, placing the vacuum on the floor nose first will crush the hose. Again, this vacuum is light, so most people will not find much of an issue with this.
Warranty
Bosch ships its athlete vacuums with a 2-year warranty.
Pros
Long run time.
Powerful cleaning.
Portable and easy to store.
Cons
Small dust bin capacity.
Portable modes feel awkward—shoulder strap is useless.
Final Thoughts
If you spend long periods of time vacuuming, this vacuum will be your best tool for the job. One hour of battery life is incredible for any cleaner. The handheld features are not the most comfortable for a lightweight vacuum. Yet the Bosch Athlete's light weight and portability counter the awkward portability of the vacuum.
2. Dyson V8 Absolute Cordless Vacuum
Do you need a vacuum that handles any cleaning job?
Look no further than the Dyson V8 Absolute. This vacuum offers an attachment to clean anything anywhere in your home. If that is not enough, this vacuum offers some of the best air filtration out there. Combine that with a robust Max power mode, and you are looking at one of the best vacuums on the market. Little else will speed through your cleaning in the same manner as this cleaner.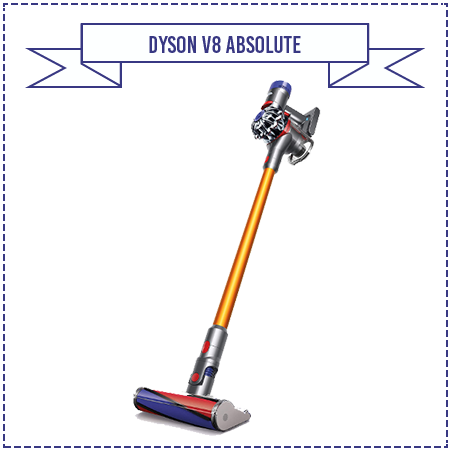 Battery
We can all agree that long battery life is ideal for a cordless vacuum. So, how does the Dyson Absolute compare with other cleaners?
Really, the battery life all becomes simplified in Dyson's two different power modes. Standard mode is where you will use the direct-drive cleaner head for 30-minute runtimes. You will also use standard mode for the soft roller cleaner head and mini motorised tool for 30 minutes of runtime. With the nonmotorized tool, you can expect the full 40 minutes of runtime in standard mode.
Maximum mode is where you will receive shorter run times. You can expect 8 minutes of runtime with the motorised tools. So wait, these numbers seem low, right? Before using this vacuum, we would agree. Yet this cleaner proved us wrong. The motorised options and max mode offer more than enough power to vacuum an entire house in this time.
Of course, you will switch features and modes depending on your task. Vacuuming a cobweb will not require max mode. Cleaning a massive pile of pet hair, on the other hand, will require some of the motorised tools. Thus, your times will vary as you switch through attachments.
A full recharge only takes five hours. How will you know how much charge is left? This model comes with LED charging lights. You will notice three levels—one for low charge, medium charge, and a high charge. Our team found this feature useful, as we could tell at a glance how much vacuum time remained.
Performance
Did the battery life fail to impress you? Then this stick vacuum's performance will convince you otherwise. The vacuum works with 15 cyclones in two tiers to increase airflow while grabbing fine particles. But what do these cyclones mean for suction power? You can expect 28 AW in low power mode and 115 AW in max mode.
What do these numbers mean? These figures mean the Dyson is a powerful vacuum. Max power mode cleaned the densest of debris with no problems. Pet hair took minutes to remove from carpet. Dirt and dust vanished in seconds.
Admit it—stairs are annoying to clean. Dyson adds a mini motorised tool to reach the tight corners of each step. The tilting plate adjusts for turning stairs. Few other vacuums clean steps this easily. In addition, the trigger grip allows for a comfortable clean anywhere in the house. Cleaning ceilings felt hassle free. Also, at 2.61 kg, lifting this cleaner to the ceilings is easy.
Weight
At 2.61 kg, this is one of the lightest vacuums on the market. Carrying this cleaner up and down stairs is a breeze. Also, lifting this cleaner to the ceilings is easy. Even better, you will not struggle to push this vacuum around every corner of your home.
Filter
Do you suffer from allergies or asthma? This vacuum is one of the best cleaning tools for those problems. The cleaner employs a whole machine HEPA filtration. This system captures allergens as small as 1.3 microns from the air. Then, the machine emits clean air. This means the vacuum produces cleaner air for your home while you complete your chores.
Attachments
Here is where Dyson sets itself apart from other vacuums. This vacuum's six attachments complete any job you could imagine. A rigid crevice tool allows you to clean the tightest of corners. A docking station adds convenience to charging your cleaner.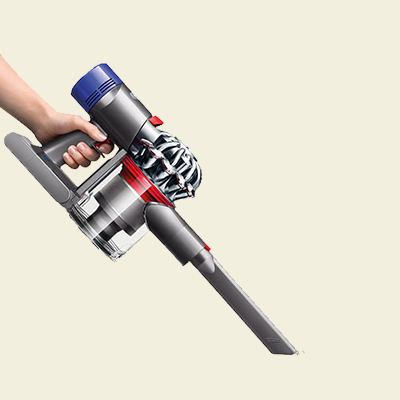 The direct drive cleaner head is one of the best tools for pet hair. During our tests, this vacuumed removed massive clumps of pet hair in six seconds. The performance honestly ranks on par with cleaners designed for pet hair.
Do you struggle cleaning fur and hair from furniture? The soft roller cleaner head removes hair from upholstery. This is also a great option for hard floors. Our team found no problems removing hair from laminate, tiles, and hard wood floors.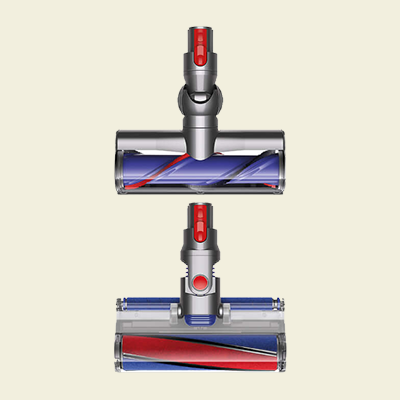 A mini motorised tool adds some extra power to cleaning. This attachment removes the most stubborn particles from your carpet in a matter of seconds.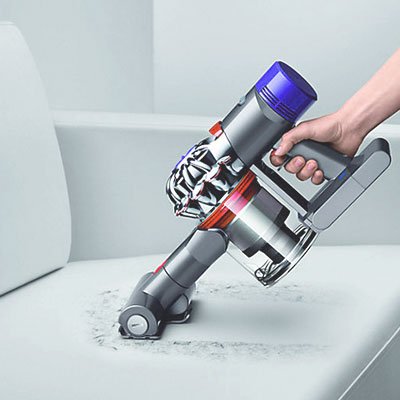 The dusting brush's soft bristles clean shelves, windowsills, and keyboards with ease. Meanwhile, the quick release combination tool offers a debris nozzle and a sliding brush tool for those surfaces covered in dust and particles—great for air vents, car boots, and stair banisters.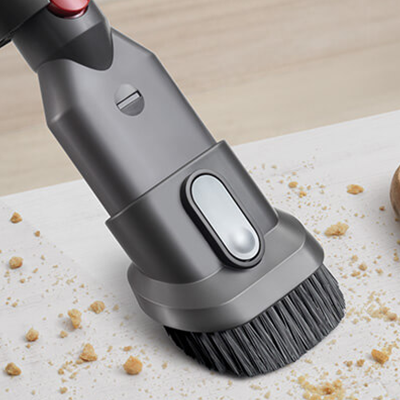 Volume
Here is our only gripe with this vacuum : The cleaner only comes with a .54 litre bin. This means you will need to empty the canister often. In some cases, we would need to empty the canister before the battery would die. Thankfully, this is not much of a problem. The bin removes easily from the vacuum. Everything dumps quickly as well.
Noise
Dyson's vacuum runs with 74dB on standard modes. In max power, the sound reaches 83 dB. This is far from the quietest vacuum on the market. Thankfully, the motor muffles the sound well. The noises never sounded too loud for comfort.
Guarantee
The vacuum ships with a two-year manufacturer's guarantee.
Pros
Light Weight.
Easily movable.
Accessory for every job.
One of the best filters on the market.
Cons
Low bin capacity.
Expensive.
Final Thoughts
Dyson offers one of the best vacuums on the market. The high performance comes with a hefty price tag. Yet if you can fit this vacuum in your budget, you will receive a tool for any job. Few other vacuums provide the power and options of the Dyson V8 Absolute.
3. GTech Air Ram MK2 Cordless Vacuum Cleaner
GTech is back with an update its Air Ram model from 2012. Along the way, this vacuum received a sleek design. But we all know looks are not everything. A vacuum needs performance to rank well in the market (and more importantly, your home). So, did GTech make the right improvements? Read along to see how this vacuum improved in more ways than its cosmetics.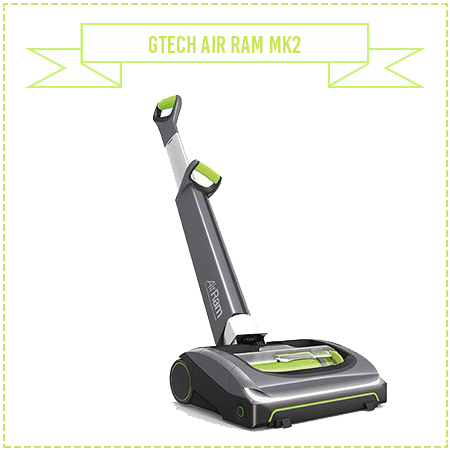 Battery
Let's be honest – A cordless vacuum needs a battery to last long enough for the job. Otherwise, its portability becomes useless. At 40 minutes of battery life, this GTech cleaner lasts a long amount of time. During our tests, 40 minutes gave us more than enough time to clean an entire home. Thus, you will find no interruptions when vacuuming. The battery charges in four hours. This is standard for this type of cleaner. Thus no issues exist with charging times.
Here is why this battery is great – GTech equips its cleaner with a removable battery. This is a good thing if the battery ever receives damage. You can buy a new one without spending too much money. Even better, you will not need to buy a new vacuum or spend money for someone else to replace the battery.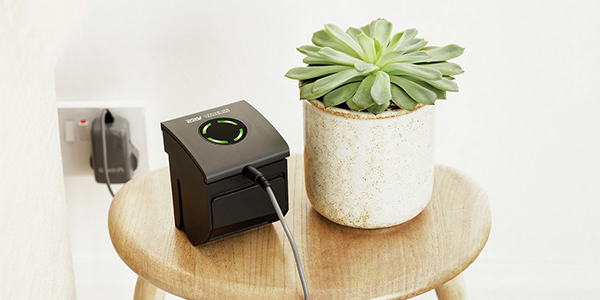 The removable battery also adds some convenience when charging. You choose whether or not you charge the vacuum with the battery attached or detached. Detaching the battery is as easy as pushing a button, pulling the batter up, then removing it from the vacuum.
Of course, little is more annoying than a battery dying without warning.
To help, GTech included a circular LED indicator to inform you of the remaining charge. A low battery indicator also ensures you will always know when to recharge.
Performance
Do you live with hard floors? If you answer yes, consider GTech's cleaner. The vacuum includes GTech's AirLOC system. This is the rubber bar at the vacuum's front. This piece moves along with the vacuum when moving forward. Yet when moving back, the bar locks in place.
Why does the movement matter? When moving forward, the vacuum grabs large chunks of debris. When moving backward, the lock allows the cleaner to suck any small particles. You can even feel the vacuum suctioning to the floor if you doubt its power. A motorized brush assists the AirLOC system. This tool breaks the dirt on your floor before sucking it into its bin. The brush also helps pull debris from carpeted floors.
Speaking of power, this cleaner offers 100W and 22 Volts. These numbers are enough to clean any dirt and dust trapped in your carpets or hard floors.
The power is not where the fun ends. This vacuum is easy to use. You simply raise the shaft and use your foot to push the power button. You will not find any complicated buttons or features. This does not mean the vacuum lacks any cool features to set it aside from others. GTech equips its cleaner with lights in the front. During our tests, these lights did increase visibility. We could better see dust and debris in shadows. This is a feature we wish more vacuums would adopt.
The wheels on the bottom of the vacuum allow for easy movement. This becomes even better when combined with the light 3.5 kg. In fact, few other vacuums glide so well across hard floors.
Weight
This cleaner weighs 3.5 kg. This is not a heavy weight by any means. So, you will not struggle to carry this vacuum up and down stairs. Our team never found the vacuum too heavy, even after cleaning every section of our homes.
Volume
This vacuum offers low capacity at 0.8 litres. Yet the vacuum grabs up to 2.4 litres of debris. This means the bin grabs more than its size implies.
Despite low storage, the bin is easy to eject and clean. The handle on the side slides dirt and particles out of the bin with ease. This is great news for people who hate touching anything inside the bin. The only time your hand will enter the container is when you wash the piece. GTech recommends monthly cleanings.
Attachments and Accessories
Here is where the vacuum faces some problems. GTech's cleaner comes with no added attachments. This means the vacuum works just as that—a vacuum. You will find no extra features to help with pet hair or stairs. This does limit the versatility of the vacuum. At the end of the day, the cleaner works best for cleaning floors and little else.
Guarantee
The vacuum comes with a two-year guarantee. The replacement parts will arrive the next day. This is an incredible service from GTech. Really, who enjoys waiting weeks for replacement parts?
Pros
Easy to clean.
Lights in front.
AirLOC system does not disappoint.
Great guarantee service.
Cons
No attachments.
Limited options—not much use aside from cleaning floors.
Final Thoughts
Do you need a basic vacuum? GTech offers just that. This vacuum works great for cleaning floors of all surfaces. The lights in front only add the great package. Sadly, the lack of attachments means you will not receive any extra tools. If you have the tools for cleaning furniture and ceilings, then this GTech cleaner will be the best option for your money.
2.Best Lightweight Corded Vacuum Cleaner
Cordless vacuum cleaners might not be for everyone. If you prefer to forgo the frustrations of battery life, but still want the sleek design of a stick vacuum, then consider this lightweight corded option.
1.Shark Rocket Stick Vacuum Cleaner with DuoClean Technology HV380UK
Do you prefer cord with upright-stick vacuums? The Shark Rocket Stick is one of the best options for you. A dual brush system ensures clean floors. While attachments offer plenty of options. The extra long cord only sweetens the deal. So, could this be the best lightweight vacuum on the market? Read along to learn more.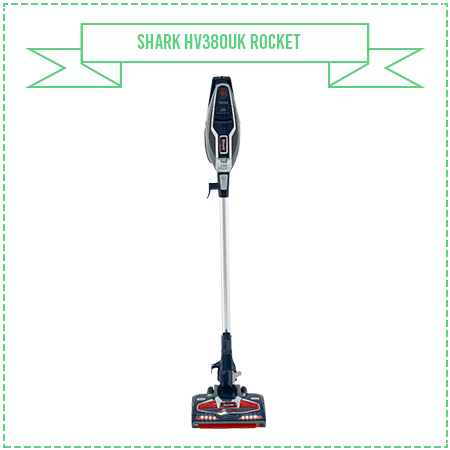 Cord
If you do not like batteries dying in the middle of cleaning your carpets, then check out this Shark vacuum. The cord reaches 9.1 metres. This is one of the longest cords you will find on a vacuum. In our tests, this cord reached through entire rooms and then some. If you want the mobility of a battery vacuum without the charging, this is about as close as you can get.
Performance
What makes this vacuum so different from others on the list? Shark markets its duo clean technology. This is a two-brush system. The brushes grab any particles from within your carpet while the other sucks any debris inside the vacuum.
If you are curious how this two-brush system works, it varies by floor type. On carpet, the soft brushroll scoops the large particles into the vacuum. Meanwhile, the main brushroll removes the finer dirt and particles. For hard floors, the soft brush pulls and sucks any dirt and debris stuck to the floor. The main brushroll then pushes these particles into the suction channel. The end result is a clean floor!
Our team noticed no problems with sucking debris from carpet. The vacuum cleaned rice, dirt, coffee grounds, and cereal from the carpet with ease. We even tested high carpets. Shark's cleaner grabbed all particles while not damaging the carpet. This cleaner offers 600W of power, so you should find no problems cleaning household messes.
The vacuum even offers a switch to select the best roller for floor type. This is a fantastic option for anyone who cleans a home with hard floors and carpet. Switching rollers takes a matter of seconds. Setting I spins the brushrolls slowly. During our tests, this cleaned hard floors flawlessly. Setting II spins the brushrolls quickly—this worked well for cleaning carpets. You can change the settings with the flick of a switch. Thus, you lose no time when vacuuming different floor types.
For cleaning corners and edges, the vacuum offers side suction. This means you will not need to turn your vacuum in awkward forms to clean tight spaces. If you need some help cleaning your stairs, this feature is your solution.
If that's not good enough, shark also added LED lights to the vacuum's front. These are great for vacuuming in dark areas. We never missed any debris hidden in the shadows cast by furniture.
Weight
Do you want an easy to move vacuum?
Then you will appreciate the 3.9 kg weight. This vacuum is heavier than most stick-upright hybrids. Yet the vacuum remains light enough to move around the house with ease. The cleaner never felt too heavy. The vacuum also fits around corners and under furniture well. The head bent and swivelled just enough to fit in hard to reach areas.
Capacity
The dustbin offers 1.54 litres. This is more space than other bins on our list. Here is the problem – For some reason, Shark placed a disk at the bottom of the bin. This disk collects hair and dust. Overtime, these particles become tangled at the bottom of the bin. Thus, you must clean the disk with your hand. This felt a bit unpleasant. Just imagine all the stuff you cleaned from your carpet!
Accessories and Attachments
Do you plan to use your vacuum to clean more than your floors?
Here is where this cleaner will meet your needs. Shark's vacuum ships with a crevice nozzle. This piece reaches into those tight spaces no one wants to touch. In our tests, the nozzle effortlessly cleaned between seat seams.
An upholstery nozzle allows you to clean furniture. We tested the nozzle against coffee grounds and dirt. The performance left us with no disappointments. The vacuum also includes a dusting brush. This is great for cleaning drapes and ceiling fans.
Lastly, the vacuum turns into a portable cleaner. This mode works perfectly for cleaning your car. The portable feature also reduces the bulk when cleaning furniture or appliances. Unfortunately, by handheld standards, the vacuum felt large and bulky when in this mode. All these accessories come with an accessory bag. If you want easy storage for your vacuum parts, this bag helps.
What are the problems with the attachments?
They all lack a click-fit feature. This means you fit each attachment with friction. At times, we did not attach the nozzles far enough. This resulted in the pieces falling off the vacuum. Other times, we pushed the attachments too far into the cleaner. As expected, we experienced difficulties removing the pieces. Be careful not to push the pieces too tight into the vacuum that they crack.
Filter
Shark equips its cleaner with two filters. One is pre-motor while the other is post-motor. Foam and felt act as the material for these filters.
What is good about these filters? Both filters last the life of the vacuum. This is good news if you dislike buying replacement filters. You will need to clean your filters often. Yet this is not a terrible price for the filters lasting the duration of the cleaner. Also, these filters are easy to access and clean—you simply rinse them in water. Sadly, none of these filters are HEPA. This means that they are not optimal for allergies and asthma.
Noise
The vacuum works with 88 dB. This is louder than most other vacuums on our list. However, the noise is not too distracting.
Guarantee
Shark ships its vacuums with a five-year manufacturer's guarantee.
Pros
Dual brush system collects particles from any surface with ease.
Attachments offer plenty of options.
Lights in front of vacuum.
Cons
No click-fit for accessories.
Awkward disc in dust bin forces you to get your hands dirty.
Struggles to stand upright.
Large and bulky in handheld mode.
No HEPA filter.
Longer hairs get wrapped around brushes—you must use your hands or scissors to remove these hairs.
Final Thoughts
If you want a strong corded upright-stick vacuum, give this Shark cleaner a look. Few vacuums offer quite as long of a cord. Even better, this vacuum is not lacking in performance. With an accessory for any situation, you will find most of what you will ever need in this cleaner. If you don't mind reaching into your dustbin from time to time, this cleaner might be the best lightweight vacuum for you.
3. Best Lightweight Cylinder Vacuum Cleaner
Does compact and easy to store sound like the right type of vacuum for you? Then we have the perfect cleaner for you with this lightweight cylinder vacuum!
1. Miele Complete C3 Total Solution Allergy Bagged Cylinder
Are you looking for a vacuum to help remove allergens from your home?
Even if you answer no, the Miele C3 remains a vacuum to consider. Multiple heads allow the perfect clean for any situation. Add to this a durable frame and dustbags to prevent dust and you have an amazing cleaner. Are you curious what more this cylinder vacuum can do? Then allow us to guide you through this product!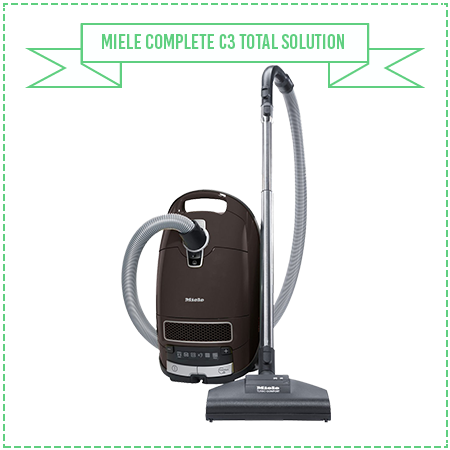 Cord
Miele's vacuum operates with a cord. Unfortunately, the cord only reaches 7.5 metres. No, this is not a terrible length. But at the same time, other vacuums reach up to 10 metres. Thus this cord falls a bit short. On the bright side, the vacuum includes a footswitch for automatic cable rewinds. This means you will not need to manually pull your cable from across the room and create neat loops for storage. Even better, this method reduces tangles between uses.
Performance
When it comes to performance, this vacuum lacks nowhere. 1200 W is a downgrade from Miele's previous model. Yet, this still remains one of the most powerful vacuums on the market. In fact, Miele's EcoTeQ floor head grants this vacuum the performance of a 2000W vacuum. After performing some tests, our team agrees!
The vacuum comes with three heads. Each of these serves a different purpose. Let's start with the parquet twister.
This is the head you will apply to any hard floors. A pivot joint keeps the head mounted flat on your surface. At the same time, the pivot allows the head to move to a variety of angles.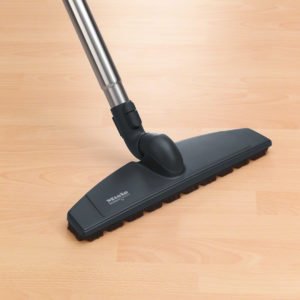 This head glides smoothly across any hard floor. Even on the full power setting, the vacuum never suctioned too heavily to any surface. During our tests, this mode picked up everything from hardwood. This included dry mud.
For those smaller messes, light mode will do the job. With this feature, you will pick up light amounts of pet hair, coffee grounds, dust, etc.
Do you need heads for your carpet? This is the time you will switch to the AirTeq floor head. Much like the parquet twister, this head pivots nicely. You will vacuum between furniture and tight corners with ease.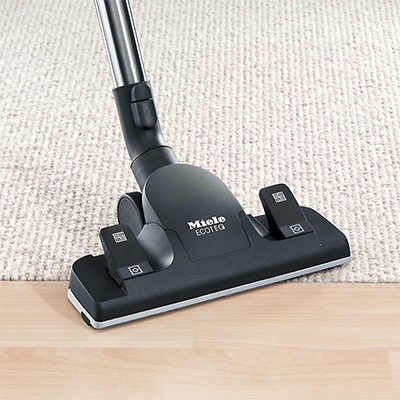 Our team noticed some great suction in this mode as well. Powder, dirt, and coffee grounds stood no chance against this floor head.
Do you own pets? Then you will enjoy the Turbo brush. This head felt durable. The high/low power settings work great based on the type of pet and fur. Thicker amounts will require the high setting. Even at the highest setting, our team noticed some slow downs when sucking in too much fur. Yet most other vacuums experience the same problem. Thus, this is not much of an issue.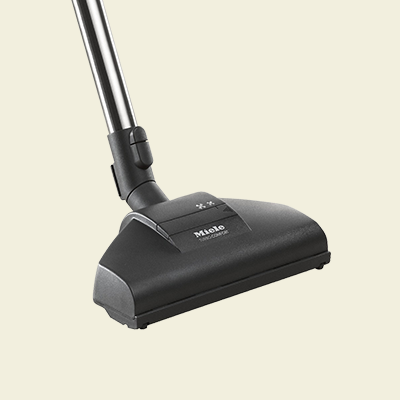 What is the biggest annoyance when vacuuming? Many people will answer with stairs. If you are one of these people, then this vacuum will resolve that feeling.
The vacuum is small, so it balances nicely on each step. The 5.4 Kg device never felt too heavy when carrying up and down stairs. Overall, the upholstery attachment, turbo head, and AirTeq worked best for cleaning the steps. Members of our team differed in opinion on which worked best. But the bottom line is that all three heads work great. Thus play with these features yourself. From there, you can decide which you preferred.
When it comes to energy ratings, the cleaner received a B for carpet pickup, and an A for hard floor pickups. These scores are great in terms of energy efficiency and performance.
Weight
This vacuum weighs 5.4 kg. All in all, most people will not struggle to move this vacuum around their house.
Attachments and Accessories
If three floor heads are not enough for you cleaning needs, this vacuum also packs some nice nozzles. A crevice nozzle allows you to reach to tight corners and spaces with ease. Meanwhile the upholstery nozzle works great for stairs. As the name implies, this piece also cleans furniture well. Also, the vacuum ships with a nice dusting brush. This tool did a fine job cleaning drapes and corners.
Lastly, this vacuum separates itself from others with an extendable metal section. This is a nice feature when you need to adjust the height of your vacuum. The process is easy. You simply push the lever behind the metal hose. Upon pushing the lever, the metal hose unlocks. You then pull the hose sections away from each other until you reach a desired length.
Volume
Do you need something larger than the dust capacities you saw on our list to this point? Miele will help with 4.5 litres of volume. The size alone is not the only impressive feat of this vacuum's storage. Miele C3 requires HyClean 3D efficiency dust bags. These offer 20% more capacity than other bags from the company. More importantly, these bags self close. Why does this matter? This simply means no dust will escape once closed. Thus these bags will help anyone with allergies or asthma. A LED light also indicates when the bag is full. So, you will find no problems with bags overfilling.
Filtration
Are the bags not enough to help with your allergies? Then Miele's HEPA 13 filter will help. This filter will trap most dust particles in the air. Therefore, vacuuming with this cleaner will not irritate your allergies or asthma. The HEPA filter even ships with an indicator. Thus, you will always know when to replace this filter. Keep in mind that the amount of use determines the frequency of HEPA replacements. Miele recommends filter changes every 18-24 months. If you notice the lid will not stay closed, you likely need to change the filter immediately. Despite such a great filter and performance, this cleaner earns an energy rating of D.
Noise
Miele's cleaner operates at 74 dB. This is one of the quieter vacuums on our list.
Warranty
This vacuum ships with a two-year warranty.
Pros
Moves easily and smoothly across all floor types.
Offers options for any type of cleaning.
Amazing filter.
HyClean 3D bags make this a great option for people with allergies or asthma.
Cons
Cable is short.
Low energy rating.
Final Thoughts
Who can deny that Miele's C3 cleaner is one of the best cylinder vacuums on the market? The big question becomes a matter of whether or not you need all of the features. If you live in a home with multiple floor surfaces, this is a great choice for you. Add to this the allergy friendly features, and this vacuum will not fall short.
4.Best Lightweight Upright Vacuum Cleaner
When it comes to large surface area of carpet, few cleaners compare to the work of an upright vacuum. If this describes the type of cleaning you need, read below to learn more about the best lightweight upright vacuum cleaner in the UK.
1. Vax U85-AS-Be Air Stretch Base Upright Vacuum Cleaner
Are you trying to find the best upright vacuum cleaner?
Vax's Air stretch offers a great experience as a true upright vacuum cleaner (no stick hybrid). This vacuum will offer all the essentials you will ever need. Add to this a large dustbin, and the vacuum already stands out from others in the market. But is it possible this vacuum might be too basic? Read along to find out for yourself.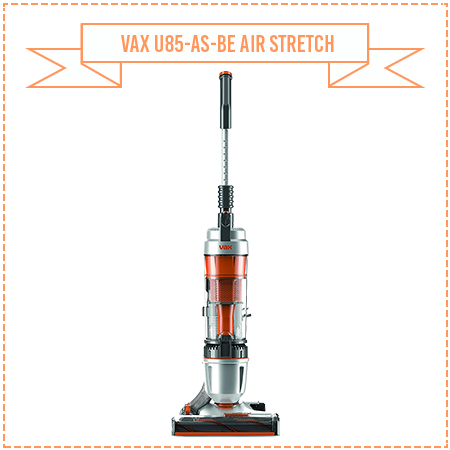 Cord
First, let us say this: The Air stretch's cord is one of the longest of any vacuum on our list. At a full 13 metres, you will find no issues with this vacuum stretching to all corners your home. At times the cord will become tangled. However, this is common with any cord. Therefore, we will not blame the vacuum for this problem. The cord's length alone outweighs this problem.
Performance
When it comes to performance, this vacuum lacks in no particular area. Multi-cyclonic technology creates powerful suction on all floor types.
Do you need to adjust floor types while vacuuming? A slider in the front of the vacuum allows you to switch between dense carpet and light carpet/ hard floors. This is a great feature—the vacuum's power will not damage any delicate carpet. The vacuum also offers a deep cleaning mode. You will find this button next to the power button. This mode activates the brush bar at the bottom of the vacuum.
Unfortunately, we did notice this cleaner clogs often. Thankfully, a red LED light indicates anytime the brush bar is blocked. Thus, you can fix the problem before it becomes too severe.
During our tests, we found the suction in deep cleaning to be amazing. At 820 watts and 200 air watts, the suction surpassed our expectations. The vacuum sucked pet hair, coffee grounds, dust, and dirt with ease.
On stairs, the vacuum provides some nice features. A handle above the dustbin allows for easy carrying. At 5.3 KG, most people will carry this vacuum with no problems. In fact, combined with the lengthy cord, transporting this vacuum up and down stairs is an easy process.
Are you curious about the energy consumption? This vacuum received an A rating. This is great since proves this vacuum works with a great performance.
Weight
This vacuum weights 5.3 Kg. So, yes, this is one of the heavier cleaners on our list. Yet, during our tests, our team found no problems carrying this vacuum around our homes or up and down stairs.
Accessories/ Attachments
Here's where this vacuum moves beyond the basics.
A turbo tool works as the first attachment. The main draw to this piece is its effectiveness in removing pet hair. Yet the turbo tool also works great for cleaning stairs and cars. Think of this as an upholstery brush.
The next tool is the soft brush. If you need a duster, this is the attachment to use. Our team found this tool did a decent job of removing particles from curtains and drapes. The piece also slides down if you solely want the suction without the brush.
Are you curious about the most impressive attachment? Then you will not want to overlook the long hose of this vacuum. This piece extends to two metres. This makes it great for reaching high areas or cleaning your car. The tube also feels durable.
During our tests, we found one single issue with the attachments. As a whole, they feel annoying and time consuming to change. You will need to add and remove the hose before adding any other attachments.
Capacity
If you need a large dustbin, this vacuum will help. With 1.5 L capacity, this vacuum offers more space than most other cleaners on our list. The bin removes easily from the vacuum. All dust and debris exit from the bottom. Thus, you will not find much of a mess when cleaning this piece.
Filter
Vax provides a HEPA filter with its cleaner. As with other HEPA filters, this removes pollen and allergens from the air.
Noise
This cleaner reaches 86 dB in the deep cleaning mode. This is louder than other vacuums on our list. So, this will be a problem if you dislike noisy cleaners.
Warranty
The vacuum comes with a six-year guarantee. This is one of the longest guarantees on our list.
Pros
Great energy rating.
Options for different types of flooring.
Long cord.
Cons
Changing attachments is annoying.
Vacuum clogs easily.
Final Thoughts
If you are looking for a basic, yet powerful, upright vacuum, the Vax Air Stretch is the cleaner for you. The power settings and attachments offer enough options for most types of flooring and upholstery. If you don't mind unclogging your vacuum often, the large dustbin and performance will offer you an exceptional cleaning experience.
Best Lightweight Vacuum Cleaner
Which Lightweight Vacuum Cleaner Is The Best?
So, you've read this far. We already know you are wondering the above question : Which vacuum should I buy? As you likely guessed, no simple answer exists. The right vacuum will depend on your needs, budget, and preferences.
If money is not an issue, the Dyson V8 offers the most power of any other device on our list. Combine the performance with the most options of any cleaner, and you will find an exceptional vacuum. Yet, you might not need all the options the Dyson V8 offers. In this case, something more basic such as the GTech Air Ram or the Vax U90-MA-RE Air Reach will work as a great alternative.
On the other hand, if you want options without a high price, Shark's Rocket Stick will offer you an attachment for most types of cleaning.
Not everyone loves upright vacuums. If you fall into this category, Miele's Complete C3 Total Solution will offer you one of the best cylinder vacuums on the market.
Lastly, but not least, battery might be your greatest concern. If you want something portable with great battery life, the Bosch Athlete Upright offers you one of the best batteries of any cordless option on the market.
Here is the bottom line : You can find the right lightweight vacuum for you. The solution requires you assess your needs. After considering your lifestyle and cleaning desires, you can select one of these six vacuums without much challenge.

Buying Guide
How to Buy the Best Lightweight Vacuum
Let's be honest, vacuums come with many features. Thus, you might want some help learning about these terms and options.
This is where we come in: Before we begin, let's discuss everything you will need to know before making a purchase. Again, no right or wrong answers exist here. Thus, think about the features that work best for your lifestyle and home.
Lightweight
So, what exactly is lightweight?
The definition will change depending on the person. So no clear number exists. Most companies will say vacuums between 2kg and 5kg is lightweight. We agree with those numbers. Some vacuums become as heavy as 10kg. Thus, 5 kg works as a good measure for lightweight. At this weight, most people will carry the vacuum to all corners of their homes with ease. Keep in mind that weight is not a measure of power. A lighter weight vacuum is simply easier to move and carry.
Power / Wattage
The power measures how well your vacuum will clean debris. We measure corded cleaners in wattage. Higher watts usually lead to more power. Yet other factors will also determine the strength of the vacuum. These include airflows, vacuum design, and brush quality.
What about cordless vacuums?
Companies measure these in terms of voltage. Much like watts, higher voltage usually equates to more power. Keep in mind that the design, quality, and airflow will also impact this number. Thus, take note of all the above factors if you want the market's most powerful vacuum.
Capacity
Most vacuum waste bins allow for .5-6 litres of dust and dirt. Keep in mind that lightweight vacuums offer smaller capacity.
Why does this matter? Higher capacities allow for more time between changing bags or emptying chambers. Thus, a high capacity will allow you to vacuum without as many interruptions.
Noise
Do the loud noises of vacuums bother you? If you answer yes, you can check the decibels (dB) of a vacuum. Lower decibel counts produce less noise.
Energy Efficiency
Who would argue with saving money on power when using a vacuum? By law, all vacuum cleaners display energy efficiency rating labels. The cleaner's performance, dust re-emission, noise, and power consumption all impact this rating.
Ratings range from grades A to G. A is the most efficient grade. Keep in mind that these ratings also relate to performance. Thus an A rating will pick up 91% of dust. Meanwhile, G ratings only grab around 70% of your carpet's dust.
Filters
Filters will matter most to people with allergies or asthma. Most vacuums will offer one of four types of filters.
HEPA filters trap 99% of dust particles. If you suffer with allergies or asthma, this is one of the best options for you.
Charcoal filters filter odours. This occurs from a charcoal layer removing the smells. These are great for hiding the smell of pets in a house.
Stage filters clean dust in stages. Four stages are common, but some will provide more. The stages usually include a double skinned bag, a filter for the motor, and a final filter to capture remaining particles.
Lifetime filters last the entire life of the vacuum. For most, this is 7-10 years. These are a great option for saving money since you will not need to purchase any extra filters.
Corded or Cordless
Options in vacuums vary between corded and cordless models.
For a corded model, you will want to check cord length. Usually, upright vacuums offer longer cords than cylinder vacuums. Note that longer cords work better for vacuuming larger areas. Little becomes more annoying than stopping your vacuum to move to a different part of the house the cord will not reach.
On the other hand, not every home will need the longest cords on the market. So, make your choice depending on the areas you will clean.
For cordless models, you will want to look at the battery. Most vacuums will offer between 15-20 minutes with a full charge. Others will offer upwards of 45 minutes. Turbo modes will impact these numbers. Again, you will want to check the size of your home before your purchase. Do note 20 minutes is plenty of time for most people to vacuum their full homes.
Cordless vacuums will need to recharge. Thus, you will want to pay some attention to the recharge time. Most take no longer than six hours to reach a full charge.
Bagged or Bagless
Bagged models usually offer more volume than bagless vacuums. Do you suffer from allergies or asthma? Keep in mind that dust remains stuck inside the bag. Thus, the particles will not fly loosely in the air.
Bagged models come with some downsides. For starters, you will need to purchase replacement bags. This means you will spend some extra money on your vacuum over time. Also, the vacuum loses power as the bag fills. This can slow the rate at which you clean your home.
Bagless models trap debris and dust in a chamber. The chamber often empties into the trash. Cleaning the chambers is an easy process. Best of all, you will not need to spend any extra money on replacement bags.
Floor Type
Some vacuums work better for hard floors than for carpet. For the most part, cylinder vacuums work better on hard floors such as tile or laminate.
On the other hand, upright vacuums work better on carpet. The results from brush combs which loosen dirt or dust trapped deep in carpet. Sometimes, this will damage delicate carpets. Thus check your carpet's sensitivity before making a purchase.
Accessories
Brush attachments and hoses will make your vacuuming more efficient. Some of these pieces will allow your vacuum to clean furniture and high areas with nozzles.
Crevice tools will clean your appliances without harm. On some vacuums, these will even clean hard floors. Some vacuums come with upholstery tools. These are designed not to damage the fabric. You can find these tools since they often present soft bristles.
Do you own pets? If you answer yes, look for a rolling brush. These will pick up any loose hair and fur trapped in your carpet. This is nice because hair and fur often become tangled in brush combs.
Warranty
Most vacuums offer anything from a 2-5 year warranty. This is nice if any pieces on your vacuum break or malfunction.

Conclusion
Did you find the right vacuum for you? We hope we at least narrowed your choices in finding the right lightweight vacuum. Although we will admit that this choice is not easy. Vacuums cost a high amount of money for many. Add to this the countless different options and the decision seems nothing short of daunting.
Remember to take your time in this choice. Consider what a perfect vacuum experience means for you. From there, you might find your choice easier. At the end of the day, a vacuum is an essential household tool. So remember, this choice is important for maintaining the hygiene of your home.