If you're looking for a straightening brush that will grant your hair a nice and natural look, then check out the AsaVea Hair Straightener Brush 3.0.
Right out of the box, you'll notice this electric hair straightening brush's sleek metallic-looking design. But these design choices do much more than look great. For starters, the ceramic surface bristles allow for fast styling without becoming too hot and burning your skin. To also aid in preventing burning and scalding, AsaVea included patented and certified DuPont plastic materials. So if you accidentally touch this straightener while in use, you won't experience too painful of a burn. And while we're on the topic of safety, there's also a 30-minute auto-shutoff feature to prevent this straightener from damaging anything while sitting idle.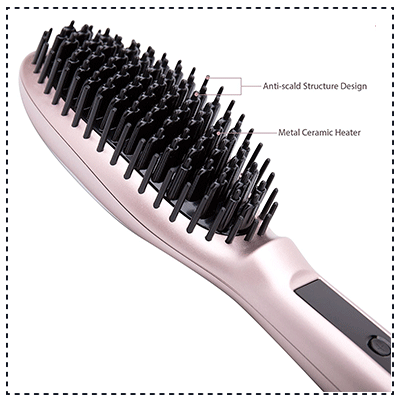 Also, as far as controls go, this straightener is pretty straightforward with the standard plus, minus, on and off buttons. So you can figure out how to use this device without too much work. For temperature settings, you'll find quite the options here, with ranges between 120 degrees Celsius (250 degrees Fahrenheit) to 232 degrees Celsius (450 degrees Fahrenheit). This wide range allows this electric straightener to straighten just about any type of hair, from ultra coarse to fine and wavy. Even better, this straightener heats up and cools down in about a minute. So you won't need to wait long to begin styling your hair or put away this tool. Lastly, these temperature settings are digital, so it's pretty easy to achieve the right heat for your hair. And don't worry about changing these settings while straightening your hair–the temperature buttons lock to prevent accidental pushes.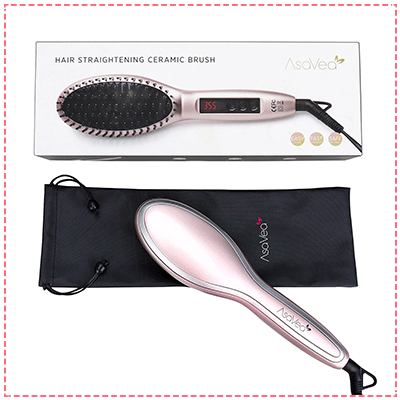 To help with storage, AsaVea includes a nice carry bag in the box. When unboxing this straightener, you'll also find a UK-style plug and pads to hold strands. So overall, this package will provide you with all the essentials needed to style your hair. And while we're on the topic of the plug ins–don't forget that the cord does bend. So you can move the lead in just about any direction you want. In other words, it's pretty easy to manoeuvre and won't get in the way while straightening your hair.
As a whole, this ceramic straightener brush does a fantastic job of creating a nice and natural voluminous look. But we did find a couple of mild complaints. For starters, this brush will not comb your tangles out of your hair—and if you try, it will hurt—so don't do that. Instead, you will need to brush your hair first. Also, we found this iron isn't the best when it comes to eliminating frizz. This means that you'll want to apply some extra product to your hair. For protection, AsaVea offers a six-month warranty with this straightener.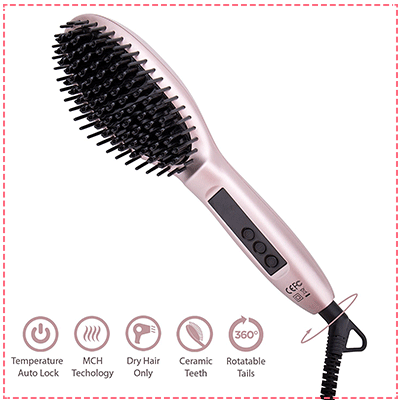 Check Price On Amazon UK
Check Price On Amazon
Pros
Quick heat up and cool down.
Bristles create barrier between you and flat iron—not too many burns.
Great for most hair types.
Exceptional at styling bangs.
Cons
Combing tangles is a painful experience.
Not the best when it comes to eliminating frizz.
Tough to straighten shorter hairstyles.
Final Thoughts
All in all, AsaVea created one of the best electric hair straightening brushes on the market. Everything here is easy to use. And we have no complaints about how well this iron styles a variety of hair types. If you can deal with combing tangles out of your hair before uses, you'll find this straightener to act as a great addition to your morning routine.